India needs a third aircraft carrier, which is named INS Vishal, says Indian Navy (IN) Chief Admiral R. Hari Kumar.
In an exclusive interview, he said, "as a Blue-water force, considering the vast area of operations, operational philosophy centered on sea control and growing threat in the Indian Ocean Region (IOR), the Indian Navy has a requirement of three operational aircraft carriers.
This is also important for sustaining our Maritime Dominance in all three geographical expanses of the IOR. The requirement of a third Aircraft Carrier for the Indian Navy has also been acknowledged by the Standing Committee on Defence.
'INS Vikrant stands testimony to our nation's efforts towards complete indigenization of our Armed Forces. With this, India has become part of the elite group of Nations possessing the niche capability to indigenously design and build an Aircraft Carrier.
The Carrier Battle Group (CBG), of which the Aircraft Carrier is the central entity, is a means of projecting maritime power at sea and from the sea.
It is a self-contained and composite force capable of undertaking an entire range of tasks that no other platform/shore-based aircraft can undertake. The CBG is capable of providing "persistent air power" in a region at extremely short notice and has the inherent flexibility and mobility to shift to a new theatre of operations in 48 to 72 hours. 
"Further, while the requirement for a Third Carrier is being actively considered by the Govt, the Navy is already 'underway' in bringing the nascent imperatives to the drawing board. ".
Talking about the Indian Navy's role in the Indo-Pacific, Admiral Kumar said that "I feel it is important that we understand the underlying principle of India's approach – not just to the Region but to the world at large. Put quite simply, as articulated by our Hon'ble External Affairs Minister in his book 'The India Way,' I quote – 'India will grow with others, not separately.' This, in essence, sums up our outlook." 
He then explained in detail how the Indo-Pacific region has remained "an expression or idea that defines the contemporary geostrategic world – with India being privileged to be at the core of this defining idea of our times.
The centrality of this Region is further underscored by the fact that numerous states and groupings have articulated their Indo-Pacific Strategies and Vision. To my mind, this Region could be aptly termed as the global 'Centre of Gravity' of geopolitics and geo-economics.
"Geopolitical relations in the Indo-Pacific have increasingly become complex, as cooperation and competition co-exist. The increased centrality of the Indo-Pacific region in global geo-strategic calculus is accompanied by a return of great power competition, which is here to stay.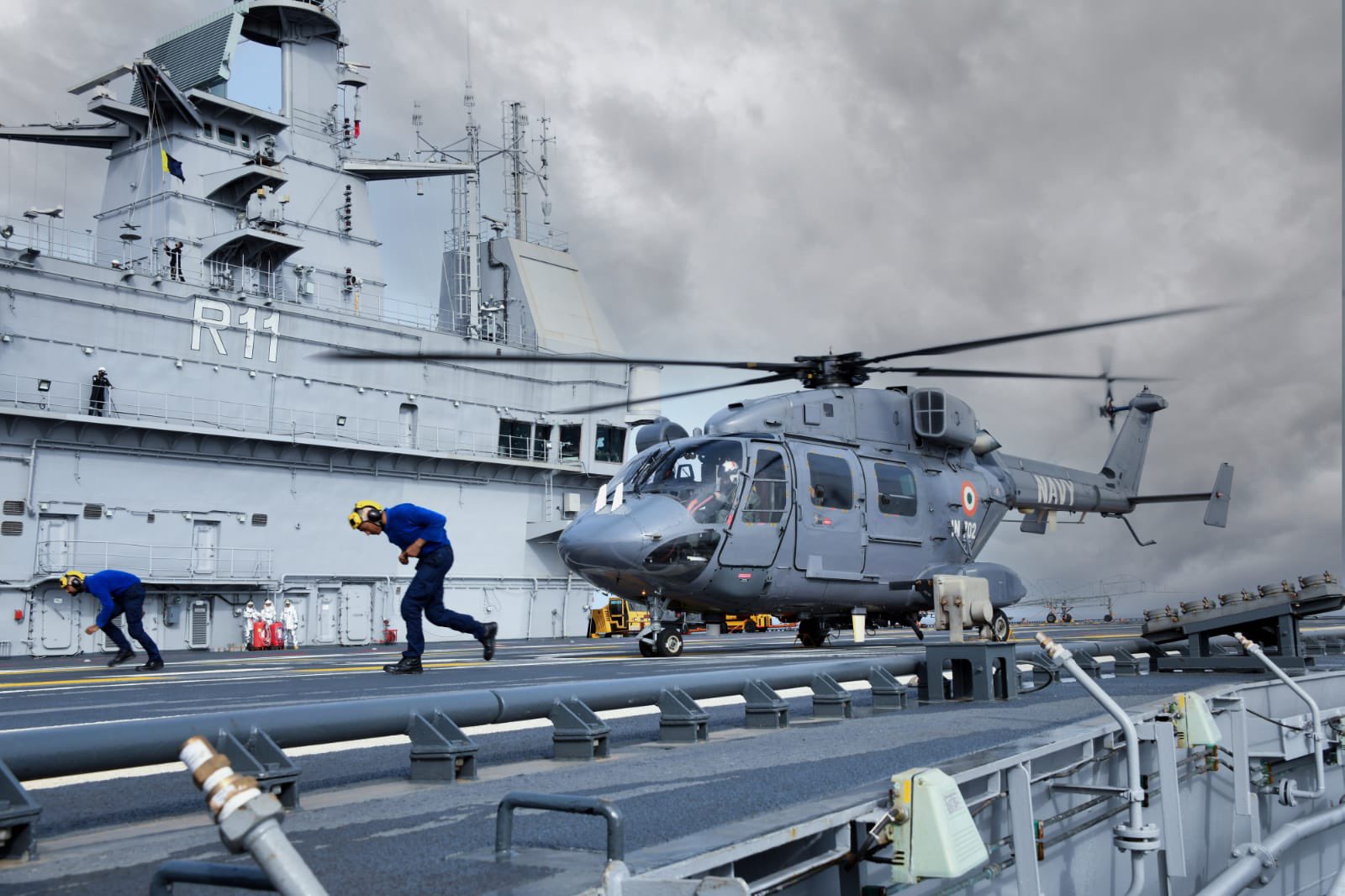 Our resource-rich region is also the arena for jostling between states for influence, resources, markets, and energy, among others. Notwithstanding this jostling, the intricately interwoven and interdependent matrix of economic relations also mandates a certain level of cooperation among all states. This simultaneous competition and cooperation – driven by self-interest – accentuates the complexities of security.
"Regarding geo-economics, this region is significant for global economic prosperity, as seven of the top 10 export destinations and about half of the global trade transits through the maritime trade routes in this Region.  For India as well, 90% of our trade by volume and 70% by value is transported by the seas. With seas as the lifelines of global trade and prosperity, most nations within – and beyond – the Indo-Pacific have a core interest in keeping the region free for commerce.
"As India aims to emerge as a $5 Tn economy, the oceans provide us with a vast resource pool that can be tapped to spur India's economic growth. And when we talk of Blue Economy opportunities for India, they span the entire spectrum from energy to ecology, fishing to tourism. While the Blue Economy contributes about 4% to India's GDP, I think there is tremendous potential to expand its contribution.
"The Indian Navy is a key stakeholder in realizing this vision, and its strength lies in ensuring safety, security, and good order at sea. The Navy is naturally playing an important role in providing an overarching security umbrella to protect, preserve and promote India's national interests in the maritime domain. We support a free, open, and inclusive Indo-Pacific, wherein no country should be excluded. The IN recognizes its responsibility in the region and would continue to be the pillar around which a combined 'Force for Good' could be built".
On the Indian Navy's 'capacity' and 'capabilities' with reference to the dimensions such as surface, subsurface, aerospace, and cyber on the one hand and spheres such as 'brown water' and 'blue water' on the other, Admiral Kumar said, "IN platforms, by their role, are primarily categorized as Bluewater and Brown water platforms.
Since the right Force mixture among both categories is essential, the Maritime Perspective Plans driven future inductions are structured to meet all possible threats. Therefore, platforms are envisaged to meet the 'Blue Water' and 'Brown Water' threats across the spectrum of surface, sub-surface, aerospace, and cyber domains. 
This capability building is undertaken in a balanced manner to bring maximum 'power behind the punch' in order to make every platform at sea count. 
"Accordingly, the desired Force Mix and Teeth to Tail ratio have catered for the Power Projection matrix and Sea Control capability in our Areas of Interest and facilitate Out of Area Operations singularly or in conjunction with friendly foreign countries.
Further, adequate capability to achieve desired power projection, influence events ashore in crises, support land campaigns during the conflict, undertake Military Operations Other Than War (MOOTW), and render succor/ assistance through HADR/ NEO has been catered in the IN's Maritime Capability Perspective Plan (MCPP) for our areas of interest.
Admiral Kumar highlighted on "AatmaNirbhar Bharat" and "Make in India" policies of Prime Minister Narendra Modi and said, "with heavy impetus laid on indigenous production of Naval equipment and platforms, Indian Navy is committed to becoming fully AatmaNirbhar ( self-reliant)  by 2047". 
In this context, he added, "While being at the forefront of the Aatma Nirbhar Bharat initiative of the government, IN is also fully committed to indigenous shipbuilding programs.
This can be evidenced by the fact that to date, over 130 ships have been built and commissioned in India. In the last 10 years, an average of 65% of the total expenditure has been focused on Indigenous procurement. In the next 5 to 7 years, the share of expenditure would increase to about 70% and will go up to about 80% in the next 10 to 15 years.
"Indigenisation remains the best option available to reduce Foreign Dependency on Defence Equipment. The spares of all Foreign origin equipment are also being progressively indigenized. IN is aiming to achieve 100% indigenization of Naval Ammunition, wherein Conventional Ammunition by type has been indigenized by 90%.
The balance, which includes niche technologies such as fuze, primers, etc, is being sourced from Indian Industry. With regards to guided weapons, such as missiles and torpedoes, indigenization is being taken up progressively through DRDO and Indian production agencies.
Wherein as part of the modernization process of the IN, three Visakhapatnam class destroyers(Project 15B) are being constructed at Mazagon Dock Shipbuilders Ltd, Mumbai. (The first ship of the class, INS Visakhapatnam, was commissioned on 21 Nov 21)".
On the question of the lessons the Indian Navy has learned from the ongoing Russia-Ukraine war in terms of tactics and emerging technologies, the Indian Navy Chief said, " As you would be aware, the Indian Navy has always been a strong proponent of self-sufficiency and use of emerging technologies.
Towards the need to harness emerging technologies, we have created the Naval Innovation and Indigenisation Organisation (NIIO). This is a three-tiered organization.
The Naval Technology Acceleration Council (N-TAC) brings together the twin aspects of innovation and indigenization and is also providing apex-level directives. A working group under the N-TAC is implementing these projects. Finally, the Technology Development Acceleration Cell (TDAC) is looking at inducting emerging disruptive technologies in an accelerated time frame.
"The Hon'ble Prime Minister recently inaugurated the maiden NIIO Seminar, Swavlamban, which saw enthusiastic participation by the academia, industry, policymakers, think tanks, students, and senior government officials in addition to our naval personnel. The Hon'ble Prime Minister also unveiled 'SPRINT Challenges,' with SPRINT standing for "Supporting Pole-Vaulting in R&D through iDEX, NIIO, and TDAC."
Admiral Kumar is a strong votary of the idea of India having theatre commands and integrated battle groups for fighting future wars, an idea that originated from the late Chief of defense Stadd, General Bipin Rawat. 
"The Navy has been a strong proponent of the proposed Theatre Commands and integrated battle groups for fighting future wars. India is primarily a Maritime Nation, and addressing vital threats and challenges in the maritime domain necessitates an integrated approach and high levels of synergy in terms of strategy, planning, and application of force.
This would require a robust integrated force structure such as the Maritime Theatre Command, which would amalgamate core competencies of the three Services and the Coast Guard in the maritime domain.
"I will say that the Armed Forces are well set in adopting an integrated approach towards developing capabilities and effective application of 'Joint Force.' The organizational changes required for the same are being progressed as part of the ongoing Theaterisation studies", Admiral Kumar said.
Author and veteran journalist Prakash Nanda has been commenting on politics, foreign policy on strategic affairs for nearly three decades. A former National Fellow of the Indian Council for Historical Research and recipient of the Seoul Peace Prize Scholarship, he is also a Distinguished Fellow at the Institute of Peace and Conflict Studies.
CONTACT: prakash.nanda (at) hotmail.com