Soldiers of China's People's Liberation Army (PLA) posted in high altitude areas (HAA) on its border with India were seen wearing what is claimed to be Portable Oxygen Concentrators (PCO) which supposedly eliminate breathing issues in the rarefied atmosphere and improve fighting ability.
The PCOs were seen in footage from a news documentary on China Central Television (CCTV).
Indian Army Veterans, while agreeing with the device's advantage in alleviating soldiers' physical issues, however, refrain from giving the system too much credit. They say breathing problems are a small part of serving in mountainous low-oxygen environments, besides pointing to weight, cost, and maintainability issues. 
@zhao_dashuai, a leading Twitter handle that posts on Chinese military issues, said the PCOs are now "standard equipment."
"It sucks in the low oxygen and releases 95% pure oxygen. In mountain warfare, the side not gasping for breath will have more accurate shots," he tweeted. Soldiers in HAA along India's northern and eastern Himalayan borders with China and Pakistan are posted at minimum altitudes of 3,000 meters to 5,000 meters. 
Troops deployed at the China India border, now have Portable Oxygen Concentrators (generators) as standard equipment

It sucks in the low oxygen atmosphere, and releases 95% pure oxygen

In mountain warfare, the side not gasping for breath, will have more accurate shots pic.twitter.com/h4nZcMCXIq

— Zhao DaShuai 无条件爱国?? (@zhao_dashuai) December 28, 2022
Based on research by EurAsian Times researcher Hemraj Sharma, the device appears to be a small box-like apparatus slung across the PLA infantryman's shoulders, with a thin, soft transparent tube (or a nasal cannula) going over the mouth and a nozzle in each nostril.
The system's weight is unknown, but an internet search of commercially available PCOs showed that a single unit weighs under 2-3 kilograms and is priced anywhere between Rs. $400 to $3000.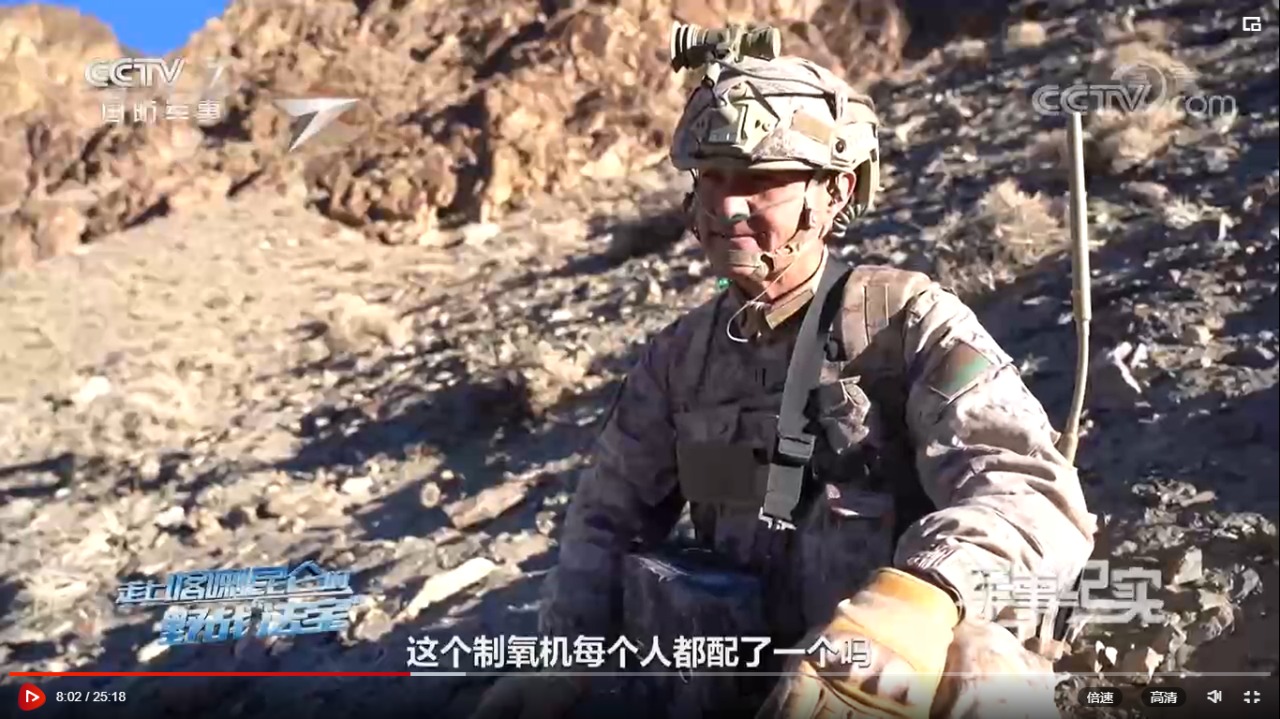 Helpful But Not Decisive: Indian Infantrymen
Former Northern Army Commander Lt Gen HS Panag agreed the device would help enhance soldiers' performance in HAAs. "The main problem in HAA is lack of oxygen apart from extreme cold. It would certainly improve the performance of the soldiers. Issues would be weight, battery life, and cost," he said. 
The make of the device and its technical specifications are unknown, so it is difficult to speculate whether soldiers can wear the device throughout their patrol or short duty at a forward position.
However, assuming it has a short battery life, China's renowned lead in border infrastructure and commercial and industrial electronics means depth areas must be well supplied with power supply. 
Maj Gen Arvind Bhatia and Col Alok Asthana pointed out how it might help in rapidly inducting soldiers by cutting down on the acclimatization time. They laid out actual infantry versus infantry scenarios in fixed-ground battles.
There is a very high possibility between IA and PLA units in capturing, retaking, or defending their claims on the Line of Actual Control (LAC). 
"Faster acclimatization is very useful for reducing the time taken by reinforcements to a high altitude battle area, coming from plains. It can make a vital difference of 4-5 days," Asthana said. 
Bhatia, too, said reinforcements and supporting troops in the rear can "move up" faster without being acclimatized. The enemy can exploit delays in reinforcements by either strengthening their positions in case of a defensive battle, limited offensive, or pressing home the attack during a full offensive.
Accepted medical norms require people to spend at least four to five days getting their respiratory and cardiovascular systems oriented at staging areas and base camps of HAAs before beginning their climbs on the mountains.
The phasing into the low oxygen environment blunts the adverse impact of direct transition into thin air and extremely cold, frigid, and less humid weather.
"It would help move up un-acclimatized or partially acclimatized reserves much faster to prevent a disadvantageous tactical maneuver from worsening. Helicopter insertions of reserve troops who haven't been acclimatized can also be undertaken," Bhatia said. 
This mainly helps the PLA's geographic situation in Eastern Ladakh. In certain areas, they are not on the watershed but on the plateau, which is relatively at a lower altitude. This means they would have to climb up to the watershed while trying to take Indian positions. 
No Impact On Shooting Skills
Asthana doesn't believe that soldiers can shoot well once at the said HA point. "It would not make much of a difference in fighting abilities, except for Special Operations as they take difficult and higher approaches to reach an objective," Asthana added. 
Col S. Dinny (retd) too, believed the Chinese claims of improvement in physical endurance are exaggerated, saying "nothing can substitute natural acclimatization."
"There is a limit to increasing human endurance with external assistance at that altitude. Moreover, breathing and lung problems are not the only issues at those altitudes. There are many other life-threatening issues," Dinny adds. 
According to Dinny and Bhatia, the logistics of carrying an extra piece of equipment is another issue. For one, it would become cumbersome to lug it around during combat while carrying a lot of other gear, even if portable. It also risks a trade-off with being able to carry more ammunition. 
China Sent These To India During Covid Second Wave
PLA soldiers in Eastern Ladakh are not the first beneficiaries of its domestic industry's ability to manufacture bio-medical equipment.
At a broader level, it can be seen as a part of Chinese lead in electronics and electro-mechanical equipment manufacturing, making it the world's largest exporter of capital goods. These include fully finished machines and intermediate components and parts. 
At the height of the Covid-19 second wave in 2021 in India, which was characterized by a national shortage in oxygen-generating equipment, 800 concentrators were airlifted from Hong Kong in April of that year. 
By mid-May, based on purchase requests by Indian importers, Chinese companies had exported 26,000 ventilators and oxygen concentrators.
The machines were, however, marred by quality control issues and high prices. The Chinese foreign ministry attributed this to increased global demand and strained supply chains due to lockdowns and labor shortage issues.