Following its exit from the European Union (E.U.) in 2020, Britain has been striving to maintain its position in the larger global order with a focus on an increased presence in the Indo-Pacific region, which is seen as a critical front for the U.S. and its allies in their fight against China. 
Given Beijing's expanding power, Britain's desire to maintain influence is reasonable. In line with this perspective, London appears to be positioning itself with Japan as a reliable ally in the Indo-Pacific region. 
On May 5, in a cloaked response to an increasingly belligerent China, Japanese Prime Minister Fumio Kishida and British Prime Minister Boris Johnson agreed to establish a defense pact, under which the militaries of Britain and Japan will "work more closely together."
A reciprocal access agreement, once signed, will allow soldiers from both countries to deploy faster and participate in collaborative training and disaster relief missions. Australia and Japan recently signed a similar RAA.
The agreement has been described as a booster for the U.K.'s engagement in the region and a step toward furthering global peace and security. A few days ago, it was reported that the Japanese and British governments addressed the primary jurisdiction issue in discussions to finalize an RAA. 
Britain has already declared an "Indo-Pacific tilt" in its foreign policy, with Japan as its primary East Asian ally. Together with Australia and the United States, the United Kingdom also formed a new trilateral security alliance known as AUKUS.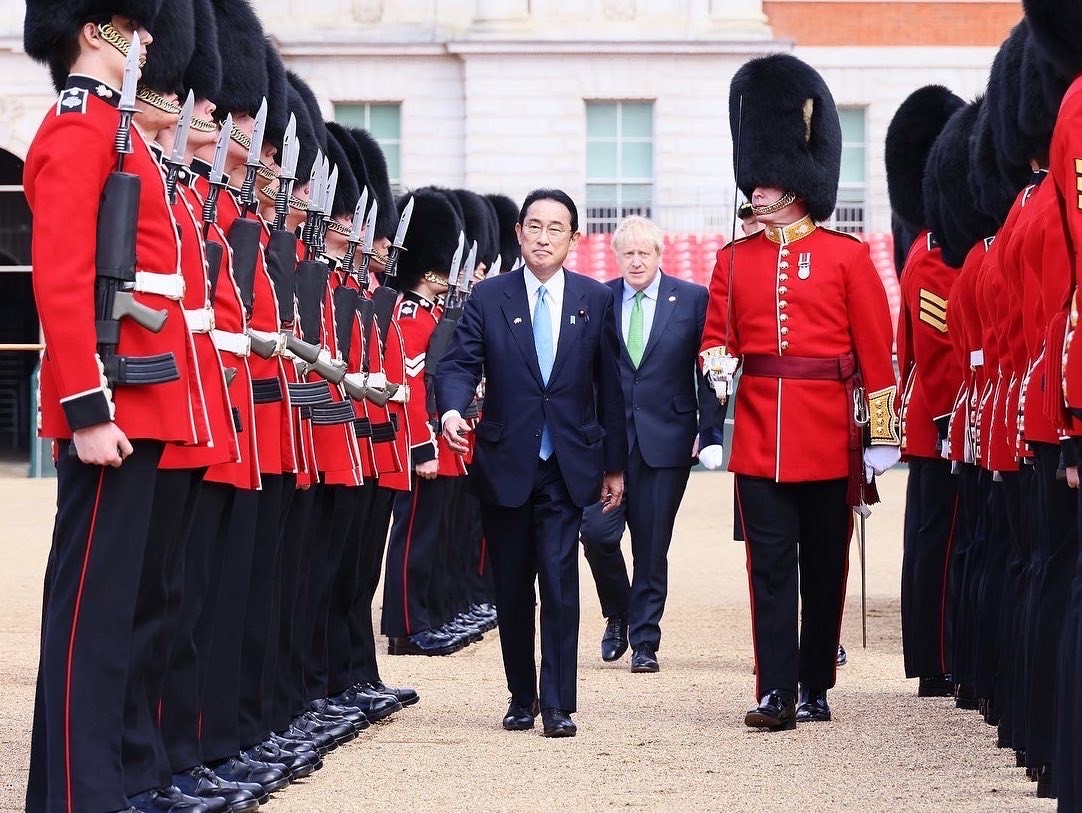 Since AUKUS was launched in September of last year, there has been constant speculation that Japan may also join this alliance. Tokyo has been vocal in its support for the alliance, making frequent statements about the trilateral technology-sharing agreement.
In November, Japan's ambassador to Australia even stated in an interview with ASPI: "We have been told there are some instances or areas where AUKUS members may need Japanese cooperation and participation, and we are more than willing to do our contribution."
While Japan and the United Kingdom are finalizing a reciprocal access agreement, Japan and Australia have already inked a reciprocal access agreement in January, making it the first foreign-force basing arrangement signed by Japan since its alliance with the United States.
The U.S. and its allies are trying to present an effective strategic alliance in the region to deter Beijing. London and Tokyo are ideally suited to this attempt, as they have taken tougher stances increasingly toward China in response to concerns about its growing influence and provocations.
Additionally, the United Kingdom has a lot to offer Japan. The United Kingdom, for example, is a member of NATO and the Five Eyes intelligence network and has a permanent seat on the United Nations Security Council, which might give Japan a more significant presence in international forums.
Many observers saw the Japanese Prime Minister's visit to the United Kingdom earlier this month as a positive indication for the two countries. Chris Hughes, a professor of international politics and Japanese studies at the University of Warwick, said Kishida's visit "will further consolidate a U.K.-Japan quasi alliance that has been worked on for the last decade or more."
He said Japan-U.K. relations are "becoming much stronger in security, but they will be tested by seeing how far Japan will be forthcoming to do more in security with the U.K. outside its own East Asia region and, likewise, how far the U.K. can sustain substantive cooperation with Japan outside its region with the ongoing Ukraine crisis."
However, the fundamental gap between these two countries that need to be resolved is their ways of engaging with China. Japan initiated and promoted the Free and Open Indo-Pacific concept, which the U.S. later adopted.
The United Kingdom, on the other hand, has yet to formulate its strategy. U.K.'s Prime Minister Boris Johnson has been focused on forming the D10, a democratic alliance to confront China. However, there is no strategy in place to steer the U.K.'s initiatives. Without this, the U.K.'s Indo-Pacific commitment under Global Britain appears to be directionless.
UK-Japan Defense Partnership 
In the defense sector, the two countries are actively cooperating, and their businesses are already working on several joint projects. Recently, it was reported Tokyo is purportedly considering moving its F-X aircraft development partner from the U.S. defense powerhouse Lockheed Martin to UK-based BAE Systems.
In a press release issued on May 5, the United Kingdom noted the two countries' endeavors to execute collaborative defense and security programs, highlighting the Future Combat Air System program in particular. 
The Japanese Ministry of Defense (JMOD) has already promoted collaboration with the U.K. at the F-X subsystem level to reduce investment costs and operational risks. Much of the technology is comparable to those employed in the UK-led Future Combat Air System (FCAS) called 'The Tempest.'
Several joint programs with the British have already begun. The F-X and Tempest programs have essentially identical timetables, with both striving for in-service dates in the mid-2030s.
The U.K.'s program director, Air Commodore Johnny Moreton, was previously quoted as saying, "We've been in negotiation, conversations and some pilot projects. Nothing necessarily too complex at the moment. We're doing a joint engine viability study with Japan at the moment, and that's quite exciting."
"They have an F-X program that has a very similar time frame to us, 2035. The threat is very similar to the one that we are anticipating, and in terms of an industrial nation, they sit at the top table, as do we," he added. 
In December 2021, Japan and the United Kingdom declared their intention to launch a collaborative engine demonstrator program. The project would employ complementary technologies developed by Rolls-Royce and IHI Corporation to build an entirely new full-scale power and propulsion demonstrator.
A sophisticated turbofan engine will drive the F-X aircraft's propulsion, power, and thermal management systems. 
After that, Tokyo stated that London would be participating in the engine and the production of "relatable parts of the aircraft." This particular statement demonstrates the two countries' growing ties.
Additionally, Japan's Fumio Kishida administration revealed earlier this year that Tokyo and London would continue to work on a Joint New Air-to-Air Missile (JNAAM) in the fiscal year 2022. Japan's Ministry of Defense (MoD) has allocated JPY350 million ($3 million) in F.Y. 2022 to pay costs associated with air-launch tests of a JNAAM prototype.
On February 15, the United Kingdom and Japan agreed to collaborate on sensor technologies for the Tempest and F-X future combat aircraft programs, further bolstering their security cooperation. The two governments agreed to work together on Japan and Great Britain Universal Advanced R.F. (JAGUAR) system after signing a Letter of Agreement (LOA). 
Meanwhile, following the United Kingdom's lead, Italy is also seeking to collaborate with Japan on the development of its next-generation fighter plane.
Last month, Japanese Defense Minister Nobuo Kishi stated that Italian Defense Minister Lorenzo Guerini showed interest in participating in the development of Japan's F-X next-generation fighter plane.