The Russian military eliminated 1,500 Ukrainian troops and 8 German-made Leopard tanks, the Russian Defense Ministry claimed on Tuesday.
⚡️@mod_russia: On June 5, AFU lost in South Donetsk direction 28 tanks, including 8⃣ Germany-manufactured Leopard tanks, 3⃣ French-manufactured AMX-10 wheeled tanks and 109 armoured fighting vehicles.

?https://t.co/SvnVEwhrH3 pic.twitter.com/jzaG6wfDOc

— Russian Embassy in USA ?? (@RusEmbUSA) June 5, 2023
"Total losses of Ukrainian troops in the southern Donetsk Region area were more than 1,500 Ukrainian servicemen, 28 tanks, of them 8 German-made Leopard tanks, 3 wheeled French-made АМХ-10 tanks, and 109 armored fighting vehicles," the ministry said.
Poland delivered the first batch of Leopard-2A4 tanks to Kyiv on February 24, with deliveries from other partners set to continue into the coming weeks. The 1985-vintage 2A4s are some of the oldest tanks that are currently operational.
Earlier, an Indian military analyst told EurAsian Times that the 2A4 model was designed to fight in different conditions where armored brigades are escorted by infantry ground forces and other support vehicles with solid air support from NATO.
Being a Cold War-era tank, Leopard MBTs were not designed to encounter IEDs, ATGMs, and suicide drones. The 2A4 retains an older boxy turret configuration which offers less protection from modern anti-tank missiles.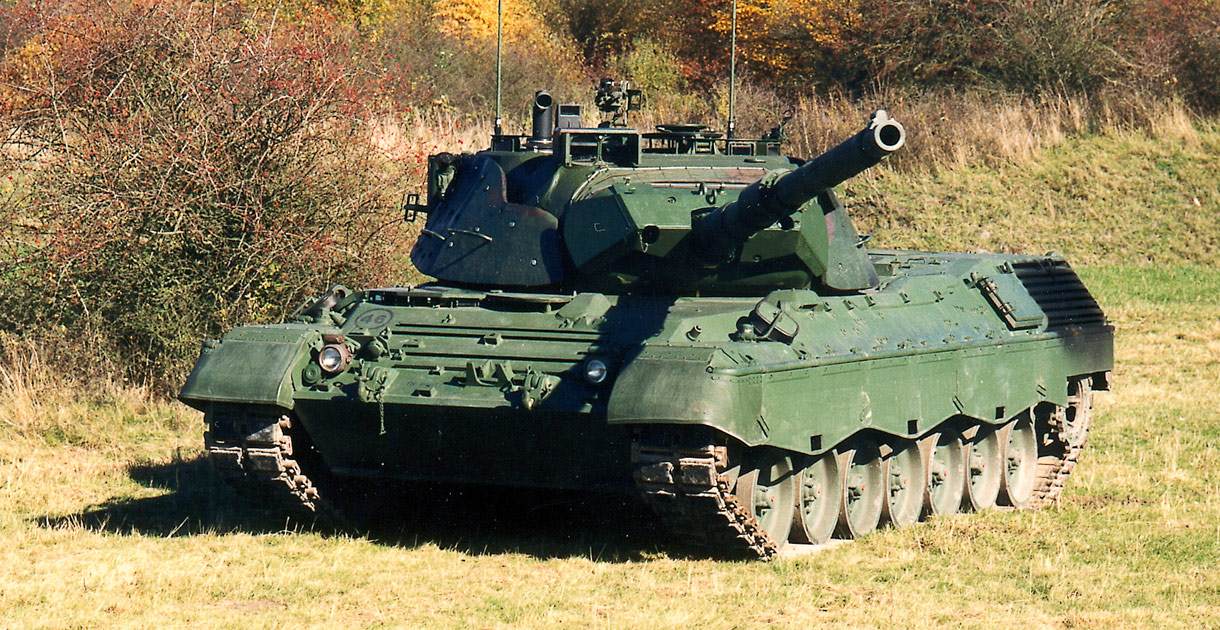 Meanwhile, a new Ukrainian kamikaze drone, photos of which appeared on Ukrainian media reports earlier this month, is believed to have been used during May 30's early morning strike in Moscow.
Videos and screengrabs of the attacking unmanned aerial vehicle (UAV) are similar to the aircraft that has been said to be developed by Ukrainian state-owned defense major, Ukoroboronprom. 
Moscow and many surrounding villages and suburbs were attacked by at least eight drones that caused minor damage to several buildings in what Russia called a "terrorist" attack and accused of Ukrainian involvement. While Kyiv has denied any role, an advisor to President Mykhailo Podolyak said Ukraine has "enjoyed watching such events unfold and predicted an increase in such incidents," according to CNN. 
Russia's Ministry of Defense (RuMoD) said all the aircraft were destroyed, where three were "suppressed by electronic warfare," causing them to lose control and deviate from their intended targets. The Pantsir-S close-range anti-aircraft platform shot down the other five. 
Intensifying War
The attack came immediately after Russia intensified its missile strikes on Kyiv and western Ukraine. Two waves of attacks took place between the intervening night of May 28 and May 29, with the first one hitting an air base in Khmelnytskyi, followed by a morning daytime barrage on Kyiv. 
Nearly all of Bakhmut is under Russian control. Ukraine has sustained painful missile strikes to its formations and ammunition bases in the rear and lost most of its artillery and air defense on the frontlines. The attack, therefore, does appear retaliatory, where turning up asymmetric warfare in Russian cities could be one of the strategies. 
Earlier this month, two UAVs were destroyed over the Kremlin in a murky attack that Russia blamed on Kyiv and claimed was an attempt to target Russian President Vladimir Putin. Kyiv flatly denied the charge.
The Suspect Ukrainian Drone
The drone was featured on the Telegram channel of Ukrainian blogger Igor Lachen, whom he called 'Bober.' Focus UA claimed the UAV was developed by a crowdfunding effort that generated 20 million hryvnias ($5.41 million). 
The report also claimed that such kamikaze drones developed by donations would be used by Ukraine's Main Intelligence Directorate (MID). This suggests that Ukrainian involvement cannot be ruled out since its security agency has been announced to procure such an aircraft. 
Subsequent posts on Twitter by leading military analysis and Open Source Intelligence (OSINT) handles after the Moscow strike, called the UAV Beaver. The drone, with fixed landing gears and canard-wing scheme – two small wings on the front near the nose and larger wings in the rear – has been claimed to have a range of more than 1000 kilometers (621 miles). 
The only available picture of the UAV where Lachen is hugging the aircraft shows this wing configuration. Videos, photos, and grabs of the drone from the ground in Moscow show the loud drone flying overhead toward the small canards, almost confirming it is the same aircraft. 
One video shows the drone exploding, where the blast travels outwards with a faint jet of smoke shooting ahead of the drone and the inferno. This indicates it was one of the five that RuMoD says was hit by the Pantsir-S gun-missile hybrid air defense system. 
Moscow City Officials have announced that Air Defense Batteries were able to Shoot Down at least 10 Drones which were Detected over the City within the last few hours, with Damage from Debris and "Successful Impacts" affecting multiple Residential Buildings; it was additionally… pic.twitter.com/oSKgOIR8E4

— OSINTdefender (@sentdefender) May 30, 2023
Other Ukrainian UAVs In Previous Strikes On Russia
It is unclear if all the drones involved in the strike on Moscow were Beavers and if UAVs of other makes, like the UJ-22 used in previous attacks in Moscow and Belgorod, were involved. On April 24, an explosive-packed UJ-22 was found lying upside down in the village of Vorovskoye near Moscow. 
This was one of the five to seven drones that were either shot down, jammed by electronic warfare, or ran out of fuel between April 23 and 24 around Belgorod and Moscow.