The US Air Force F-15E Strike Eagle and Japan Air Self-Defense Force F-15J Eagle recently teamed up in a military exercise known as Exercise Southern Beach, held at Kadena Air Base in Japan from May 16 to 18.
On May 18, 18th Wing Public Affairs released a statement announcing that Kadena Air Base, in collaboration with the Japan Air Self-Defense Force, the 336th Fighter Squadron from Seymour Johnson Air Force Base, NC, and the 391st Fighter Squadron from Mountain Home, Idaho, successfully concluded Exercise Southern Beach.
According to Captain Alexander Stadlin, Chief of Wing Plans and Exercises for the 18th Operation Support Squadron, Exercise Southern Beach is a crucial platform to enhance interoperability and cultivate a warfighting mindset among joint and bilateral partners. 
Through collaborative mission planning, seamless execution, and comprehensive debriefing, this exercise strengthens the participating forces' collective capabilities.
The statement reads that the central focus of the extensive military exercise revolved around offensive and defensive counter-air operations alongside personnel rescue missions.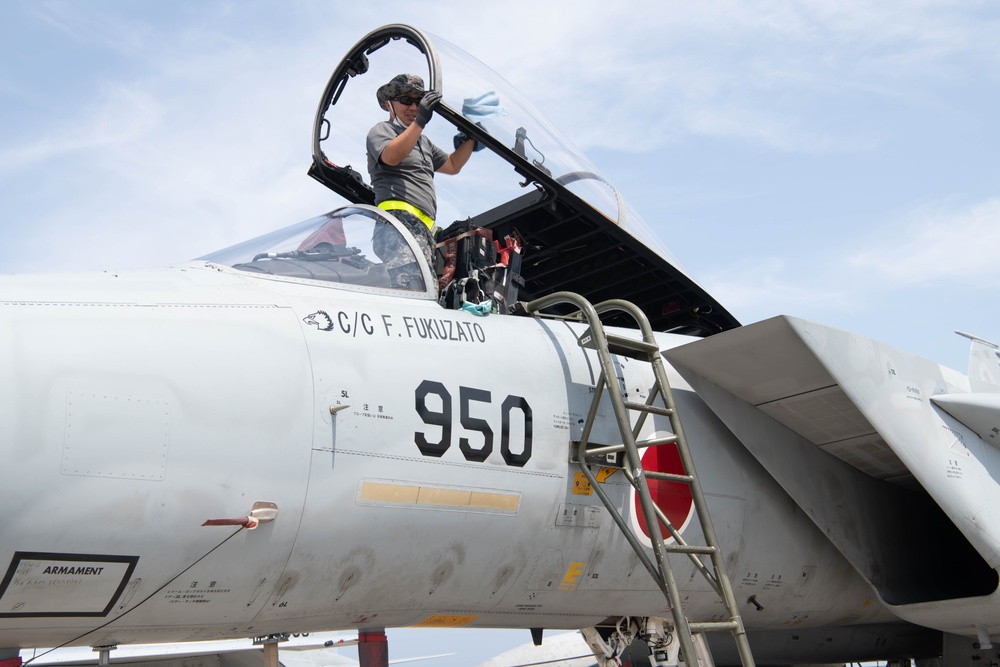 The Exercise Southern Beach witnessed active participation from various USAF aircraft units, including F-15E Strike Eagles from the 336th and 391st Fighter Squadrons and KC-135 Stratotankers from the 909th Air Refueling Squadron.
The US Air Force deployed a group of F-15E aircraft from the 336th Fighter Squadron stationed at Seymour Johnson Air Force Base, NC, to Kadena Air Base in Okinawa in April 2023.
As part of a rotational deployment, these aircraft were sent to Kadena Air Base to replace the F-15C/D aircraft stationed there. The participation also included JASDF and US Navy E-2C Hawkeyes. Furthermore, JASDF also deployed their F-15J aircraft stationed at Naha Air Base to the exercise.
JASDF Capt. Shotaro Iwamoto from the 204th Squadron, 9th Wing, highlighted that the training exercise is conducted regularly and involves units stationed at Naha and Kadena Air Base.
In a notable trend, most mission sets during Exercise Southern Beach have taken place during nighttime hours for the third consecutive year. This deliberate choice adds to the challenge of low visibility, making the exercises more realistic and demanding for the participating forces.
According to US Air Force Maj. Daniel Matchett, the assistant director of operations for weapons and tactics in the 391st Expeditionary Fighter Squadron, flying at night presents unique challenges.
"Flying and fighting in the darkness requires a specific set of skills that must be maintained to ensure we will win, day or night," Matchett added. 
F-15E VS F-15J
The F-15E Strike Eagle and the F-15J Eagle are two powerful variants of the F-15 Eagle series, each serving specific roles within their respective air forces.
The F-15E Strike Eagle, operated by the United States Air Force (USAF), is a highly versatile multi-role fighter aircraft. Designed in the 1980s, it was developed as an enhanced version of the original F-15 Eagle, specifically designed for both air-to-air and air-to-ground missions. 
With its twin-engine configuration, advanced avionics, and increased payload capacity, the F-15E has earned a formidable reputation as a combat-proven platform.
Equipped with the latest radar systems, electronic warfare suites, and precision-guided munitions, the F-15E boasts exceptional situational awareness, long-range strike capabilities, and air superiority features.
It can effectively engage ground targets and enemy aircraft, making it a critical asset in modern warfare scenarios. The F-15E has demonstrated its prowess in numerous conflicts and exercises, showcasing its ability to operate in all weather conditions and successfully execute complex missions.
On the other hand, the F-15J Eagle serves as Japan's primary air superiority fighter, operated by the Japan Air Self-Defense Force (JASDF). 
The F-15J is a single-seat variant focusing primarily on air defense missions. In the late 1960s, the Japanese government needed a modern fighter aircraft to improve its air defense capabilities.
After exploring a few options, Japan inked a licensing arrangement in 1975 with the US to build the F-15C/D variant, specifically customized for Japan and designated as the F-15J.
Mitsubishi Heavy Industries produced the F-15J under license from McDonnell Douglas (now part of Boeing), the original builder of the F-15 Eagle series.
The first aircraft entered service with the JASDF in the early 1980s, marking an important milestone in Japan's military aviation capabilities.
Derived from the F-15C variant, the F-15J incorporates specific modifications to meet Japan's unique requirements. The F-15J has been a cornerstone of Japan's air defense, providing robust protection of its airspace and contributing to regional stability.
Except for a few avionics modifications, the F-15J is nearly identical to the F-15C. These modifications involve removing certain sensitive equipment related to electronic countermeasures (ECM), radar warning systems, and nuclear delivery capabilities. 
The AN/ALQ-135 ECM system has been substituted with the indigenous J/ALQ-8, while the AN/ALR-56 Radar Homing and Warning System (RHAWS) has been replaced by the J/APR-4.
Furthermore, Tokyo remains committed to improving the capabilities of its F-15J fleet, and in early 2022, Japan officially announced plans to upgrade 68 license-built Mitsubishi F-15J Eagle interceptors. This upgrade program aims to enhance the aircraft's radar, electronic warfare systems, weapons carriage capacity, and stand-off weapon capabilities. 
Nonetheless, the F-15E and F-15J variants reflect the F-15 Eagle's long-standing reputation as a capable and dependable fighter aircraft. Their operational successes and continued advancements demonstrate their essential role in maintaining air superiority and meeting critical mission objectives.