According to recent US intelligence cited by CNN, Iran is seeking help from Russia for its nuclear program in exchange for providing drones and missiles.
"Iran is seeking Russia's help to bolster its nuclear program, US intelligence officials believe, as Tehran looks for a backup plan should a lasting nuclear deal with world powers fail to materialize," CNN reported on November 4.
The US Intelligence believes that Iran has been seeking Moscow's help in procuring additional nuclear materials, as well as for nuclear fuel fabrication. The fuel would enable Iran to power its nuclear reactor, thereby potentially cutting down the so-called 'breakout time' Iran requires to create a nuclear weapon.
Experts caution against reading too much into this, as risks of nuclear proliferation vary depending on which reactor the fuel is utilized for. Iran maintains that its nuclear program is peaceful and has officially ended its nuclear weapons program.
However, US officials have expressed concern about Iran's uranium enrichment activities which have far exceeded the parameters of the 2015 nuclear deal, and that Iran could produce sufficient fissile material for a nuclear weapon in a matter of months.
In June, US Secretary of State Antony Blinken warned lawmakers that Iran's nuclear "program is galloping forward … The longer this goes on, the more the breakout time gets down … it's now down, by public reports, to a few months at best. And if this continues, it will get down to a matter of weeks."
Additionally, Tehran's alleged proposal has come amid increasing cooperation between Iran and Russia in recent months that has seen Tehran sending its suicide drones in support of the Russian war effort in Ukraine.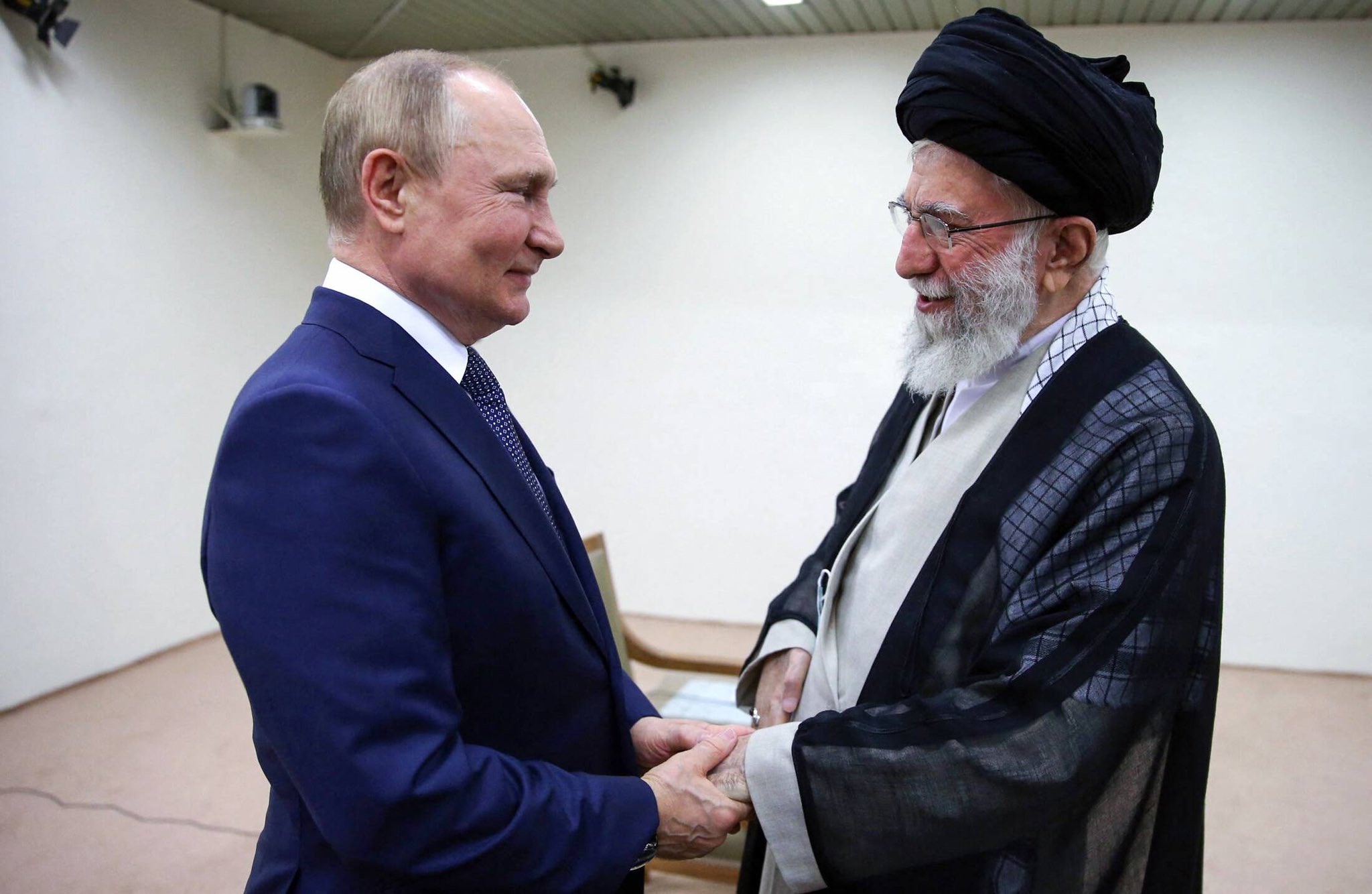 Will Russia Bolster Iran's Nuclear Program?
It remains unclear if Moscow has accepted Tehran's request. It is also important to remember that Russia has long been outwardly opposed to Iran obtaining nuclear weapons.
That said, if Russia does agree to provide covert assistance to Iran's nuclear program, it would mark a big shift in Moscow's policy, considering Russia's membership of the P5+1 group of countries that have been part of the negotiations to prevent Iran's nuclear weapons program.
In late October, Ukrainian President Volodymyr Zelensky, in a bid to persuade Israel to provide Ukraine with air defense systems, suggested that Iran was seeking Russia's assistance with its nuclear program in exchange for military assistance to Moscow.
"How does Russia pay Iran for this, in your opinion? Is Iran just interested in money? Probably not money at all, but Russian assistance to the Iranian nuclear program. Probably, this is exactly the meaning of their alliance," Zelensky said in a recorded speech at a conference of the Israeli Haaretz newspaper.
However, the intelligence obtained by the US does not suggest the existence of a clear quid-pro-quo, sources told CNN.
Iran Has Lost Hope In Nuclear Negotiations With The US, Has Moscow Too?
According to US intelligence officials, Iran's proposal to Moscow, in part, is motivated by a belief among senior Iranian officials that a new nuclear deal will either not be revived or, even if it does, will not last.
In recent days, nuclear deal negotiations between Iran and P5+1 group countries are all but dead, at least for now.
The Iranian regime's violent crackdown on protestors and assistance to Russia's war effort in Ukraine has made it increasingly difficult for the Biden administration to strike a deal with Tehran that would result in sanctions relief for Iran.
We reconstructed the violent crackdown at Sharif University, Iran's most elite institution. Security forces opened fire on students protesting peacefully, they beat professors and arrested over 50 in a crackdown that has shocked Iran. https://t.co/f8wqHRlg4V pic.twitter.com/KLbaKd3wjf

— The New York Times (@nytimes) October 7, 2022
Earlier this year, the nuclear negotiations over the Iran nuclear deal were reportedly close to the end, and a new deal appeared possible. Still, Iran feared that a future administration might pull out of a deal, just like the Trump administration did in 2018.
So, Iran is said to have sought guarantees from the US that a future administration would not withdraw from the deal, which the Biden administration could not give. Therefore, Iran reportedly sought a side deal with Russia that would enable it to build up its nuclear program rapidly, if necessary.
"Obviously, side deals between Russia that fundamentally undermined the structure of the 2015 agreement would be a serious concern and further reduce the possibility of a return to the agreement," a senior Biden administration official told CNN without commenting specifically on intelligence assessments.
Experts opine that the US withdrawal from the nuclear deal also probably increased Moscow's willingness to help Iran, and the current state of US-Russia relations could possibly add fuel to the fire, considering that a new deal seems impossible to reach, at least as of present.
"Three to four years ago, when US-Russia relations were bad but not catastrophic, I would be pretty skeptical that Russia would provide Iran with help," said James Acton, co-director of the Nuclear Policy Program at the Carnegie Endowment for International Peace.
"But under today's conditions, under which US-Russia relations are extremely bad, and Russian-Iranian relations are getting better, I think the equation looks quite different for Russia," Acton continued.
Throughout 2021, Russia was instrumental in the nuclear deal talks and even mediated some deals that granted the International Atomic Energy Agency (IAEA) access to Iranian nuclear sites, effectively maintaining the negotiations on track.
However, following Russia's invasion of Ukraine in February, Russian officials seemed reluctant to cooperate on the issue of Iran's nuclear deal. In June, Russia opposed the resolution proposed by the IAEA, condemning Iran for failing to cooperate with inspections of uranium traces found at certain undeclared nuclear sites in the country.
"This suggests ongoing Russian interest in acquiring Iranian attack-capable UAVs. To our knowledge, this is the first time a Russian delegation has visited this airfield for such a showcase." pic.twitter.com/mW6P9vQ2rO

— Nick Schifrin (@nickschifrin) July 16, 2022
Shortly after Russia rejected the IAEA proposal, satellite imagery appeared, allegedly showing Russian officials at an airfield in Iran examining Iranian-made combat drones, which Russia ended up acquiring and is currently using in Ukraine.