Just two days after unveiling its longest-range drone, Iran has now announced that the Islamic Revolution Guards Corps (IRGC) is all set to deploy a unique water-landing naval drone capable of carrying missiles and bombs.
IRGC Navy Commander Rear Admiral Ali Reza Tangsiri announced on September 24 that his forces have created military drones that can launch from and land on water, Iran's Mehr News Agency reported.
Giving a peek into what the drone would look like, the Commander added that these UAVs that land on water can potentially carry explosives. "This capability will be announced in the future," Gen. Tangsiri added.
The general continued by saying that the IRGC Navy had also created hybrid drones with two independent engines for propulsion and launch. The general said that these drones can conduct patrol and surveillance missions for 15 hours and will soon join the fleet of the IRGC Navy.
The announcement comes when tensions have risen in the Persian Gulf between Iran and the West. In recent months, Iran has upped the seizures of Western ships, with Western military experts warning that it could snowball into a confrontation between Tehran and the Western troops stationed in the region.
Iran's Navy has increasingly been exploring drone capabilities and has deployed an array of cutting-edge UAVs on its warships, submarines, and auxiliary ships. In July last year, the Iranian Army's Navy unveiled the nation's first drone carrier, taking the capability several notches upwards.
The latest announcement about its upcoming military drones comes just days after Iran unveiled "the longest-range drone in the world" on September 22, marking the anniversary of the Iran-Iraq war of the 1980s. Besides the drone, ballistic and hypersonic missiles were paraded along with other hardware.
The longest-range drone in the world was unveiled today in #Iran's armed forces parade on Friday. pic.twitter.com/FJyRBKfoUz

— IRNA News Agency (@IrnaEnglish) September 22, 2023
Although the parade was covered in state media, there was no information about "the longest-range drone in the world." The reports noted that a few drones displayed at the parade were named Mohajer, Shahed, and Arash — the series of drones in Iran already known to be produced in different variants.
The latest announcement regarding new types of drones is significant as the chief of staff of the Iranian Armed Forces, Major General Mohammad Hossein Baqeri, claimed that the world had acknowledged that Iran had developed its military capabilities not through reverse engineering or reproduction of foreign equipment.
Moreover, Iran's drone manufacturing capabilities have increasingly come under the limelight with the transfer of its kamikaze drones to Russia. These drones have been quite successfully deployed to obliterate Ukraine's civilian infrastructure.
Iran's burgeoning drone capability is perceived as a threat by its adversary in the region, Israel. For instance, as Iran unveiled its longest-range drone last week, Israeli media  noted that the parade featured large signs declaring "Down with Israel" and "Down with the USA," as well as posters warning Israelis to "prepare your shelters."
Iran Is Churning Out New Drone Technology 
The Islamic Republic announced last month that it had developed the Mohajer-10, a cutting-edge drone with a longer flying time and range and a greater payload.
The state media stated that the drone could fly for up to 24 hours and had an operational range of 2,000 kilometers or 1,240 miles. Its payload capacity is 300 kilograms or 661 pounds, double that of the Mohajer-6 drone supplied to Russia.
Also, the newly developed unmanned aerial vehicle can attain speeds of up to 210 kilometers/hour and transport a wide range of ammunition and bombs. With its declared range of approximately 2,000 kilometers, it has triggered alarm that Iran could potentially use it to attack Israeli and US forces in the region.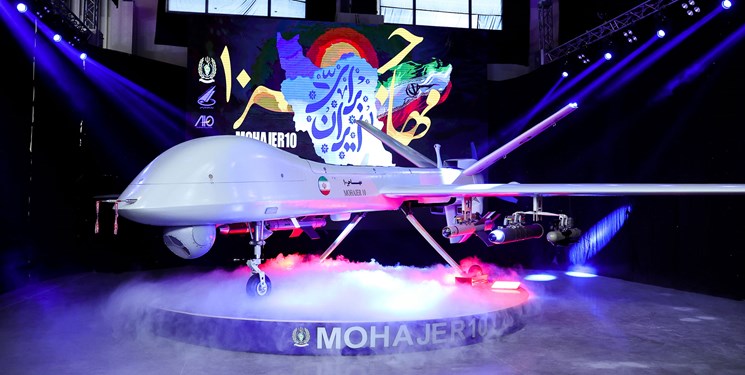 Iran's drone prowess has come under significant attention recently, mainly due to its supply of the Shahed 136 model kamikaze drones to Russia. Even though Iran's President Ebrahim Raisi continues to deny that his country shipped the drones to Russia for use in the war in Ukraine, the Iranian drone program has been slapped with sanctions.
Last week, the US imposed sanctions on seven people and four companies in China, Russia, and Turkey allegedly connected to the Iranian drone program.
Tehran's explanations are believed to have been inconsistent. Initially, they denied supplying these drones to Moscow but later asserted that the sales occurred only before the invasion was launched in Ukraine. Experts say these drones would likely boost Iran's defense industry, potentially catalyzing export.
Iran now claims that demand for its unmanned aerial vehicles (UAVs) has registered an uptick in the Western world. It emphasized that it would consider a sale if there is a favorable strategic, diplomatic, commercial, and industrial reciprocity from these countries. Iran bases this claim on the success of its drones in the Russia-Ukraine war.
Islamic Republic of Iran's (IRI) Defense Ministry spokesperson Brigadier General Reza Talaei-Nik said that "there is a profusion of potential customers for the Iranian-manufactured military drones," which Iran is ready to export after "taking into account their production capacity and domestic needs."
Contact the author at sakshi.tiwari9555 (at) gmail.com