The Indian DRDO is raring to go with the AMCA 5th-gen fighter jet program without an engine roaring to go with the project! The deja vu for those old enough to remember is inescapable!
HAL and later DRDO have made the same mistake in the past! Agreed, it's a new world, but our history will remain ever old, and those who don't learn from history are doomed to repeat it.
India successfully developed a Mach 2 twin-engine fighter in the late fifties – without an operational engine! The fighter, HF-24 Marut, entered operational service in the early 60s only to be junked in the early 80s for lack of a suitable engine!
For twenty years and two wars, the IAF patiently waited on HAL for a more powerful engine for the HF-24 but to no avail.
India repeated the mistake when it sanctioned the LCA project in 1983 without an operational engine. The LCA project is on the same trajectory as the Marut project. Hopefully, by 2025 the LCA Mk2 will start flying on a different trajectory, leaving the LCA Mk 1/ Mk 1A doomed to be junked, like the Marut, within 20 years of operational induction.
The imperative for India to build its fighters around operational engines, not a conceptual engine, is stark. Building a fighter around a clean sheet design still on the drawing board is not a good idea, even for a nation as experienced and advanced in aviation technology as Russia.
Had Russia realized the clean sheet engine design Product 30 around which the Su-57 was conceived, it would have likely sold the fighter to the IAF and achieved the air dominance it now lacks in Ukraine!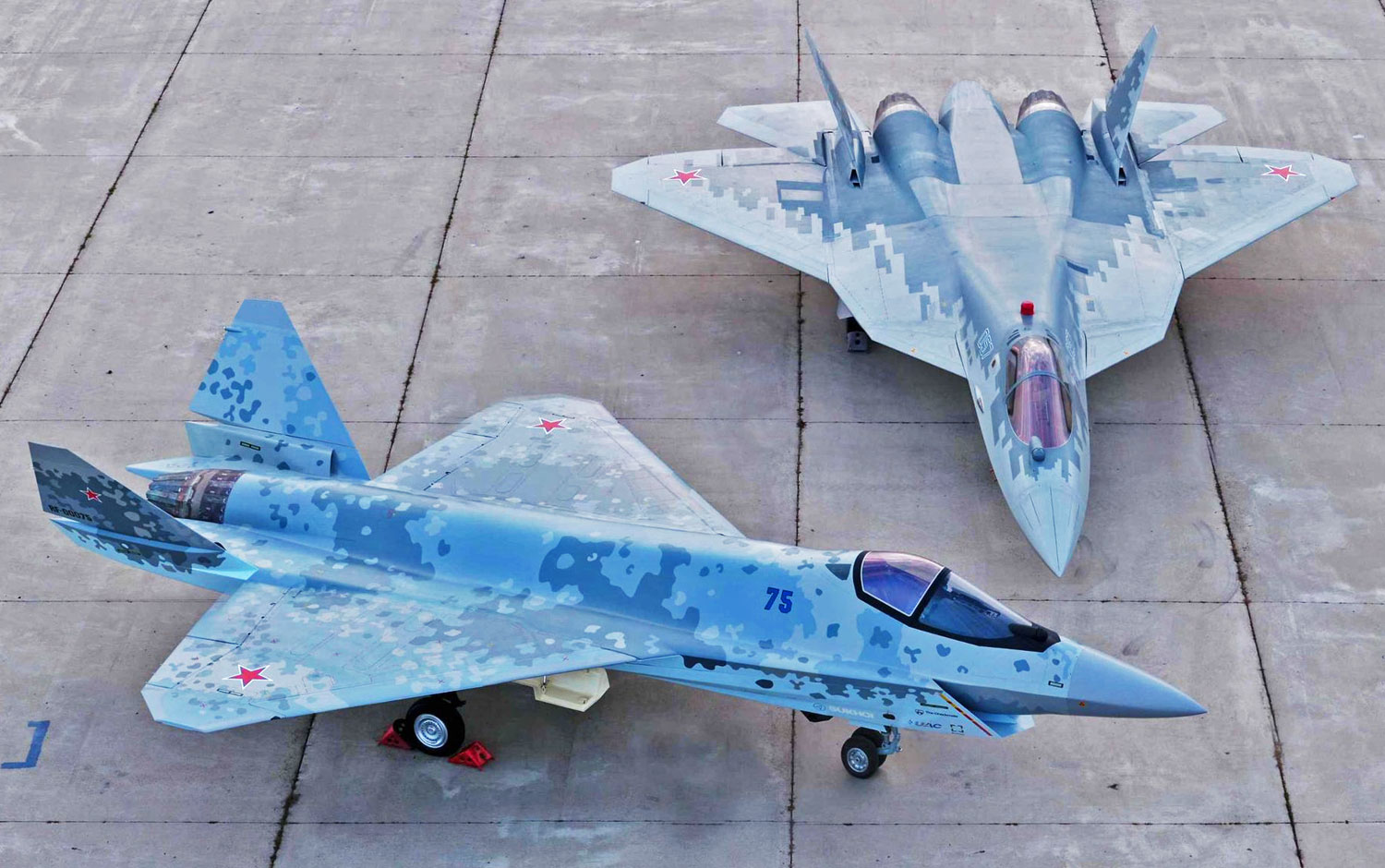 The Prime Minister's Office (PMO) is reportedly aware of the dilemma. It favors the AMCA project and is ready to grant approvals.
But it has concerns over the engine development roadmap and believes India's fighter jet program cannot remain dependent on foreign-made engines. The Aeronautical Development Agency (ADA), which is developing the AMCA, addressed the PMO's apprehensions last month by overly optimistic projections about its proposed collaboration with France's Safran, US' GE or the British Rolls Royce" to co-develop fighter jet engines in India."
Under ADA's plan, the first 40 AMCAs would fly on GE-414 engines. The next aircraft version, AMCA Mark 2, will fly on an engine co-developed in India.
Why Developing AMCA Around The F-414 Engine Is A Bad Idea
There are several good reasons for India not to develop the AMCA around the GE F-414 engine:
Threat of sanctions

Lack of supercruise

Lack of thrust vectoring, hence super maneuverability
The second and third shortcomings listed above are among the defining features of 5th gen fighters. The first shortcoming is a show-stopper!
What Is The Hurry?
The AMCA must be realized as an important milestone in India's quest for atmanirbharta selfd reliance) in fighter aircraft and engine technology.
It should serve as the launch pad for future aviation technology. AMCA induction into the IAF should prompt the MoD to put fighter aircraft, engines, weapons, sensors, and sensor fusion hardware on the import ban list.
Unfortunately, that will not happen if India embarks on the AMCA project prematurely. Doing so would be choosing to relinquish sovereignty over myopic and limited advances in aviation technology. Advances that will fall way short of atmanirbharta.
Prefer Our Best Over The Best
India must develop a credible roadmap to develop its engine first, using any of the options listed below, before embarking on the AMCA project.
Outright purchase of operational engine technology

Outright purchase of critical technologies that it lacks, such as turbine blades for hot engines, thrust vectoring, LO-shaped nozzles, etc., so it can quickly build an engine of its design.
The options listed above may be woefully expensive, but they would put India at the point on the roadmap from where there is no looking back!
We don't need foreign collaboration in developing an engine. We need complete technology and no collaboration. And we don't need the best engine technology – we need technology that works for us now! We can take it from there.
Aircraft engine development is challenging. Only four nations have mastered the technology – USA, UK, France & Russia. China is almost there.
It took China decades to develop a powerful fighter aircraft engine, though reliability still appears to be a problem. It is noteworthy that China, focused on developing an analog to an engine with operating experience, could study closely and copy without the threat of sanctions.
Many analysts believe that China's limited purchase of Su-35 fighters from Russia was aimed solely at imbibing its AL-41F engine technology for developing its WS-15 engine.
The point here is that China attempted to and eventually succeeded in developing engine technology that was not the best in the world. Still, it met China's requirement for a suitable engine for its J-20 stealth fighter.
Attempting to go from the bottom to the top in one iteration, as India appears to be doing with its quest for an AMCA engine, is not a recipe for quick success. We need to be realistic.
Possible Alternatives
What is the alternative to giving the go-ahead to the AMCA project in December 2022, as the government is reportedly set to do?
India could delay the launch of the project till ADA draws a more realistic roadmap to engine development. DRDO could utilize the additional time for plugging gaps in our 5th gen fighter technology, such as developing Stage 3 (decision assist) and Stage 4 (automated decision) sensor fusion, improving sensors, and developing manned-unmanned Collaborative Combat Aircraft (CCA) technologies for incorporation in the AMCA.
We could also focus on other projects that will dramatically advance Indian fighter design and development capabilities. For example:
1. Develop LO-shaped exhaust for the Ghatak UAV to make it an all-aspect stealth UCAV
2. Advance manned-unmanned CCA capabilities by pushing the HAL-NewSpace Loyal Wingman project.
Filling Any Operational Capability Gap
There are two possible alternatives before India to plug any gaps in operational capability that may arise because of the delay in the AMCA program.
Spiral upgrades of its existing 4th gen fighter fleet with better sensors, weapons, and sensor fusion.

Interim limited purchase of a 5th gen fighter from a foreign vendor.
If atmanirbharta is the ultimate aim, interim purchasing 5th gen fighters from a source known for its proclivity to impose sanctions would not be a bright idea. Ruling out the F-35 would force a relook at the Su-57.
Should India Consider Interim Purchase of Su-57
The Su-57 program has now achieved maturity following the recent first flight of the modernized variant capable of using the stage 2 power plant, allowing it to supercruise.
The Su-57 already has supermaneuverability. Regarding its less-than-stellar stealth characteristics, Russia's success with using Su-57 during its ongoing military operation needs to be kept in mind. Russia has demonstrated that the Su-57 can play an important role even in heavily contested airspace with suitable tactics and weapons. We covered the tactics and weapons being employed in this earlier article.
The interim purchase of Su-57 will give us capabilities that AMCA Mk 1 would not be able to give us! Within the next five years, not within the next 10-15 years!
The most significant advantage of acquiring the modernized Su-57 for India would be the total absence of restrictions on their use and operational deployment.
The big question is – Could Russia spare a modernized Su-57 for export to India? It's unlikely it could do so for the next couple of years. But then, what is the hurry? Also, what other options would we have to acquire a 5th gen fighter without relinquishing sovereignty?
Vijainder K Thakur is a retired IAF Jaguar pilot. He is also an author, software architect, entrepreneur, and military analyst. VIEWS PERSONAL
Reach out to the author at vkthakur (at) gmail.com