Dozens of Chinese PLA's H6-K aircraft reportedly conducted a nine-hour long aerial bombing exercise after US President Joe Biden and Japanese Prime Minister Yoshihide Suga expressed deep concern over Taiwan.
PLA's Eastern Theater Command, which overlooks the Taiwan Strait, conducted the nine-hour long live-fire exercise over the weekend, the South China Morning Post said quoting state television reports.
The H-6K strategic bombers flew in combat formations in low-visibility situations from a military airport situated in eastern China and headed towards an "unknown shooting range" as reported by CCTV. It further said that this high-intensity, long-hours, day-night training was aimed at increasing the assault capabilities and improve actual combat capabilities.
The H-6Ks were also seen practicing electronic countermeasures mid-flight with their air-defense missile units. Upon reaching their targeted air space, they dropped the bombs from different altitudes in a free-fall manner.
The aircraft were found dropping bombs in a free-fall manner in remote areas of northwestern Qinghai province.
The Chinese Xian H-6K is a license-built version of the Russian Tupolev Tu-16 twin-engine jet bomber, built for the PLA Air Force.
It is believed that the H-6K is designed for long-range/stand-off maritime or land strike capability with long-range anti-ship and land-attack cruise missiles. In short, it is capable of attacking US carrier battle groups or other priority targets with up to six YJ-12 anti-ship cruise missiles and 6/7 KD-20 ALCMs, as mentioned by the defense and aviation analyst David Cenciotti.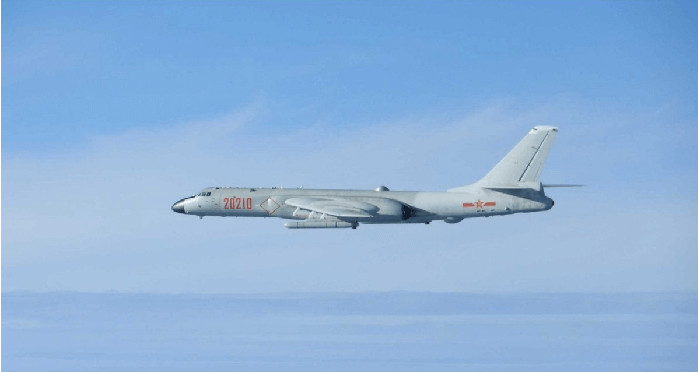 Tensions Over Taiwan 
Under its "One-China Principle", Beijing has been making sweeping claims over Taiwan and has even threatened to take control of the island by force, if required. Then on April 12, the Taiwanese government claimed that China flew the largest number of military jets into its air defense zone for a year.
In response, US Admiral John Aquilino, head of the Pentagon's Indo-Pacific Command, warned that a Chinese invasion of Taiwan "is much closer to us than most think".
The aerial bombardment drills came in the wake of the joint statement by Washington and Tokyo highlighting "the importance of peace and stability across the Taiwan Strait".
As reported by The EurAsian Times, the US and Japan have joined hands for cooperation in "all domains". It was the first time since 1969 that the two countries have mentioned the Taiwan issue in their public statement which has left Beijing furious.
Already opposing the interference of the US and Japan in their "domestic affairs", China is flexing its muscles, conducting a series of combat exercises in the region.