Amidst the launching of China's third aircraft carrier, the Type 003 'Fujian,' it has become essential to decoding the country's possible intentions in the Indian Ocean Region (IOR) based on its writings by leading strategists, academics, and maritime theorists. Eurasian Times had touched upon the trajectory the PLAN's naval air arm is likely to take.
'Fujian' is a different beast, ten meters longer than her predecessors; it is likely to be the largest non-American aircraft carrier in the world. Even better, China directly jumped from the Short Take-Off But Arrested Recovery (STOBAR) system to the Electro-Magnetic Launch System (EMALS).
BREAKING: China has launched its 3rd aircraft carrier, the first to be entirely domestically-built.

It is named the CNS FUJIAN

Fujian is the province immediately across from Taiwan pic.twitter.com/dGznIJ3Swh

— Jack Posobiec ?? (@JackPosobiec) June 17, 2022
EMALS functions on powerful magnetic fields generated by electromagnetic induction motors to propel lighter objects, use fewer resources and recharge faster.
Unlike the steam-powered Catapult Assisted Take-Off But Arrested Recovery (CATOBAR) launch systems on the older generation of US aircraft carriers before the Gerald R Ford class.
CATOBARs can launch fully armed and loaded jets and even heavier Early Warning Aircraft without depending on helicopters with limited range.
Experts assume China's fourth carrier to be nuclear-powered, allowing it to stay out at sea longer and carry more fuel, cargo, artillery, and aircraft, because of the space created with the loss of a large gas turbine.
Nuclear power can also propel more powerful EMALS systems and possibly even Directed Energy Weapons (DEW) for shooting down missiles and jets.
The carrier can even better protect itself from airborne threats when combined with regular weapons, possibly reducing the load on escorting destroyers and frigates.
A Global Times report said it would get an improved version of the J-15 heavy fighter compatible with a catapult launch, another electronic warfare version of the same jet, a stealth fighter called the J-35, and a fixed-wing EW aircraft called the KJ-600.
The same report also says that its possible use will be only around the three flashpoints concerning China's security — the Korean Peninsula, the Taiwan Straits, and the South China Sea — by pointing to how, unlike the United States, its navy is only used to protect its national sovereignty.
from Zhenghe treasury ship(15th century) to 003 aircraft carrier
从郑和宝船到003号航母#PLA #China #Navy pic.twitter.com/H6fEh880Z1

— Caoli 曹利 (@Cao_Li_CHN) April 23, 2022
"(The US) instead (uses its carrier battle groups) to achieve world hegemony. (Its goals are) coastal defense and far sea escort, and this means the third aircraft carrier will excel at combat missions on the doorsteps of China, including the Taiwan Straits and the South China Sea, even facing possible aggressions by US carriers, and it can also serve its purpose in escort missions far away from China," the report said.
But this also means that China is far from mastering the complex carrier operations that the US, British and Indian navies have taken decades to perfect.
"There are various departments in a carrier ranging from aviation to the engine room, gunnery/air defense, logistics, meteorology, etc. Getting all of them to work in tandem is one thing. It is a whole other to get them to sail with other surface assets like destroyers, frigates, and fleet replenishment tankers in diverse sea conditions.
All this while operating all kinds of aircraft (fighters, helicopters, and other fixed-wing planes) from the deck. Chinese are undoubtedly working hard to catch up. Still, they know they are far from the sheer experience Indian and Western navies have," said Commodore G Prakash (Retd), a former naval aviator.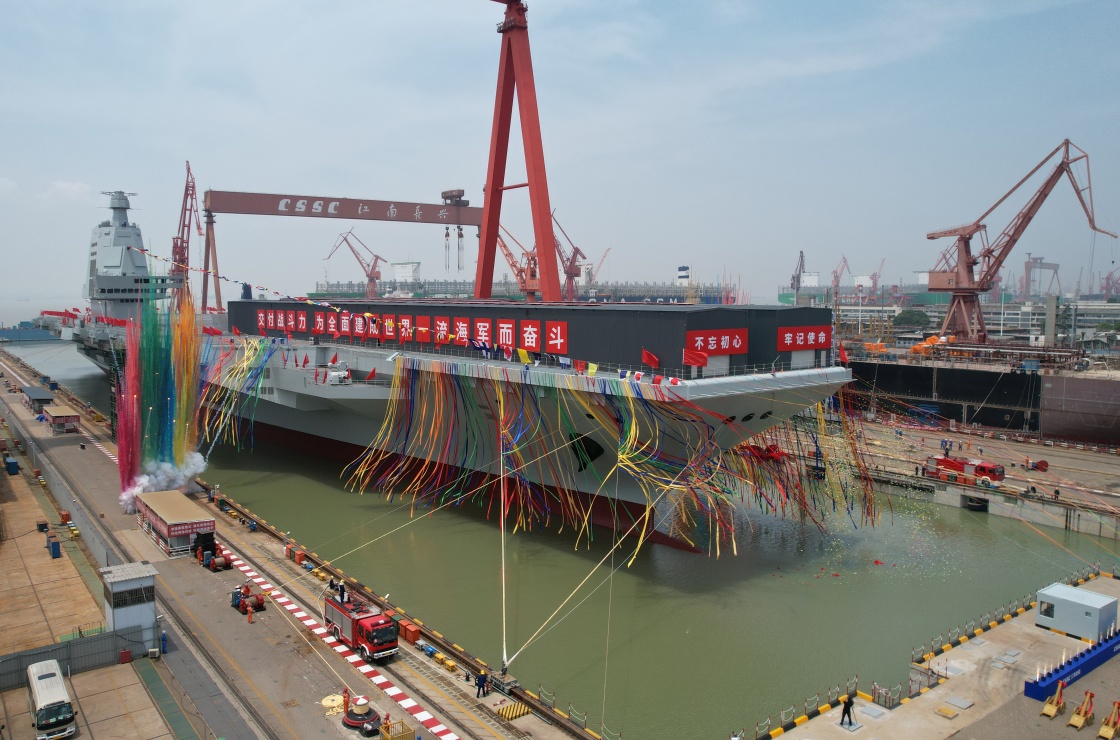 Navigate, Dominate or Protect?
China's intentions behind building a modern navy and its possible use in the Indian Ocean Region (IOR) can be drawn from the writings of Chinese strategists and experts. They essentially advocate a protectionist and non-interventionist role aimed at solely guarding its sea lines of communications (SLOCS).
There are shades of a hard-line approach towards dealing with the United States and India, but so far, there has been nothing to suggest an aggressive posture that might threaten core Indian security from the sea.
Ye Hailin, Vice-President of the Institute of Asia Pacific and Global Strategy in the Chinese Academy of Social Sciences (CASS), says, "China has never regarded India as the main concern, whether it is a partner or an opponent, it is a secondary level."
The pursuit of overland trade routes through the Belt and Road Initiative (BRI) and the China-Pakistan Economic Corridor (CPEC) aims at overcoming this vulnerability of its energy trade being possibly choked at the Straits of Malacca by India and the US.
Hu Bo, Director of Beijing University's Center for Maritime Strategy Studies, therefore, identifies the Western Pacific and the Northern Indian Ocean (the Middle East, East Africa to the Strait of Malacca) as the central zones for the PLAN.
Currently, the PLAN can spare only 3-4 ships in the northern IOR at a time and is fighting an "away game" with poor logistical support and will not challenge the Quad nations here.
Thus, the bases from Ream in Cambodia to Gwadar and Djibouti focus on overcoming this logistical handicap and breaking what is perceived as "strategic containment" by the US and India, according to Lian Meng and Shi Hongyan.
But the allegation that these 'Strings of Pearls' around India aim to contain the country has long been dismissed by former US Director of National Intelligence (DNI) Admiral Dennis Blair. Strategic affairs expert Mohan Guruswamy quotes Blair, saying he called it a "stupid notion" and that "no navy could encircle a country with a few ports."
Apart from the fact that the Indian Navy and Indian Air Force have enough striking power to neutralize these bases, countries hosting these bases would also become legitimate targets for India.
Thus Myanmar, Cambodia, Sri Lanka, or Pakistan are not likely to allow their Chinese military facilities to attack India. China does not seem to export Communism, learning its lessons from the Soviet Union.
It also doesn't have a "pax-Britannica" goal to "directly control large tracts outside the homeland or carry the flag," according to former Foreign Secretary Vijay Gokhale, India's leading China expert.
Chinese scholar You Jie, therefore, offers the best possible explanation of China's intentions with his concept of "frontier defense."
Meant to rightfully protect China's overseas economic-security interests (or frontiers) as a sovereign state, just like the United States, it is convincing India that its increasing presence in the Indian Ocean Region (IOR) and South Asia is not a threat to New Delhi.