Amid Pakistan's crackdown on Afghan refugees, terrorists belonging to the Taliban-linked Tehreek-e-Jihad stormed a Pakistan air base in the wee hours of November 4. Experts suggest that ten aircraft, including several F-7PG (Chinese name Chengdu J-7), were burnt by the terrorists.
Earlier in 2011, the terrorists had attacked PNS Mehran, the headquarters of the Pakistan Navy's Naval Air Arm and the most populous Pakistani military installation, located near the PAF's Faisal Air Force Base of Karachi, Sindh.
Heavily armed terrorists entered the Mianwali Air Force base in Pakistan's Punjab province using ladders. The Pakistan forces managed to neutralize the terrorists, but not before they infiltrated the key areas of the base.
The videos released by the Pakistan military show the neutralized terrorists' bodies in the 'Met Department,' which is located adjacent to the Air Traffic Controller.
خوارجی کُتوں کو جہنم واصل کرنے پر پاک فوج کے جوانوں کو سلام #PAFAirbaseMianwali #MianwaliAirBase pic.twitter.com/QewJqPKOml

— Shama Junejo (@ShamaJunejo) November 4, 2023
Colonel Vinayak Bhat (retired), a satellite imagery expert, told the EurAsian Times: "The videos of the attack suggest at least ten aircraft have been damaged. We cannot say they were not operational aircraft as Mianwali is an operational air base in Pakistan."
"Mianwali is an important air base and has an underground air defense system, which could have been the target, but the eight terrorists were neutralized before they could reach it," he added.
Satellite images show several hangers being damaged, and experts point out that non-operational aircraft are not stored under sheds. The base was under siege for eight hours.
Imagery from #MianwaliAirBase shows atleast one aircraft shed likely damaged after a terrorist attack on site earlier today #Pakistan (top right dark patch) pic.twitter.com/qGb9KVAqCq

— Damien Symon (@detresfa_) November 4, 2023
Another expert, requesting anonymity, spoke to the EurAsian Times and said: "The video released by the terrorists while claiming responsibility clearly shows that several aircraft were on fire. At least two of them can be identified as F-7PG and one K-8."
"There are numerous videos released by the Pakistan military showing the dead bodies of the slain terrorists, and it clearly shows that they were able to infiltrate operational areas of the base," he adds.
Pakistan Exposed 😳😂🥶

So Tehreek-e-Jihad Pakistan released a video footage of today attack on the Pakistan Airforce #Mianwali Airbase. Video footage clearly showing that TJP attacks & destroyed various Fighter Jet of PAF standing side of Runway using Rocket launchers 🇵🇰

We… pic.twitter.com/y0IRMtm06Q

— Vivek Singh (@VivekSi85847001) November 4, 2023
The video released (at the time stamp 1.17 onwards) also puts Pakistan's claim of zero casualties on its head as it shows that the terrorists did massacre Pakistan military personnel as well.
The attacked Pakistan air base houses Number 1 Squadron 'Rahbers' which operates K-8 P trainer aircraft, Number 20 Squadron' Cheetahs F-7PG, and Number 86 Squadron "Ababeel' operations Alouette III.
F-7 PG, based on the Chinese J-7, is a single-engine, lightweight fighter aircraft designed and manufactured by Chengdu Aircraft Corporation (CAC) of China. Its design is based on its predecessor, the MiG-21 aircraft. The export version of J-7 has been designated the F-7.
The Karakorum-8 (K-8) is a single-engine, advanced jet trainer and light attack aircraft designed and manufactured jointly by Hongdu Aviation Industry Corporation (HAIC) of China and Pakistan Aeronautical Complex (PAC) to replace the aging Cessna T-37 Tweet jet trainers in service with the PAF.
Alouette III is a single-engine, light utility helicopter developed by French aircraft company Sud Aviation.
Contrary to the images and video, the Pakistan military's statement acknowledged that the militants managed to cause damage to three grounded aircraft at the PAF base as well as a fuel bowser in Mianwali. The terrorists has also claimed that its terrorists destroyed a tank coming for reinforcement.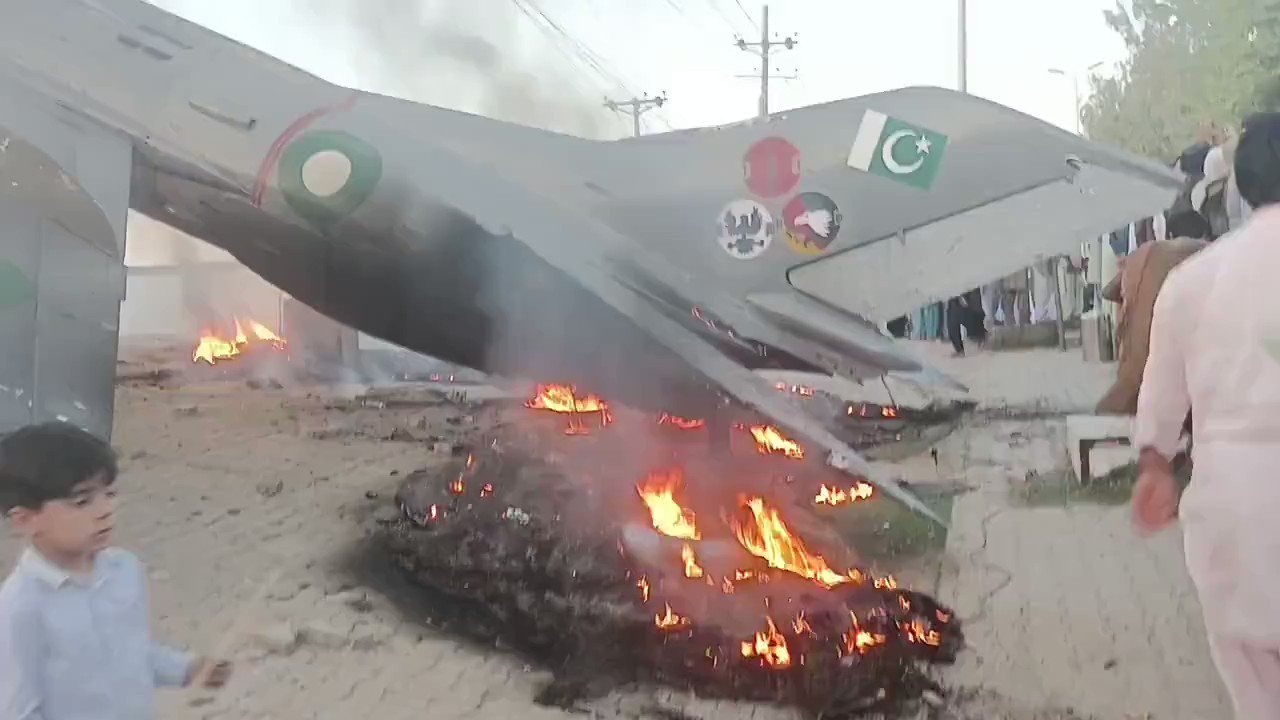 "On November 4, 2023, in the early hours of the day, Mianwali Training Air Base of Pakistan Air Force came under a failed terrorist attack which, Alhumdolliah, due to the swift and effective response by the troops, has been foiled and thwarted, ensuring the safety and security of personnel and assets," the Inter-Services Public Relation (ISPR) said in a statement.
India Remembers Pathankot Airbase Attack
An Indian Airbase on its side of Punjab – Pathankot airbase, was attacked in 2016 by Pakistan-based terrorist group Jaish-e-Mohammad. A gun battle raged for four days, killing seven security personnel and a civilian. None of the IAF assets were damaged.
Speaking to the EurAsian Times, Air Vice Marshal Anil Golani (retired) opined: "It is difficult to execute attacks without connivance with local people. It seems that the terrorists want to bring attention before the elections and to Pakistan's move of throwing out Afghan refugees in their country." He is the Additional Director General of the Centre for Air Power Studies.
Tehreek-i-Jihad
The Tehreek-i-Jihad first announced itself on February 23, 2023. At that time, they shot in the province of Balochistan, killing one serviceman and injuring another, according to reports.
In May, six militants and seven soldiers were killed in another attack by Tehreek-i-Jihad on a military compound in Muslim Bagh, another district of Balochistan.
Balochistan, Pakistan's largest but sparsely populated province bordering Afghanistan and Iran, is regularly targeted by Islamist militants, sectarian groups, and nationalist separatists. The province is rich in natural resources like copper, gold, and gas and has been marred by instability and violence.
The outfit has posed a significant security challenge to the Pakistan military.
Ritu Sharma has been a journalist for over a decade, writing on defense, foreign affairs, and nuclear technology.
She can be reached at ritu.sharma (at) mail.com