Russia's missile and drone attacks on Ukrainian cities have continued unabated. On October 17, amid rising attacks, images from Ukraine showed soldiers and possibly even civilians firing assault rifles and other small arms at the approaching suicide drones.
"All night and all morning, the enemy terrorizes the civilian population," President Volodymyr Zelensky said on the Telegram messaging app. "Kamikaze drones and missiles are attacking all of Ukraine. The enemy can attack our cities, but it won't be able to break us," Zelensky added.
This is the second significant wave of Russian attacks on Ukraine in over a week. However, in contrast to last week's aerial raid, which rained numerous cruise and ballistic missiles, the raids in the last two days appear to have been led by Shahed-136 drones—also known as Geran-2 to the Russian military.
Ukraine has been caught off-guard by this unfathomable increase in drone attacks that have overwhelmed its air defenses and surface-to-air missile systems. However, it is now in the process of swiftly combating kamikaze drone strikes and launching what could potentially be a counteroffensive riding on the back of an all-new 'long-range' weapon system.
The state-owned defense enterprise Ukroboronprom said on October 17 that the Ukrainian government had developed a long-range strike capability weapon and was almost ready to be deployed by the military.
The weapon will be fielded as an answer to the Russian attacks carried out using Iranian loitering drones.
Ukraine's state-owned Ukroboronprom arms manufacturing concern has announced that it is in the final stages of design for a Ukrainian-made strike drone, which will have a range of up to 1,000 km.https://t.co/lh3GmvEBju

— The New Voice of Ukraine (@NewVoiceUkraine) October 18, 2022
The company published a picture of a portion of an unmanned combat aerial vehicle (UCAV) nosecone along with some other scant details.
As per the information available, this weapon could have a range of 1000 kilometers and a weight of 75 kilograms. EurAsian Times could not independently verify this information.
"Today, Kyiv was attacked again by Iranian-supplied Shahed-136, known as Geran-2, in Russian service. Ukroboronprom has been operating in heightened mode since the full-scale invasion in February", the company said in a statement.
Russia has widely deployed the Iranian Shahed-136 kamikaze drones due to their cost-effectiveness and expandability.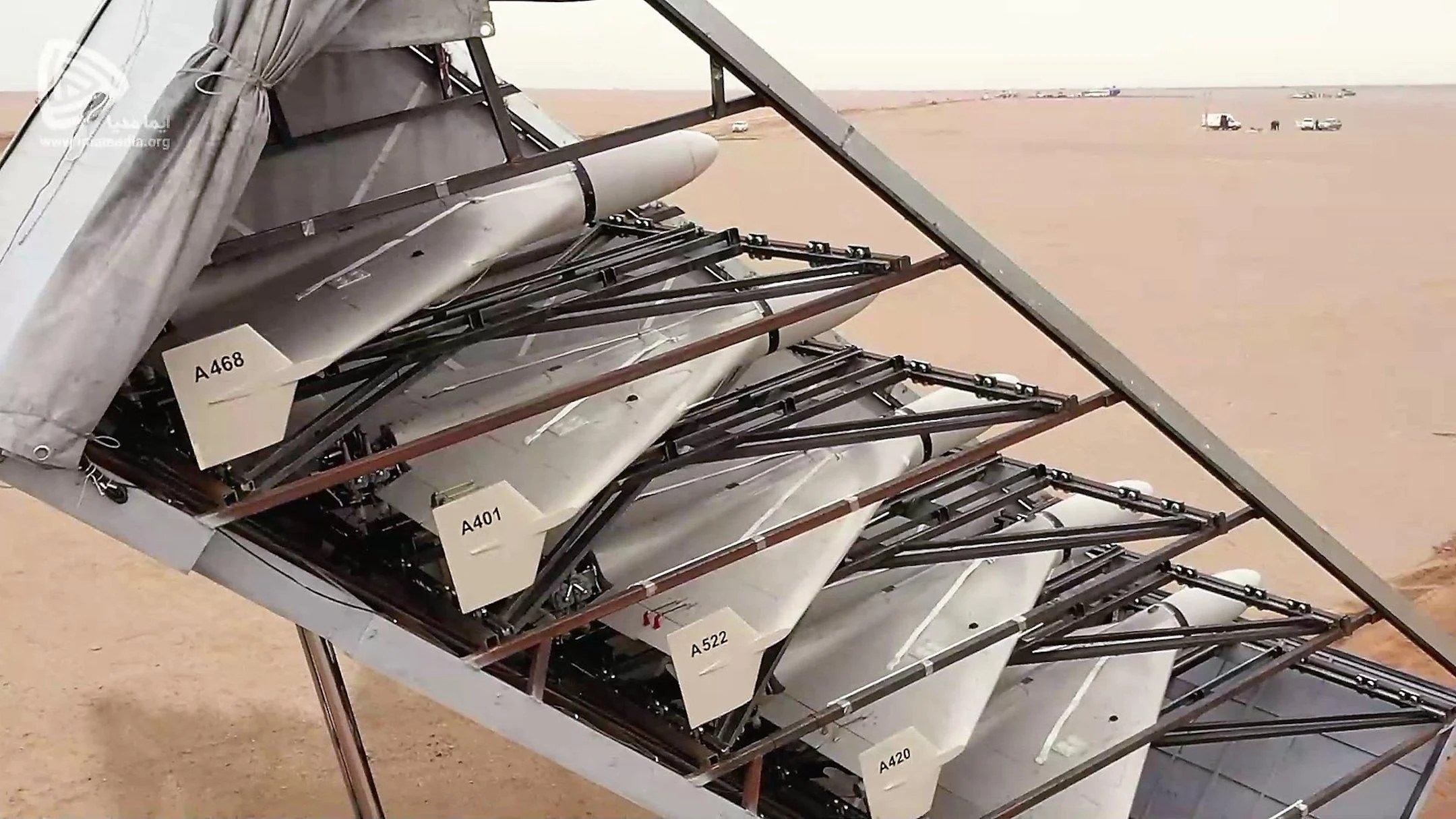 Russia has also deployed its home-grown kamikaze drones called Lancet-1 and Lancet-3 to take on Ukraine after Kyiv carried out a devastating attack on the strategic Kerch Bridge connecting the Russian mainland with Crimea.
With a depleting stockpile of precision-guided missiles and crippling sanctions hindering faster ammo development, Moscow has wholeheartedly embraced suicide drones.
Ukraine's state manufacturer of weapons and military hardware @ukroboronprom completes the development of a new long-range weapon in response to Russia's drone attack.

"Range – 1,000km, weight – 75kg. We are finishing the development."#StatOfTheDay?https://t.co/rRSXqW0pZd pic.twitter.com/KuCOpMN4YO

— TEXTY.org.ua in English (@Textyorgua_Eng) October 17, 2022
While there is little information available about Ukraine's new long-range strike weapon system, the country has been looking to acquire long-range weapons from its partners in the west for a long time.
It has been a wait in futility since countries like the United States have so far refrained from sending long-range weapons that could offend Russia and escalate the war.
In addition, Russia has warned the US against sending long-range weapons to Ukraine, a move he said could lead to the direct involvement of Washington in the conflict. Russia has also threatened the use of tactical nuclear weapons in its regular subtle warnings to Ukraine and NATO.
Air Defense Is Coming, But ATACMS Is Not
It is an enormous cost-exchange mismatch to use surface-to-air missiles or even fighter jets firing missiles on the Shahed-136 since the latter reportedly costs between $10,000 and $20,000 per unit.
For instance, the cost of each new AIM-120 AMRAAM produced today—the identical kind that Ukraine would use for its NASAMS air defense system is about a million dollars.
After Ukraine's capital was rocked by a devastating aerial bombardment by Russia using cruise missiles and kamikaze drones, the United States agreed to expedite the delivery of National Advanced Surface-to-Air Missiles (NASAMS).
However, it has remained non-committal on sending long-range weapons to Ukraine that can strike Russian territory.
CNN reported last month that the US was not likely to provide the Ukrainian military with 'deadly' ATACMS anytime soon, a system that Kyiv has been requesting for months.
The GMLRS rockets currently employed by the Ukrainian military have a maximum range of 84 kilometers, while the ATACMS can hit targets up to 300 kilometers away.
With such long-range strike capability, Ukraine can destroy many valuable targets inside Russia. The Biden administration believes that providing ATACMS to Ukraine would be "extremely escalatory."
"If Washington decides to supply longer-range missiles to Kyiv, then it will be crossing a red line and will become a direct party to the conflict," said the Russian Foreign Ministry Spokeswoman, Maria Zakharova, in a briefing on September 15.
However, it is pertinent to note that the Biden administration has agreed to deliver Ukraine weaponry that it had initially assessed as "too escalatory."
The HIMARS MLRS, which has wreaked havoc on the Russian military, was previously off the table for Ukraine due to President Biden's concern that supplying Ukraine with highly developed, destructive, and long-range MLRS would be seen as an escalation by Moscow.
After receiving "assurances" from Kyiv that it wouldn't employ the missiles to attack inside Russia, Washington finally agreed to deliver HIMARS to Ukraine. The maximum range of HIMARS being provided to Ukraine is 84 kilometers.
Meanwhile, Russia has not only conducted deadly aerial raids on Ukraine but has also annexed four of Ukraine's territories after a referendum not recognized by the International Community.