Abdel Fattah El-Sisi, the President of Egypt, was India's Chief Guest on the 74th Republic Day. Egypt was a household name with the Indians in the late 1950s when three outstanding leaders of the day, namely Nehru of India, Marshall Tito of Yugoslavia, and Col Gamal Abdel Nasser Hussein of Egypt, led the non-aligned movement that aimed at providing a third forum for the developing countries of the world in the aftermath of the WW II.
Though there ensued a stalemate of sorts when the main actors of the non-aligned movement departed from the world, and the brisk interaction remained suspended, India and Egypt did not lose sight of what was happening on the chessboard of international relations and how they looked at the changing strategies.
As the chief guest at the 74th Republic Day this year, President Sisi led a high-level delegation comprising the Ministers of Foreign Affairs, Electricity and Renewable Energy, Planning and Economic Development, and Communication and Information Technology.
They interacted with the Indian business community in New Delhi and outlined the incentives his government had in place for investors in Egypt's Suez Canal Economic Zone.
President El-Sisi's maiden visit to India has opened a new and vast vista of multi-faceted relations between India and Egypt. It is this opportunity that India and Egypt want to grab and translate into practice.
What are the contours of the new relationship, and how can these be made practical and conducive to the larger interests of the two countries and the region? These matters bring PM Modi to Egypt to discuss with President Sisi and his team of ministers and experts.
The Indo-Egyptian partnership will be elevated to a strategic level which means greater cooperation in the political, security, economic, and scientific fields. Strategic cooperation aims to promote peace and prosperity in the entire region. Egypt stands at the crossroads of three continents and, as such, is an essential gateway for trade and investment.
In the words of columnist Aliasger of Gateway House (February 2, 2023), "It's (Egypt's) diplomatic presence in the Arab world and Africa, along with having the largest standing army in Africa, makes it a pivotal player for India as the country tries to increase its footprint in West Asia and Africa."
The new partnership also shares many global concerns they want to address in unison. During El-Sisi's recent visit, both sides attached importance to reforming the United Nations Security Council to expand membership to enhance the representation of developing countries.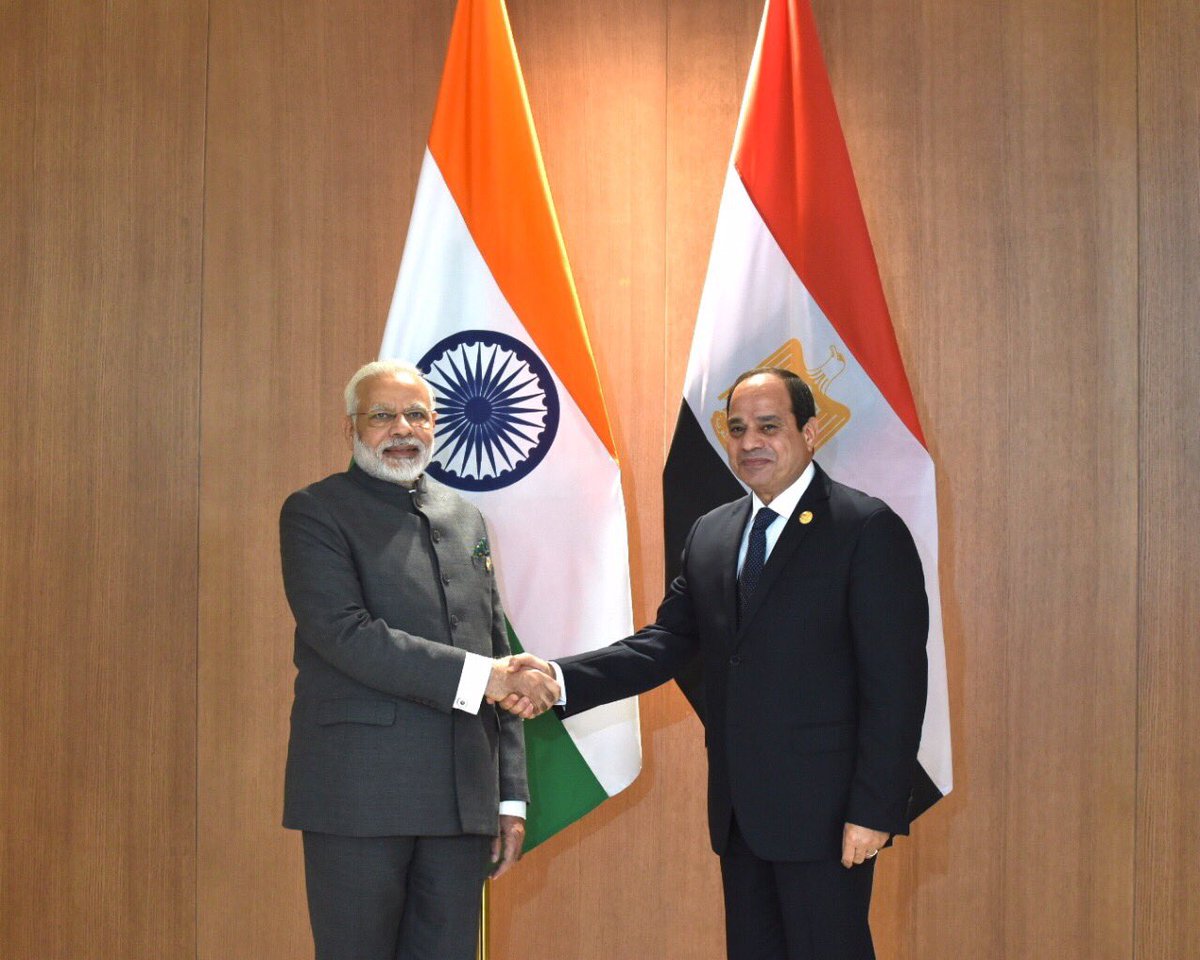 As the President of G-20, India invited Egypt as a guest country to its various sessions. The intention is to leverage Egypt's privileged position in the Global South to help generate a broad consensus in restructuring the new world order.
In the context of projecting the significance of the Global South, the issues of convergence could be underlined on which work should begin. These could be anything from sustainable development and climate change to food security and energy security.
During Defense Minister Rajnath Singh's visit to Cairo in September 2022, an MoU was signed between the two countries in which the sides agreed to further exchange technology and best practices along with the need for co-production under Egypt's framework of the Joint Defense Cooperation (JDC).
Realizing the threat to peace and development, both sides emphasized the need for a holistic approach to counter terrorism and violent extremism. There was agreement on holding a bilateral Working Group on Counter Terrorism meetings to exchange information and enhance interaction between their respective National Security Councils.
The inclusion of action against terrorism in the MoU with Egypt is essential. At one point, Egypt had become a hotbed of terrorism when the Islamic Brotherhood owned the murder of President Sadaat. India will share its expertise in emerging technologies like blockchain to curb disinformation and other terrorist activities on social media and the deep web.
Bilateral trade between India and Egypt has been low, though 2021-22 was the highest ever at $7.26 billion. If we consider the two countries' size, it should have been much higher. The goal is now to expand trade to $12 billion in the next five years, build home production capacities, enhance export, and strengthen existing pharma and food supplies.
There are important engagements for Indian companies. China has already established a 7.34 sq. km (3 sq. miles) industrial estate near the Suez Cana known as Teda City (Chinese-Egypt Teda Suez Economic and Trade Corporation Zone) as part of the Belt and Road Initiative.
That is why El-Sisi urged the large Indian companies like Birla Group, Kirloskar, Dabur India, Godrej, Mahindra, etc., which are doing business in Egypt, to boost their presence and sought out specialized Indian companies Adani Group and Renew Power for investment in Egypt.
Also under consideration is a direct flight from New Delhi to Cairo and other points, as per mutual agreement. It will boost the exchange of students and academics and greater collaboration between universities in Egypt and higher education institutions in India.
Finally, a new field of cooperation between the two countries is their collaboration in defense capabilities. India is number 4, and Egypt is number 14 on the Global Firepower Index. During Rajnath Singh's visit to Cairo in September 2022, both countries agreed to further exchange technology and best practices along with the need for co-production under Egypt's framework of the Joint Defense Cooperation.
Egypt is interested in expanding its domestic manufacturing and taking help from India's technology in missile production, early warning system, and fighter jets. Joint exercises will be increased to allow both sides to share experiences and build capacity in combating traditional and non-traditional security threats.
All this shows that PM Modi's visit to Egypt on his way back home from Washington carries immense importance for India in the fields of trade and commerce, regional peace and stability, anti-terrorism and cybercrime, and above all, collaboration in defense production.
KN Pandita (Padma Shri) is the former Director of the Center of Central Asian Studies at Kashmir University. Views expressed here are of the author's.
Mail EurAsian Times at etdesk(at)eurasiantimes.com