Competition for global fighter jet contracts is quite often dominated by a limited number of elite warplanes. These include Lockheed Martin's F-35, Boeing's F-18 Super Hornet and F-15EX, Eurofighter Typhoon, Saab Gripen and of course, Dassault's Rafale fighter jet, amongst others.
---
The F-35s continue to dominate the global, multi-billion-dollar fighter jet industry, as they are the latest, fifth-generation, stealth aircraft with state of art avionics that every air force aspires to operate. Not many can afford it and the ones who can are not offered the highly advanced 'flying computers'.
One country that could afford the stealth jet is Canada but they decided against spending a fortune on jets that would primarily be used for offensive operations. Other aircraft that Ottawa shortlisted included Rafale, Super Hornet and Gripen jets.
But why did Dassault pull out from the lucrative Canadian fighter jet contract that could have given the European firm a great opportunity to enter the lucrative North American market?
A Versatile Fighter
Dassault's Rafale has been built to be an "omnirole aircraft", a step ahead of the multi-role fighters currently in the market. It is a versatile jet that excels in air-defense/air-superiority, anti-access, reconnaissance, close air support, dynamic targeting, air-to-ground precision strike/interdiction, anti-ship attacks, nuclear deterrence, and buddy-buddy refueling.
This twin-jet combat aircraft can carry payloads of more than 9t on 14 hardpoints [air-force version]. The range of weapons includes air-to-air missiles- ASRAAM and AMRAAM along with air-to-ground missiles- Apache, AS30L, ALARM, HARM, Maverick, and PGM100. It also accommodates 3 anti-ship missiles- Exocet / AM39, Penguin 3 and, Harpoon.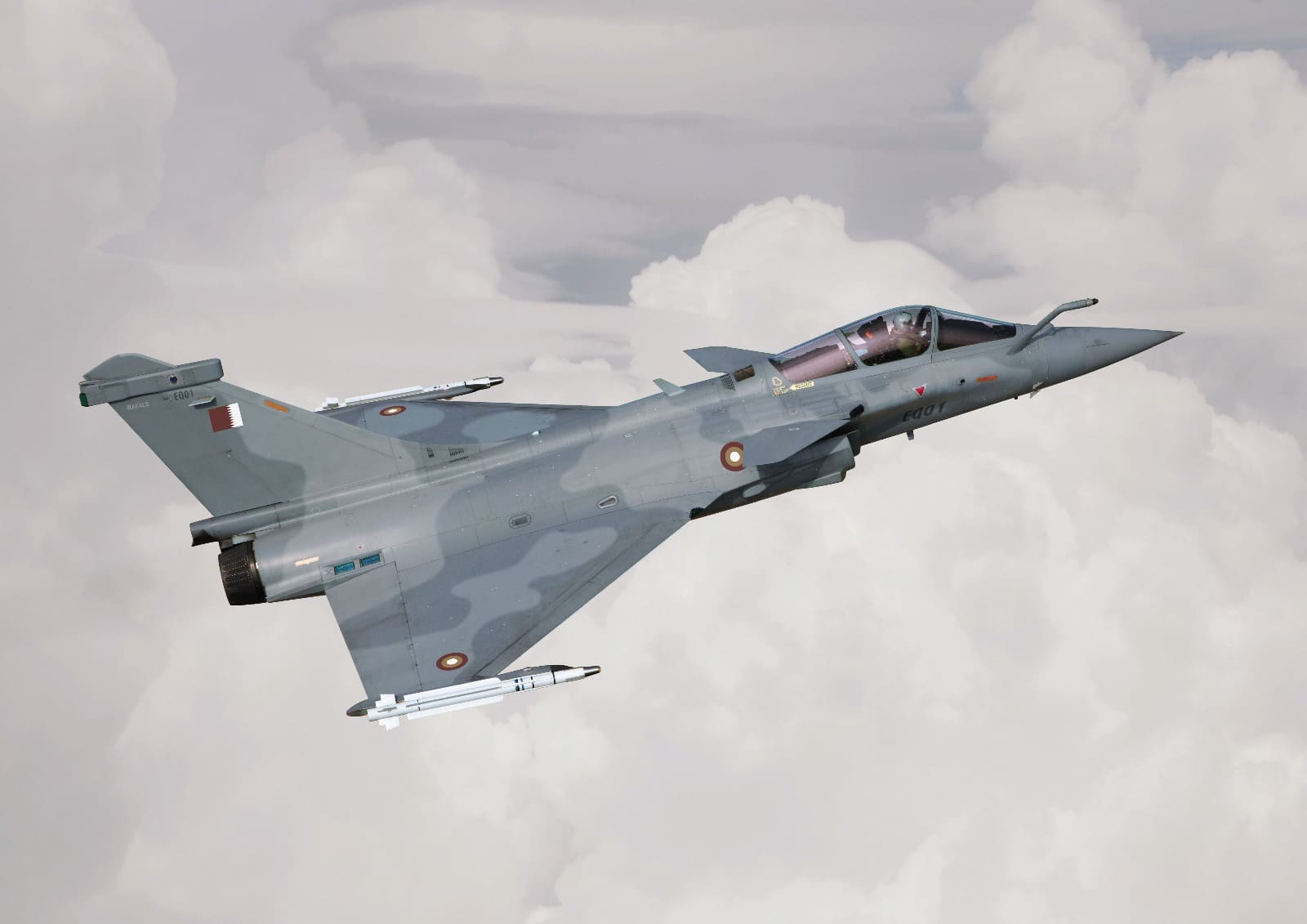 The aircraft has a twin-gun pod and a Nexter 30mm DEFA 791B cannon, which can fire 2,500 rounds a minute. For its electronic warfare system, Rafale employs the Spectra from Thales.
The optronic systems, installed in the nose of the aircraft, include the Thales / SAGEM OSF infrared search and track system. The two powerful M88-2 engines from SNECMA, each providing a thrust of 75 kilonewtons, power the jet.
Overall, Rafale is a versatile, compact, and comparatively low-maintenance aircraft that has proven itself in combat operations in countries like Afghanistan, Mali, Libya, Syria, and Iraq. 
Ups And Downs
The EurAsian Times had earlier reported that despite flaunting awe-inspiring capabilities, the Rafale jets weren't a hot pick in global markets due to their high cost and unspecialized airframe.
In the early 2000s, South Korea and Singapore both picked the more powerful F-15 over Rafale. Talks of selling the fighters to Libya, Kuwait, and the UAE also did not materialize.
However, the tide turned in 2012 when the Indian Defense Ministry announced that Rafale had won the contract for supplying the Indian Air Force (IAF) with 126 aircraft.
Then there was a major setback for the jet, in 2014, when Brazil chose the Swedish Saab Gripen over Dassault's Rafale. But 2015 was Rafale's year as Egypt signed a $5.7 billion deal with France for 24 Rafale aircraft. The contract also reportedly included the sale of MBDA air-to-air missiles and a FREMM naval frigate.
The same year, Qatar inked a $7 billion agreement with Dassault for 24 Rafale aircraft. This also included the training of 36 Qatari pilots and 100 technicians by the French defense forces.
A year later, after failing in negotiations, India and France signed a 7.87 billion euro deal for 36 "ready-to-fly" Rafale jets to modernize his nation's aging warplane fleet.
Within three years, Rafale had sealed three hefty deals! Some major ups, with some downs, have since happened in this field of competition for contracts. 
In January 2021, Greece became the first European country (other than France), to buy the Rafale fighter jets. This $3 billion deal was for 18 planes, of which 12 were to be second-hand. On September 12, Paris confirmed that it would sell six more Rafale aircraft to Athens. 
In May this year, another European nation – Croatia, chose to buy 12 second-hand Rafale jets. The deal is valued at an approximate cost of $1.2 billion. It will also include fleet support and training provided by the French military to the Croatian one. 
In June, though, Rafale lost Switzerland's $6.5 billion deal to its rival, Lockheed Martin's F-35 JSF. Other candidates vying for this tender included the Eurofighter Typhoon and Boeing's Super Hornet. 
Dassault has some solace in the fact that Indonesia could buy 36 Rafale jets from it sometime between 2021 and 2024. The Asian nation has long been eying a suitable fighter jet to replace its aging F-5s. 
The Canadian Competition 
Rafale has tough competitors. Sometimes, this French fighter plane wins the deal it's contending for, and sometimes it doesn't. But it has always been a part of these head-to-head competitions. Surrendering a lucrative deal (worth C$16-19 billion) to its toughest rivals, then, comes as a surprise. 
This particular tender that didn't see Rafale participating all the way through was the Royal Canadian Air Force's (RCAF) contract. Canada is looking to replace the RCAF's aging fleet of F-5 Tigers and F/A-18 Super Hornets. Rafale dropped out of the competition in November 2018.
Dassault had been approved by the Canadian government for the competition. However, the company reviewed the draft Request for Proposal (RFP) and concluded that the Canadian requirements — interoperability and intelligence data sharing, especially with the US forces — would be tough to meet.
Ottawa confirmed the withdrawal after the news report became public. "On November 8, the French government officially notified Canada of its withdrawal from the competitive process to replace Canada's fighter jet fleet," said Public Services and Procurement Canada spokesperson Rania Haddad. "We will continue to work closely with the remaining eligible suppliers to ensure they are well-positioned to participate in the ongoing competition."  
One of the main roles of the selected aircraft is to defend North American airspace. The Royal Canadian Air Force (RCAF) closely works with the US Air Force in that role through the North American Aerospace Defense Command and French-origin jets did not fit in the equation, according to experts.
RCAF has historically operated US-built warplanes and had originally expressed its desire for the Lockheed Martin F-35. Moreover, Ottawa, for this deal, requires a package of guaranteed industry offset work for whichever aircraft it selects. This may have been another reason why Dassault withdrew. 
According to experts, the biggest stumbling block for Rafale was too much French hardware that is incompatible with Canadian Air Force including the radar and SPECTRA ECM system made by Thales and engines that are produced by Snecma.  It also includes weapons systems, which could pose a big challenge to RCAF.
Rafale's weapon compatibility is not a matter of concern for Egypt or India which already operates Dassault Mirage and is already outfitted with a stockpile of French missiles.  For Canada, experts say, would need to replace the American munitions including AMRAAMs, Sidewinders, Mavericks, etc which was very much unlikely.
Nitin holds a double master's degree in Journalism and Business Management (MBA) from The University of Glasgow, UK. He has over 15 years of global experience in Marketing & Communications, Journalism, and Digital Marketing and widely worked & traveled across Europe, the Americas and Asia. CONTACT: Nytten@gmail.com