It is increasingly being realized that the stunning collapse of the Afghan national army has been due to the abrupt departure of the private contractors employed by the US Department of Defense from the country, starting a month ago.
The erstwhile Afghan government forces, trained by the Americans and other Western nations, had relied on these contractors for everything from training and gear maintenance to preparing them for intelligence gathering and close air support in their battles against Taliban fighters.
From the Horse's Mouth
In an opinion piece in the New York Times, General Sami Sadat, a commander of the Afghan National Army, has lamented how he and his soldiers, have been "betrayed" by "Politics and Presidents", including that of the United States and other countries.
In this piece, General Sadat has described the crucial role that the contractors played in the war against the Taliban. He pointed out how these contractors started fleeing Afghanistan after President Joe Biden announced the date of the withdrawal. And that, in turn, led to the following:
"The Afghan forces were trained by the Americans using the U.S. military model based on highly technical special reconnaissance units, helicopters and airstrikes. We lost our superiority to the Taliban when our air support dried up and our ammunition ran out.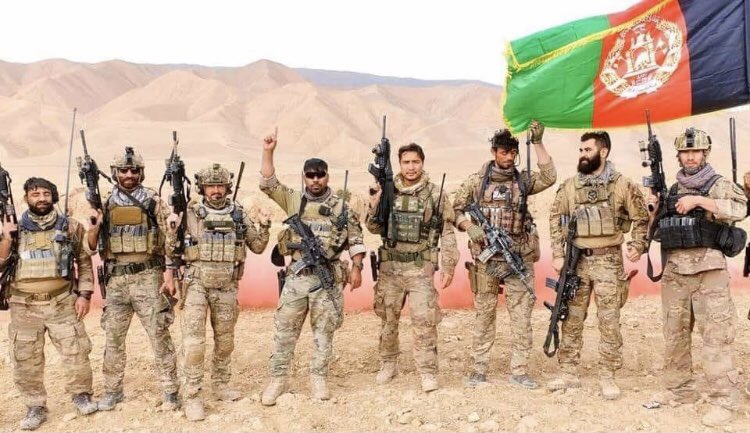 "Contractors maintained our bombers and our attack and transport aircraft throughout the war. By July, most of the 17,000 support contractors had left. A technical issue now meant that aircraft — a Black Hawk helicopter, a C-130 transport, a surveillance drone — would be grounded.
"The contractors also took proprietary software and weapons systems with them. They physically removed our helicopter missile-defense system. Access to the software that we relied on to track our vehicles, weapons, and personnel also disappeared. Real-time intelligence on targets went out the window, too.
"The Taliban fought with snipers and improvised explosive devices while we lost aerial and laser-guided weapon capacity. And since we could not resupply bases without helicopter support, soldiers often lacked the necessary tools to fight. The Taliban overran many bases; in other places, entire units surrendered."
Private Contractors Called The Shots?
It is often not realized that behind the flashier areas of combat and technology in modern wars, particularly the wars that the Americans fight, there are extraordinary logistical efforts required to sustain these operations. These efforts are that of private contractors.
In fact, as Adam Moore in his book Empire's Labor: The Global Army That Supports U.S. Wars has revealed, in some cases, more foreign workers than US military personnel are engaged in servicing American military campaigns — "four times as many in the later stages of the war in Afghanistan".
Of course, the latest Defense Department quarterly report indicated the total number of contractors in Afghanistan dropped significantly over the last four months from nearly 17,000 in April to 7,795 (2,656 US nationals, 2491 third-country nationals, and 2,648 local Afghan nationals) in July.
According to a recent study, before the Taliban regained control of the country, major defense companies were awarded contracts in Afghanistan worth hundreds of millions of dollars and spent tens of millions lobbying the federal government on defense issues. 
DoD Spent A Huge Sum On Pvt Firms
The Pentagon issued nearly $1 billion dollars in contracts to 17 companies related to work in Afghanistan that were set to continue past the withdrawal date.
Texas-based defense contractor and construction firm Fluor received contracts of at least $85 million this year for work in Afghanistan. Apparently, Fluor spent over $1.4 million on lobbying in the first half of 2021, around $115,000 more than the firm spent in the same period in 2020. 
In May, defense contractor Leidos was awarded a $34 million government contract to continue providing logistics support services for the Afghan Air Force and the Special Mission Wing. Leidos also is said to have spent $1.18 million on lobbying in the first half of 2021. 
On March 11, the DoD signed a contract with Salient Federal Services for information technology infrastructure in Afghanistan, a deal worth approximately $24.9 million and set to be completed in March 2022. 
Number of private security contractors in Afghanistan up by 65pc: By Pajhwok Monitor on 05 February 2019 KABUL (Pajhwok): Since President Donald Trump's inauguration in January 2017, the number of armed private security contractors has… read more https://t.co/bp4R66Y4iz pic.twitter.com/Q2acv8b6mb

— Pajhwok Afghan News (@pajhwok) February 5, 2019
On March 12, the Pentagon signed a contract with Textron for $9.7 million in force-protection efforts in Afghanistan, an effort that was expected to be completed by March 2022, long after even Biden's planned withdrawal date. 
Textron is said to have spent $4.47 million on lobbying in 2020 and has already spent $2.4 million in 2021.
Maryland-based defense support services conglomerate Amentum Services is said to have been awarded more than $305 million in defense contracts mentioning Afghanistan since 2008.
The DoD awarded also DynCorp International, which was subsumed by Amentum in 2020, more than $4 billion in defense contracts mentioning Afghanistan since 2008.
Amentum Services, which was awarded tens of millions of dollars in government contracts in 2020 alone, allegedly spent $980,000 on lobbying the federal government on defense issues in 2020 and another $340,000 in the first half of 2021. 
Security contracts worth $68.2 million with Aegis Defense Services, a private security service organization, were also slated to be completed in 2023 and 2026. 
Now, analysts are debating whether all these companies will gain or lose after the withdrawal. But, the issue has revived the scrutiny of the private contractors and their roles in war efforts.
Firms Run By Military Veterans
It is well known that many of the contracted persons on the battlefields are former officers and about half of them are Special Forces veterans. They are from countries like the US and UK where they increasingly find limited job opportunities for retired service personnel.
The industry of private contracts in war efforts is broadly divided into three basic sectors.
One, there are military provider firms (also known as "private security firms"), which offer tactical military assistance, including actual combat services, to clients.
Two, there are military consulting firms, which employ retired officers to provide strategic advice and military training to the local forces.
Three, there are military support firms, which provide logistics, intelligence, and maintenance services to armed forces, allowing the latter's soldiers to concentrate on combat and reducing their government's need to recruit more troops or call up more reserves.
They usually form the local vendor base, providing goods, services, and minor construction to meet the immediate needs of operational commanders. They also include providing security to the diplomatic missions and the residences of the military personnel.
Questions Galore
However, some big questions are now being raised about their involvement such as whether they are effectively used; whether they serve the country's political ends; whether they, like regular troops, do follow discipline, observe local and international laws as well as human rights; and whether they enjoy the protection of the country like its regular soldiers.
Importantly, and this is highly problematic, it is often seen that, unlike military units, private contractors and their forces retain a choice over which contracts they will take and can abandon or suspend operations if they become too dangerous or unprofitable.
Their employees, unlike soldiers, can always choose to walk off the job, leaving the military in the lurch. This had occurred in many instances to the US forces in Iraq and has now been repeated in Afghanistan.
Viewed thus, General Sadat makes a lot of sense.
The Author is a Veteran Journalist. Views Personal