Despite being subject to harsh sanctions, Iran's aviation industry has devised measures to circumvent them and continue operations.
After Russia recently sought assistance from Iran for aircraft repair and maintenance, Pakistan is now enlisting the support of Iran's "biggest firefighter aircraft" to extinguish a forest fire in Balochistan's Koh-i-Suleman range, Pak media reported.
The fire in the Shirani forests started on May 18 when lightning struck the area. As a result, thousands of pine trees have already been destroyed in the hilly terrain that connects Balochistan to Punjab and Khyber Pakhtunkhwa provinces.
On Monday, Iranian firefighting aircraft arrived in Pakistan to join the efforts to extinguish the forest fire. A representative for the Iranian consulate in Quetta previously confirmed that the Ilyushin 76, the world's "biggest firefighter aircraft," will assist in firefighting efforts.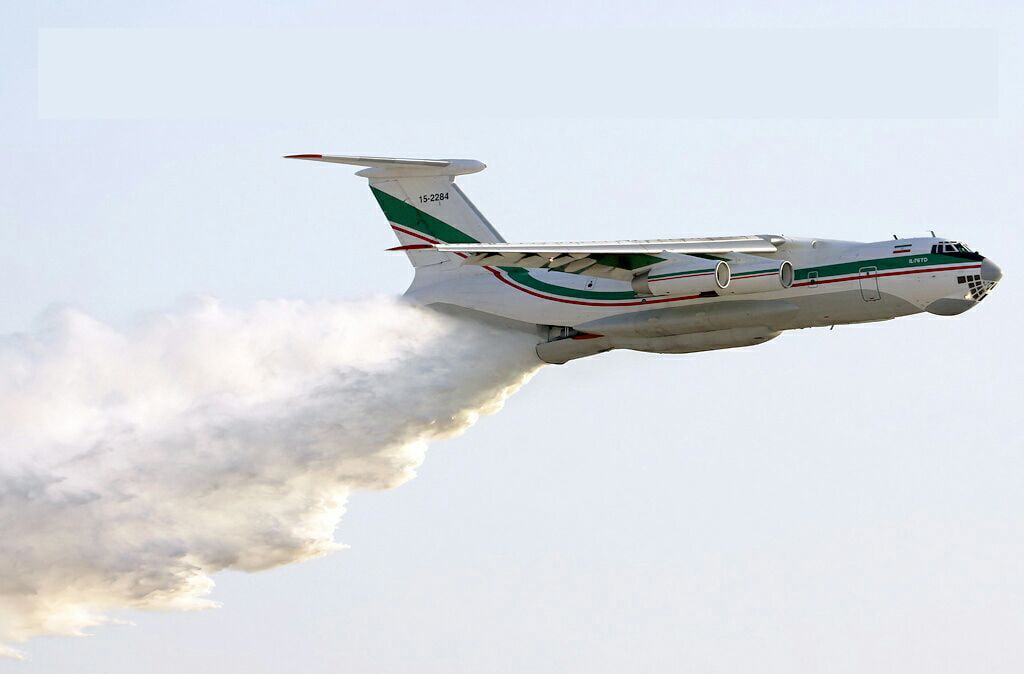 The spokesperson added that the airplane would be stationed in Pakistan until the fire had been extinguished.
"The fire has now become a raging inferno and we don't have the required equipment to put it out, which is why Iran is sending the aircraft," Pakistani Forest Officer Ateeq Karar explained.
The Iranian aircraft were employed to put out forest fires in Georgia, Armenia, and Turkey. During Turkey's forest firefighting operations, international organizations named it the world's best aircraft.
According to Inter-Services Public Relations, the Pakistan Army and the Frontier Corps Balochistan are also aiding the civil authorities in relief operations.
Two Pakistan Army Mi-17 helicopters are engaging in fire fighting works, pouring water and chemicals to suppress the fire. Meanwhile, Pakistan's paramilitary force has placed relief and medical camps in the region. 
Russia Seeks Iran's Help?  
The Russian aviation sector is currently experiencing a spare parts crisis. Recently, it was reported that several Russian airlines that use Sukhoi Superjet 100s (SSJ 100) might have to halt the planes soon.
This was primarily due to Western sanctions that prevented the procurement and maintenance of this aircraft's engines.
Igor Kobzev, the General Director of IrAero, a Russian airline based in Irkutsk, told regional authorities in a letter dated April 5 that domestic Sukhoi Superjet 100 may not be able to fly for long owing to the sanctions. 
Three other Russian airlines that fly Superjet expressed similar concerns. One even warned that unless the engines' technical support improves, his airline may be compelled to shut down operations by the fall of 2022. 
The Sukhoi Superjet 100 is currently the only Russian-made commercial aircraft in production. According to the United Aircraft Corporation (UAC) website, a state-owned defense corporation, the Superjet is the outcome of a cooperation between designers from "more than 20 world leaders in the aircraft industry."
Moscow has sought advice from Iran, which has extensive experience dealing with the US and other international sanctions. Even though these sanctions have stopped Tehran from acquiring spare parts or new planes from producers for many years, the country's airlines have continued to operate.
So far, US sanctions targeting Iran's airline industry have had mixed results. The industry is facing operational challenges due to the sanctions, both directly and indirectly. However, it has demonstrated resilience by constantly finding ways to optimize at a very normal tempo.
Iranian Airlines, unable to purchase new aircraft or spare parts, halted and disemboweled half of their jets for spare parts to keep others flying.
Russian Transport Minister Vitaly Savelyev stated on March 22 at a session of the economic policy committee in the Russian parliament's upper house that "Russia was being guided by Iran's experience on how to service aircraft in a similar situation."
The Russian Ministry of Industry and Trade is also focusing on import substitution for the Superjet, which would entail fitting the aircraft with a domestically manufactured PD-8 engine and replacing 27 other imported aircraft equipment.
In early March, Denis Manturov, the Minister of Industry and Trade, indicated that works on a completely localized version of the Superjet, with a manufacturing capacity of up to 40 such aircraft per year, would be accelerated.
The first flight of the Superjet powered by Russian engines is expected for the first quarter of 2023, according to UAC CEO Yuri Slyusar in an interview with Russia 24 TV in early April. Serial production of these Superjet planes will commence in 2024.