Fighter jets are always a hot topic for defense and aerospace enthusiasts, but not much has been written about the colorful prints some of the warplanes sport to distinguish themselves from the rest.
Portugal seems to have painted some of its F-16 fighter jets using the tiger theme in order to give them a ferocious look. Earlier, the US Air Force shared a photo of an F-16 painted in blazing orange, black, and white on its Facebook page.
During a mission over Spain, a Portuguese Air Force F-16 fighter jet was seen flying alongside an American B-52H Stratofortress bomber in a photo. These images sparked interesting discussions on social media.
The practice of painting tigers on fighter jets dates back to the early 1960s. It is believed NATO countries started this trend. There is an informal NATO Tiger Association that seeks to encourage cooperation and teamwork among fighter squadrons of member-states, according to its website.
Apart from Portugal, an Italian Eurofighter Typhoon, a Swiss F/A-18C Hornet, and a Polish F-16C Block 52+ were spotted with a tiger image on their airframes.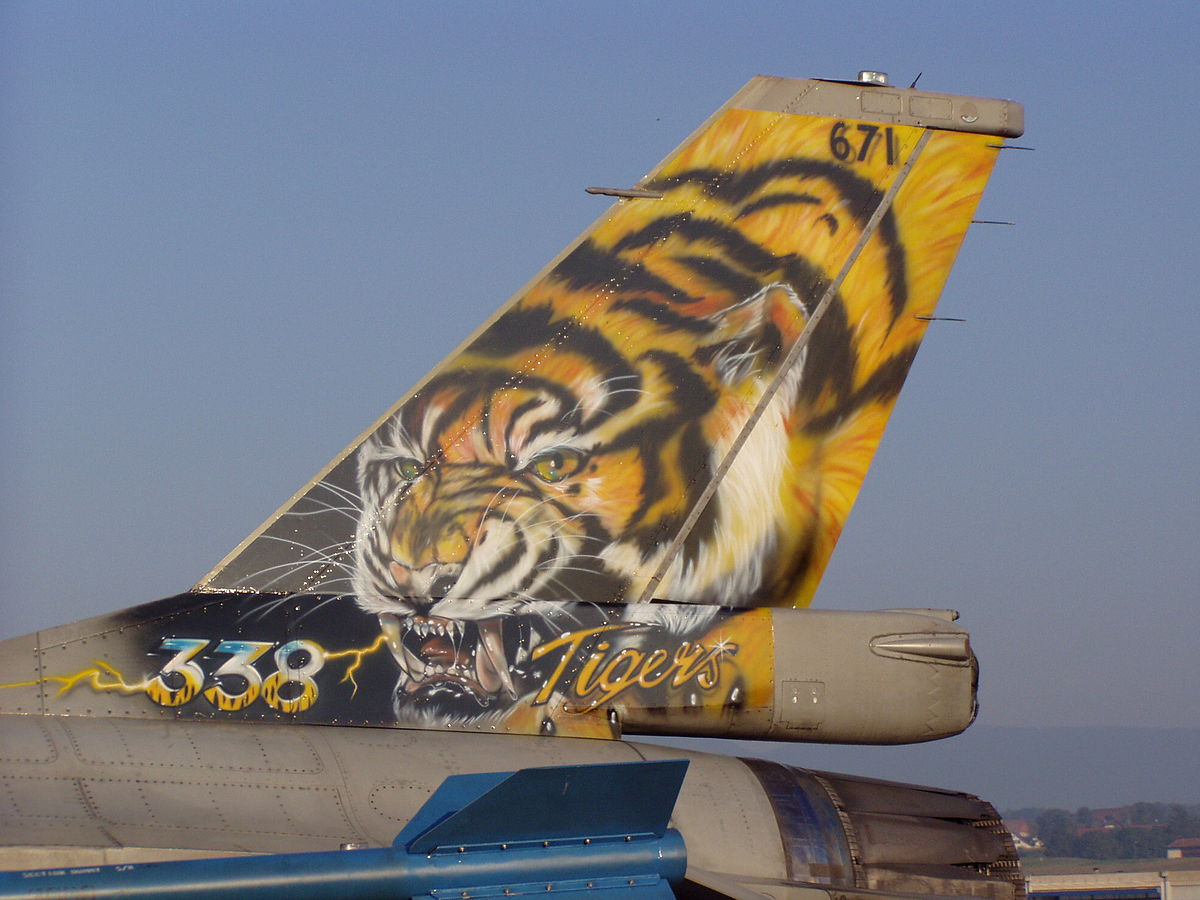 Apart from the Tiger theme, the air forces of NATO countries have used other prints relevant to their operation and threats.
For example, the F-16 was at one point painted with the theme" f "ghost," a metaphor for future threats in unfriendly skies. The 'Fighting Falcon' was also seen in blue splinter camouflage.
Significance Of Tiger Print?
It all started with the NATO Tiger Association's founding members, especially with the No. 74 Squadron of the Royal Air Force, which has since been decommissioned.
According to the NATO Tiger Association website, No. 74 was also known as the "Tiger Squadron" because of its ferocious, tiger-like image during World War I. In 1960, No. 74 had just received a few brand-new English Electric Lightning fighter jets.
Squadron leader John Howe, the aircraft's commanding officer, wanted to show it off while training with the US Air Force's 79th Tactical Fighter Squadron (commonly known as the "Tigers") at RAF Woodbridge, England. Howe ran across an old friend, Ed Rackham, who was the then Commander of the 79th, and the two pilots decided to start training with their respective squadrons together on a regular basis.
According to the NATO Tiger website, the training eventually grew to include a dozen more nations over the years, but the original goal of bringing NATO air forces closer together has remained the same. In addition, the paint jobs have improved significantly.
Although there aren't many contemporary examples of the US Air Force painting its fighter jets with tiger stripes, there were instances in the past. For example, during a Tiger Meet of the Americas at Buckley Air Force Base, Colorado, in 2001, the Colorado Air National Guard's F-16C wore tiger stripes.
The origins of Tiger Meet are a little hazy, but it appears to have started in 1960 with the 79th and No 74 squadrons of the Royal Air Force getting together for "some whiskey and cheer."
The meeting was extended in 1961, with the addition of the French EC 1/12, resulting in the formation of the NATO Tiger Association. Lt. Mike Dugan volunteered as a project officer in 1962.
There were 24 full-time members, ten honorary members, and seven disbanded members in the Association as of May 2016, all of which have a tiger as part of their squadron crest.
The 'Tiger Meets,' in addition to providing an opportunity for NATO air forces to discuss ideas and experiences, also serve as NATO public relations exercises. Tiger stripes are frequently painted on NATO aircraft.
NATO has been a tightly-knit group with wide-ranging cooperation on the ground as well as in the air for decades. Even as the threat of invasion of Ukraine grew with Russian mobilization last year, the NATO members joined forces and deployed their jets to Eastern Europe.