As a fresh row erupted between China and Taiwan over British Trade Policy Minister Greg Hands' visit to the breakaway island, images indicate the former is refining its plan to use its massive civilian maritime fleet to transport military equipment to seize the 'self-governing' province.
Photos show a massive military convoy of trucks, main battle tanks (MBT), and armored fighting vehicles (AFV) at civilian ports and moving in and out of passenger ships and car carriers.
Moreover, a visual illustration of an unmanned surface vessel that is shown firing surface-to-air missiles (SAM), besides appearing to have a limited troop-carrying capacity, is also doing the rounds on social media.
Comments by Chinese defense enthusiasts claim the concept has been designed exclusively with a Taiwan operation in mind.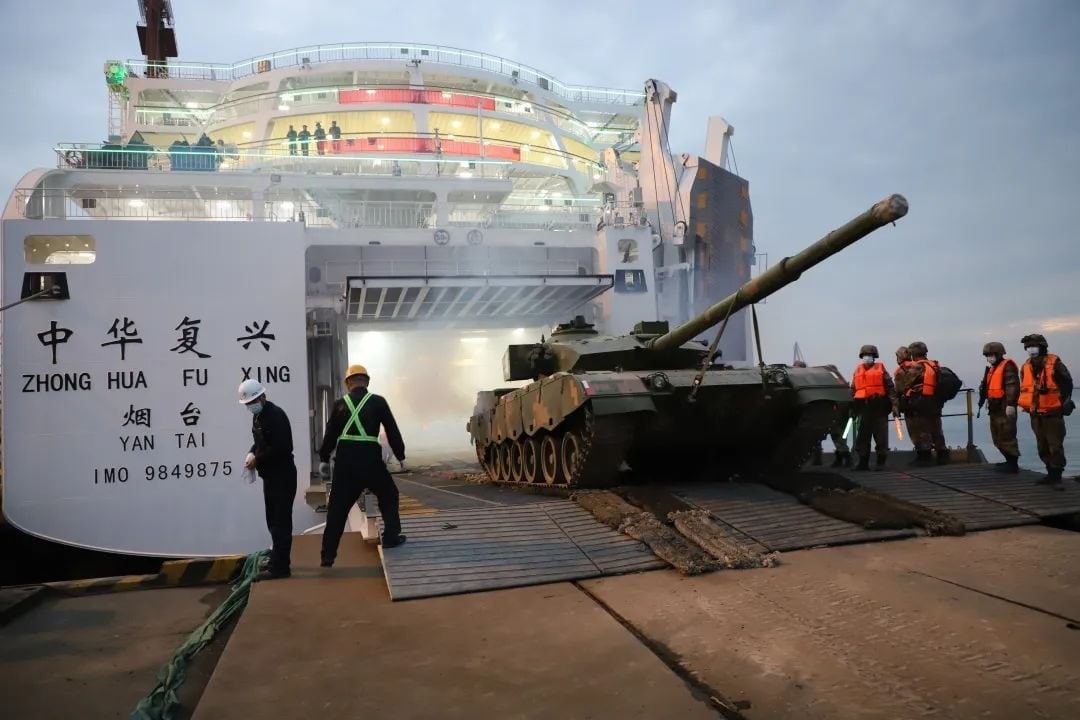 Western analysts have long pointed out China's fleet of roll-on-roll-over (RoRo) ships and dedicated car carriers doubling up as amphibious transport vessels in a Taiwan intervention.
Neither has China made any bones about its plans to use its merchant marine or thousands of fishing vessels that have functioned as a maritime militia in asserting Beijing's claims in maritime disputes.
Vehicle Carriers & RoRo Ships
One of the photos showed four VN1 armored personnel carriers (APC) before what appears to be a car carrier at a port. Behind these were three parallel columns of tracked infantry fighting vehicles (IFV) and military trucks on railway carriers.
Another photo showed multiple columns of military trucks, ambulance carriers, VT-4 Main Battle Tanks (MBT), either ZBD-04 or VN17 IFVs, PLZ-05 Self-Propelled Guns (SPG), tactical vehicles, and the ZTD-05 amphibious armored vehicle.
The port is, however, unidentified, and the date of the military exercises could not be determined. It was not the first time China had conducted such exercises.
On August 24 last year, an amphibious brigade from Fujian's Xiamen-based 73rd Group Army under the Eastern Theatre Command (ETC), which is primarily concerned with Taiwan, was provided by a 16,000-ton civilian ship. The South China Morning Post said that the drills had taken place on August 17 "without saying when or where the exercise was held."
"It's the first time we've used a civilian ship with a displacement of more than 10,000 tons," SCMP attributed to China Central Television (CCTV), quoting Wang Hua, an officer with the 73rd Group Army. Independent Western studies are unanimous in their conclusion about China pressing into service its massive civilian maritime fleet.
Besides sharing the People's Liberation Army Navy's (PLAN) load of transporting troops and war equipment to Taiwanese shores, some experts believe they might also double up as disguised missile platforms.
Civilian vessels are less likely to be suspected and hard to identify as phony, especially in the middle of frantic battles.
The vessel seen in the photo is the Zhong Hua Fu Xing, delivered in 2019 to the Bo Hai Ferry Company. It is a part of the Eighth Transport Group of the Chinese maritime militia's strategic support ship fleet.
At about 23,000 displacement tons, this ferry is slightly smaller than the US San Antonio class. But, after being tweaked for short-distance transport like the Taiwan Strait, it can carry more than 1,300 passengers in almost 65,000 square feet of vehicle storage, more than 2.5 times the San Antonio class.
A July 2021 report in the Jamestown Foundation said the ramps of China's Ro-Ro ships also need to be modified for mid-sea operations that involve releasing tanks and other amphibious vehicles into the water. Weaker and thinner ramps rest on a pier while heavily armored vehicles climb on.
But on water, the ramps need to be tougher and robust with stronger movable holds. "This capability appears to have been publicly demonstrated in the summer of 2020 by the PRC-flagged vessel Bang Chui Dao, a 15,560-ton Ro-Ro owned and operated by COSCO Shipping Ferry Company."
The Bang Chui Dao was seen in July 2020 when it launched elements of the 1st Marine Brigade of the PLA Navy Marine Corps (PLANMC) in the day and night landing exercises in amphibious training areas off the coast of Guangdong Province.
"The ship's previous straight stern ramp was a hydraulic-powered ramp type often seen on Ro-Ros. At some point in the past few years, this vessel's stern ramp was converted to enable amphibious launch," the report said.
The civilian fleet can be commandeered under China's January 2017 National Defense Transportation Law, which treats basic infrastructure and transport systems as "civil-military fusion assets," Forbes quoted Senior Director of the Project 2049 Institute, Ian Easton.
On August 31 this year, the PLAN brought seven dual-use amphibious ferries landing craft to a Chinese beach near the Taiwan Strait, according to defense analyst Tom Shugart. One of the RoRo ferries was identified as the Bo Hai Heng Tong, a 15,000-ton multipurpose cargo ship.
"The ferry's internal parking 'lane' is 1.6 miles long and three meters wide, spread across three decks. It translates into a vehicle cargo capacity almost three times that of a San Antonio-class amphibious warship (LPD-17)," Shugart said.
Unmanned Amphibious Fighting Boat
Visual illustrations and photos of another type of small, unmanned surface amphibious vehicle also emerged, which commentators on Chinese social media and defense affairs forum claim "we may see in a future special military operation of the PLA in the Taiwan direction."
Comments also indicated it is planned to be shown at the China Airshow 2022 exhibition in Zhuhai. The illustration identifies it as the 'Marine Lizard USV.'
"This drone can be used in a landing operation. The high sea speed of 50 knots makes it possible to maneuver, land on the coast and move on land on four tracked propellers.
The tool is equipped with weapons to destroy enemy firing points and can also be used to deliver personnel," said a comment accompanying the photo.
It is, however, unclear if this amphibious USV is full or semi-autonomous and has been used in exercises. A computerized illustration showed the USV firing what appears to be a surface-to-air missile (SAM) while being networked and signaled by an Unmanned Aerial Vehicle (UAV).