A leak of the security pact between China and the Pacific state of Solomon Islands has taken Australia by storm. Located close to Australia in the Southern Pacific, the leaked document raises concerns about the Chinese military gaining an upper hand in the region bypassing any resistance from Canberra.
F-22 Raptors – US Air Force Uses Its Most Powerful Fighters To Test Next-Gen Air Dominance (NGAD) Jet Technology
After days of making desperate diplomatic overtures in the region against the deal, Australia was left 'disappointed' as the signing of the agreement was announced earlier this week.
On April 19, China's Foreign Ministry spokesperson Wang Wenbin announced the agreement in Beijing, adding that China would work with Honiara to preserve social order, defend people's safety, provide aid, combat natural catastrophes, and help safeguard national security, ABC News had reported.
Despite Solomon Islands' assurances to Australia, New Zealand, and other Pacific countries that it would not allow China to create a military facility on its soil, security experts are concerned that China could deploy its men and material before Australia's federal elections next month.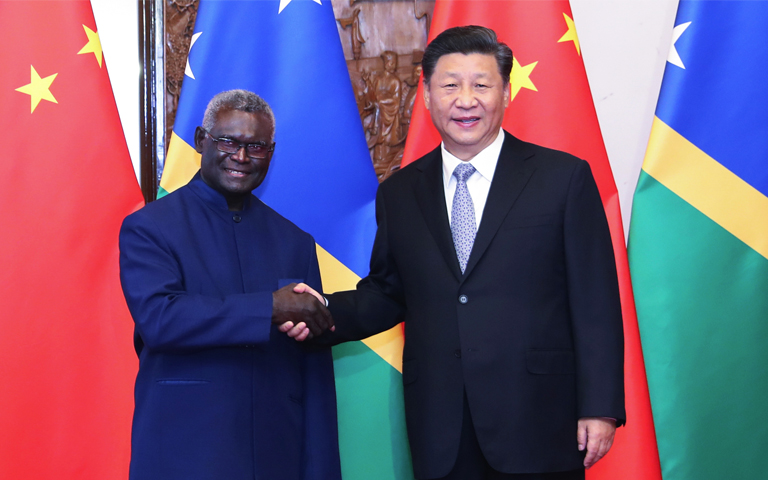 Chinese military forces, ships, and aircraft could be expected to deploy in the Solomon Islands in the next few weeks, Australia has been warned by security experts. There are rising fears that China may move quickly to build a military post fewer than 2,000 kilometers from the Australian coastline.
China has the largest Navy in the world with two operational aircraft carriers and a third on its way, this is besides advanced destroyers, cruisers, anti-ship cruise missiles, anti-ship ballistic missiles, and a fleet of stealth fighter jets, heavy bombers, just to name a few. Any deployment of the Chinese army near Canberra could be a massive security threat.
Richard McGregor, senior fellow for East Asia at the Lowy Institute, believes Beijing will move as rapidly as it can to build a physical presence before the federal election. China's long-term goal, he warned, is to establish a permanent military presence in the Pacific.
"Once you have a presence there with the various leasehold arrangements, it's pretty hard to make you leave. Once you have that, if the circumstances allow, you can expand it", he told The Australian.
China has been seeking opportunities to make forays into the Pacific region which has been strongly opposed by Australia- the net security provider in the region. Australia has been collaborating with the West to strangle China's Pacific ambitions. However, alarm bells are now ringing loud and clear as the bugle has been sounded by Beijing.
"We can expect China to seek to consolidate this development very quickly by actually moving assets there, so we should expect cargo planes to arrive and ships to arrive and they'll be unloading all manner of stuff," Australian Strategic Policy ­Institute executive director Peter Jennings told the Sydney Morning Herald.
"Their model is what they've done in the South China Sea, which is to move quickly and decisively before people can gather their thoughts and resist.
China's Pacific Strategy
The draft agreement allows China to "make ship visits to, carry out logistical replenishment and have stopover and transition in the Solomon Islands," which Australia, New Zealand, and the United States are concerned could allow China to establish a military base close to Australia's east coast.
Those fears are backed up by a supposedly leaked letter published on News.com.au on 7 April, which prompted concerns that China might have located a viable base site in Isabel Province.
The letter, allegedly written by the president of Avic International Project Engineering Company, a Chinese state-owned firm, stated that the firm had "intent to study the opportunity to develop naval and infrastructure projects on leased land for the People's Liberation Navy, for the [Isabel] Province with exclusive rights for 75 years".
Thinly says triggers and weak powers restricting Chinese intervention, such as the Solomon Islands' government's power of activation for the agreement and "permission" for Chinese naval visits, would presumably defend the Solomon Islands' sovereignty.
However, the inclusion of a term that ostensibly provides both countries the freedom to act "according to its own needs" has raised concerns about China's ability to increase its military power in the southwest Pacific, according to an analytical report by The Diplomat.
The Solomon Islands' history nearly ensures the kind of civil unrest that might lead to Chinese troops landing on the island. This scenario is made more plausible by the Solomon Islands' financial hardship, exacerbated by the 2021 riots and the destructive Covid-19 in numerous variations at once in January 2022.
China has already made outreach to other countries in the region with its humanitarian aid, massive economic muscle, and offers to invest in infrastructure. During the Tonga disaster earlier this year, China was the only other country after Australia to be at the forefront of rescue and relief operations.
Defence has released images of a Chinese warship it says was involved in a "serious safety incident" when it shone a laser at an @AusAirForce P-8A Poseidon while in flight just to Australia's north. "These actions could have endangered the safety and lives of the ADF personnel" pic.twitter.com/WiMYV2umgM

— Andrew Greene (@AndrewBGreene) February 19, 2022
Further, its warships often traverse the waters of the Pacific which is already a very unsettling precedent for the Australian military. China has been accused of shining blinding lasers on surveillance aircraft over the region from its warships.
Beijing has also deployed long-strike missiles on its territory that could hit and destroy Australian and American assets in the region, like its iconic DF-26. In fact, in November last year, the US announced that it was sending F-22 Raptors, F-35 fighters, and B-2 stealth bombers to Australia with an eye on China. Canberra is also putting together a plan to proceed with nuclear submarine construction under the AUKUS pact.
Overarching Concerns
Solomon Prime Minister Sogavare and others who are unconcerned about the agreement claim that China will not create a military base in the southwest Pacific to protect its dominance. The PM has made several efforts to allay fears about the same with Australia.
However, when China's previous overtures to Vanuatu in 2018 and Papua New Guinea in 2020, as well as activities at the Hambantota Port in Sri Lanka, Gwadar Port in Pakistan, Ream Naval Base in Cambodia, and now the Solomon Islands, are taken into account, concerns of militarization assume relevance.
Although such a provocative step as the construction of a Chinese military facility is unlikely to occur shortly, China continues to play a lengthy and intricate geopolitical game.
While a military facility could be a few months or even years ago, the Solomon Islands-China agreement has already had an impact on US and allied approaches to the Pacific.
The fact that the deal was announced just a few days before the US advisor's visit to the Solomon Islands could be indicative of the open challenge that China has thrown to the participants and guardians of the Indo-Pacific region. While a military base has been denied by China, an entry into Solomon could mean that Beijing has arrived.