Russia and China may be considering a twin-seat variant for its Su-57 and J-20 fighter jet just like the French Dassault Rafale B or F-15E. Speculations over the development have led aviation experts to float theories and their possible implications.
---
---
Russia's United Aircraft Company has reportedly been developing a twin-seat variant of the Sukhoi SU-57 multi-role fighter. According to reports, the twin-seat upgrade has the potential to function as the command and control-hub for up to four state-of-the-art Okhotnik-B (Hunter) Stealth Unmanned Combat Aerial Vehicles (UCAV) at once.
The Kremlin, however, has neither confirmed nor denied these speculations. A double seater variant of the SU-57 'Felon' is hardly news, however, the view that it may be leveraged to host multiple UCAVs certainly is.
When asked if there is any merit to this view, an Indian defense aerospace analyst told The EurAsian Times on the condition of anonymity, "Yes…they are developing it for UAV controllers."
US Military Deploys F-18 Fighter Jets, 'Python' Aircraft To Secure Afghanistan Evacuation
The Russian Logic
Russia's Deputy Prime Minister, Yuri Borisov was quoted by TASS as saying "The Defense Ministry and the Sukhoi Design Bureau have plans to develop a two-pilot aircraft that will boost the export demand for this model…and it may create additional demand."
If one looks even further into the past, then it may be recalled that Sukhoi was supposed to develop a customized twin-seat SU-57 for the Indian Airforce (IAF).
The IAF variant under the aegis of FGFA, was in the works for license production until New Delhi scrapped the deal in 2018, owing to major developmental delays. Some experts believe that the research and development of the FGFA project may bolster present R&D efforts and help speed up the twin-seater idea.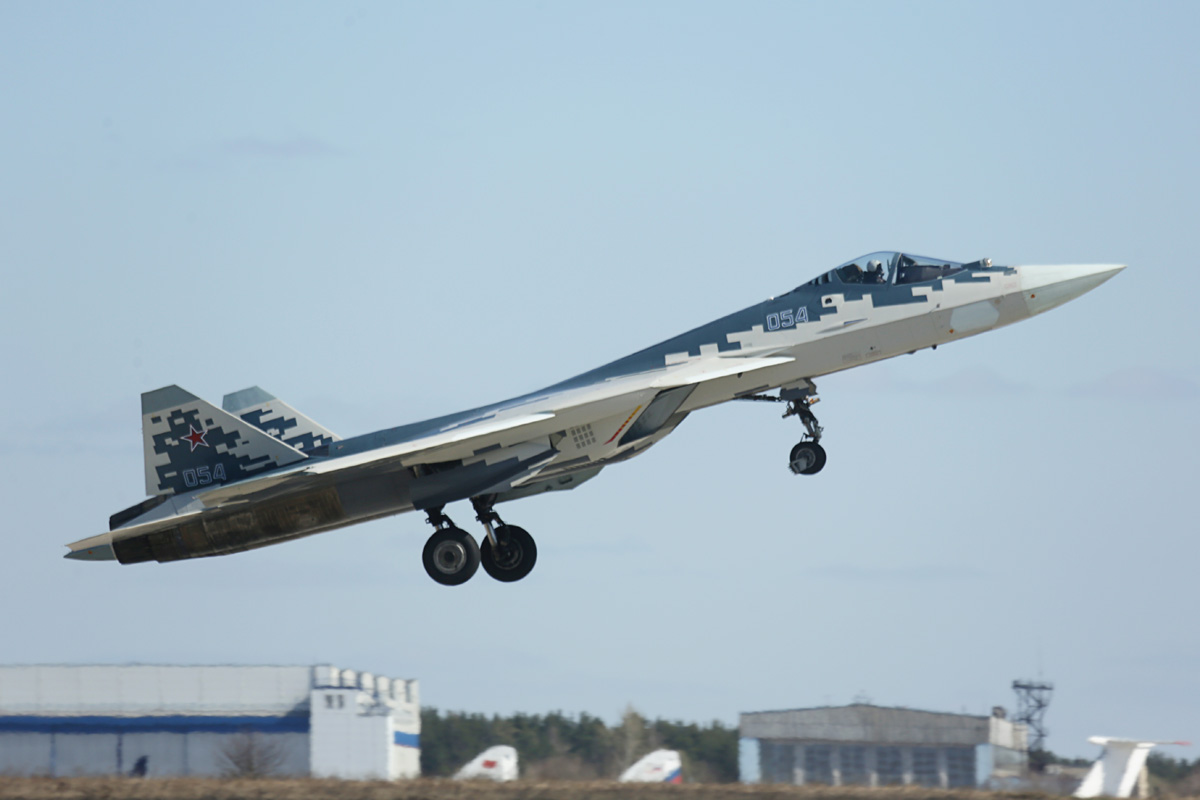 The SU-57, if successfully re-furnished as a two-seater, could earn the distinction of being the world's first two-seat stealth fighter. China too is reportedly in the midst of the R&D process for a twin-seater variant of its Chengdu J-20 stealth fighter which will act as an early-warning aircraft. 
The new variant based on the J-20 is intended to be a command and control center for friendly aircraft operating in the area as an early warning aircraft. It may also be used to guide the munitions launched by other aircraft over the intended target area.
South China Morning Post revealed that the Chengdu Aircraft Design Institute is working to develop a new "breakthrough" variant of the J-20 which would employ a mobile command and control (C2) aircraft.
Up, Up & Not Away: Why US Is Failing With Its Hypersonic Program While Arch-Rivals – Russia & China Zoom Ahead?
Twin-seat fighters like the Rafale-B and F-15E are invariably bulkier as compared to their single-seater counterparts. However, while it compromises on agility, they make can be used for flight training purposes.
This was highlighted by a Russian defense official in an interview with Interfax, "This [Su-57 two-seater] can be in demand in flight personnel's training to lower the psychological stress of inexperienced pilots, and also to perform lengthy flights over featureless terrain."
As Taliban Seizes Power, China Poised To Make 'Big Gains' In Afghanistan
Furthermore, the twin-seater SU-57's export value cannot be counted out as smaller countries would prefer aircraft, which can meet both their operational and training purposes in a single purchase. According to Defense World, the cost of the Su-57E is an estimated $100 million.
Five Southeast Asian countries have reportedly inquired about purchasing Su-57s. They include Indonesia, Malaysia, Myanmar, and Vietnam, all operators of Russian jet fighters. In addition, Algeria and even Turkey have expressed interest in the stealth jet, Forbes reported.
There is also speculation about New Delhi re-considering the procurement of the twin-seat SU-57. This cannot entirely be ruled out as the IAF may opt for a fully developed Su-57 two-seater if compatible with indigenous weapons systems.
However, as of now the feasibility of such a move remains speculative at best, as it may not suit New Delhi's geopolitical balancing act with both Moscow and Washington.
Furthermore, by the time the Su-57 exports become a reality, India may choose to shift its focus to indigenously designed fighters instead.
Thanks To The US, Taliban Now Has A Powerful Air Force And 'Russian Mercenaries' May Help It Take Off
SU-57 Is Going The Rafale-B Way?
The view that the SU-57 is opting for a new twin-seater variant in order to cater to its 'Loyal Wingman' concept has been analyzed by experts. A case for this was made by defense and aerospace journalist, Sebastien Roblin in Forbes.
He wrote, "The Su-57's role working in tandem with the Okhotnik-B stealth drone has also been forecast for several years. Just a month after the drone made its first flight in August 2019, it was tested in autonomous mode flying information with a single-seat Su-57 fighter."
The Russian armed forces have been lagging in the integration of UCAVs while its Western counterpart, the US had leveraged armed drones to devastating effect in its conflicts in Iraq and Afghanistan.
The Kremlin is now catching up and its deployment of the combat drones is a multitude of operations and this can be seen in its involvement in Syria where it has tested various UCAV platforms in operational environs.
Deploying combat drones while flying a single-seat fighter places far too many stimuli on a fighter pilot's mind to cognitively operate effectively.
The only likely recourse in the case of a single-seat aircraft would be the incorporation of artificial intelligence, which could carry out the pilots' commands while independently responding to the ever-evolving aerial battlespace. The twin-seater variant, however, can help bridge this gap without the need for relying on "a robot to help control other robots".
Dream Come True For Aviation Enthusiasts As Microsoft Develops Platform To 'Fly' World's Most Powerful Fighter Jet – F-35B
The Drone Angle
The SU-57 combined with the Hunter has been described by analysts to be a lethal pairing. The 'Sukhoi S-70 Okhotnik-B' aka 'Hunter' UCAV is a large flying wing stealth drone boasting over a 2,500 miles combat radius.
The Hunter has the ability to carry two tons of surface-attack and air-to-air weapons. Sukhoi has begun testing prototypes of the drone in 2019 and are expected to be inducted for operational use in 2024.
The combination of the SU-57 and the S-70 could diversify a fighter pilots' situational awareness amidst aerial combat with the jet serving as a command-and-control hub for the drones.
Seeking out hostile aircraft by using active radars and launching munitions could be delegated to the UCAV rather than the manned aircraft. This ensures that the drone would be engaged as opposed to the pilot being placed into harm's way, thereby reducing the loss of human life.
The Hunter is far costlier than US Boeing Loyal Wingman and XQ-58 Valkyrie. This indicates that the Hunter may be reserved for special deployment in selective operations only.
The French too are in the midst of developing a revolutionary UCAV system to be paired with their Rafale Multirole Combat Fighter variants. Defense and aerospace manufacturer Dassault Aviation began developing the fighter in July 1986.
The aircraft took its maiden flight the same month. The Rafale is a twin-jet combat aircraft capable of carrying out a wide range of short and long-range missions, ground and sea attacks including nuclear strike deterrence.
Canada Confirms Special Ops Deployment In Afghanistan; Will Resettle 20,000 Vulnerable Afghan Citizens
The Rafale B, which is its two-seat variant, was inducted into the French Air Force in June 2006 along with the Rafale C, its single-seat counterpart. However, it is important to note that the twin-seat Rafale is distinct from the twin-seat Rafale (trainer).
The Rafale twin-seat attack variant is likely to be leveraged for pairing the fighter jet with UCAVs, a concept that would be applied to Europe's Future Combat Air System (FCAS) project.
The FCAS program will comprise a family of drones which is reported to include 200kg disposable systems, two-ton recoverable systems, and traditional Loyal Wingman-type platforms.
Sukhoi's potential pairing of the Hunter drone with the SU-57 may be seen as Russia bolstering its own 'Loyal Wingman' project to keep up the pace with its contemporaries.