In light of the simmering tensions between China and India, an animated video depicting a dramatic aerial encounter between the Indian Mirage 2000 fighters and what appears to be the Chinese J-11 multirole jets is making the rounds on Chinese social media. 
The video, along with a caption describing a scenario where Indian Air Force launched an attack on China while Beijing was preoccupied with annexing Taiwan, is currently being shared on Weibo, a Chinese microblogging platform. 
The animated clip, created using computer-generated imagery (CGI), illustrates a fierce aerial battle between Chinese and Indian fighter jets over a snow-covered mountainous landscape. 
Chinese J-11 twin-engine fighter jets are shown in the footage downing Indian Air Force Mirage 2000 jets during the dogfight. One frame of the video also depicted an Indian MiG-21 aircraft, but it was swiftly shown being destroyed by a missile launched by a Chinese warplane.
At a timestamp of 1 minute and 20 seconds in the video, the clip features a Chinese KJ-2000 AWACS (Airborne Warning and Control System) aircraft providing the People's Liberation Army's fighter jets with situational awareness and helping them identify hostile activities.
Subsequently, the AWACS aircraft alerted the pilots of the Chinese J-11 fighter jets about the approaching Indian Rafale fighter jets. 
The advanced Rafale fighter jet then appeared to fire a beyond-visual-range (BVR) air-to-air missile. However, the video ended before the Rafale could enter a dogfight with Chinese fighter jets. 
The CGI film also highlights how China is cautious about its impending attack on Taiwan and carefully weighs all the possible factors, one of which is that foreign powers might intervene to pressurize Beijing. 
Chinese President Xi Jinping's remarks at the Communist Party Congress in October, where he won a record-breaking third term, had already heightened tensions after repeatedly stating that China would pursue control of the self-governed island and never relinquish the right to use force.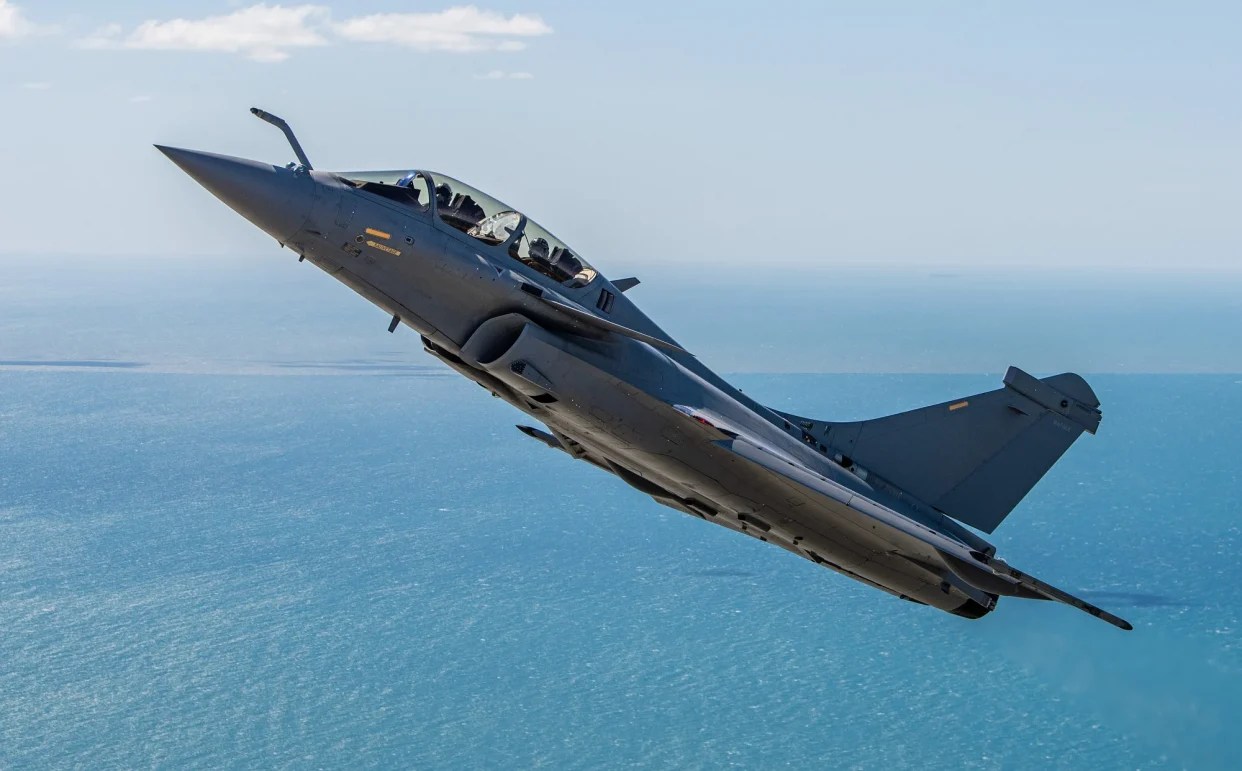 Tensions Between India & China
The contested border between China and India has become a source of increasing tension in recent years. Moreover, Chinese incursion has triggered skirmishes along the Line of Actual Control (LAC), threatening to escalate into a full-fledged conflict between the two Asian giants.
IAF Air Chief Marshal (retd) BS Dhanoa, credited with planning the Balakot airstrikes, previously said that India is difficult to defeat when it comes to air power and that the IAF enjoys a significant military advantage in the area.  
Experts noted that Indian Air Force has evolved into a dependable aerial force after the recent acquisition of Dassault's Rafale fighters, Boeing's Apache and Chinook helicopters, and a modern fleet of transport aircraft. 
Recent purchases and improvements to already-existing capabilities have given the IAF the apparent capacity to launch a deep attack even in contested airspace. 
The IAF is the fourth-largest air force in the world, with more than 1,700 aircraft, 900 of which are fighters. Its inventory comprises a mixture of US, Russian, and European aircraft. 
However, China possesses around 2,000 military aircraft, including fighter jets such as the J-20, J-10, J-11, and Su-27. Despite having a numerical advantage, military experts believe the Chinese air force lacks combat expertise. 
Furthermore, most Chinese fighters are the product of reverse engineering, rendering them less trustworthy than western aircraft. 
Besides that, compared to China, the IAF undoubtedly has a clear advantage in more and better-located and equipped airfields than China, as EurAsian Times noted.  
Indian airbases are within 100 kilometers of each other, whereas Chinese facilities in Tibet are up to 400 kilometers apart. Even so, armed conflict between the two major nuclear-armed nations can potentially spiral out of control and involve Pakistan, a third nuclear state. 
Even if it is now a remote possibility, a conflict of this magnitude would be disastrous for the region. As China and India boost their military might and develop infrastructure along the LAC, border tensions are expected to persist.