Japanese Prime Minister Fumio Kishida recently announced at the G7 Summit that Tokyo would bolster its defense with a hike in military spending over the next five years. The announcement, keeping China's growing hostility in mind, came against the backdrop of Chinese bombers and ships encircling Japan.
Military experts have claimed the People's Liberation Army Bombers carrying powerful supersonic cruise missiles flew across the Miyako Strait in southern Japan, demonstrating the coordination of China's air and naval forces last week, South China Morning Post reported.
According to Japan's Ministry of Defense, three H-6 bombers crossed the Miyako Strait on June 23 from the East China Sea into the Pacific Ocean before turning around and returning along a similar path.
The motive behind this unusual flight, however, was unknown.
Three Chinese H-6 #bombers flew a mission 23 June from the East China Sea out into the Pacific and back again, passing south of Okinawa. The aircraft were tracked and monitored by Japan's Self-Defense Forces pic.twitter.com/PW5VE99JoC

— Chris Cavas (@CavasShips) June 24, 2022
The flight news comes amid reports that Chinese and Russian warships had circled Japan in what Japanese Defense Minister Nobuo Kishi called a "show of force." Two Chinese coast guard ships navigated Japan's territorial waters near the disputed islands for more than 64 hours last week.
On June 27, Japan again criticized China for deploying ships toward the East China Sea's disputed Senkaku Islands. Tokyo said it was the 11th time this year "Chinese government ships have been spotted entering Japanese territorial waters off the islands."
With its aggressive maneuvers against Taiwan in the East China Sea on the rise in recent months, Beijing has also stepped up its military activity near Japan's territorial waters.
In May, its carrier strike group led by the Liaoning aircraft carrier had crossed the Miyako Strait to conduct military exercises in the Western Pacific.
Japanese Prime Minister Fumio Kishida also stressed the importance of presenting a united front by the G7 leaders to prevent other states from drawing the "wrong lessons" from Russia's invasion of Ukraine in an oblique reference to China.
"We have seen attempts to change the status quo by force continuing and increasing in the Indo-Pacific. We need to ensure other countries do not draw wrong lessons from the situation in Ukraine," Kishida told his G7 counterparts, Kyodo News reported.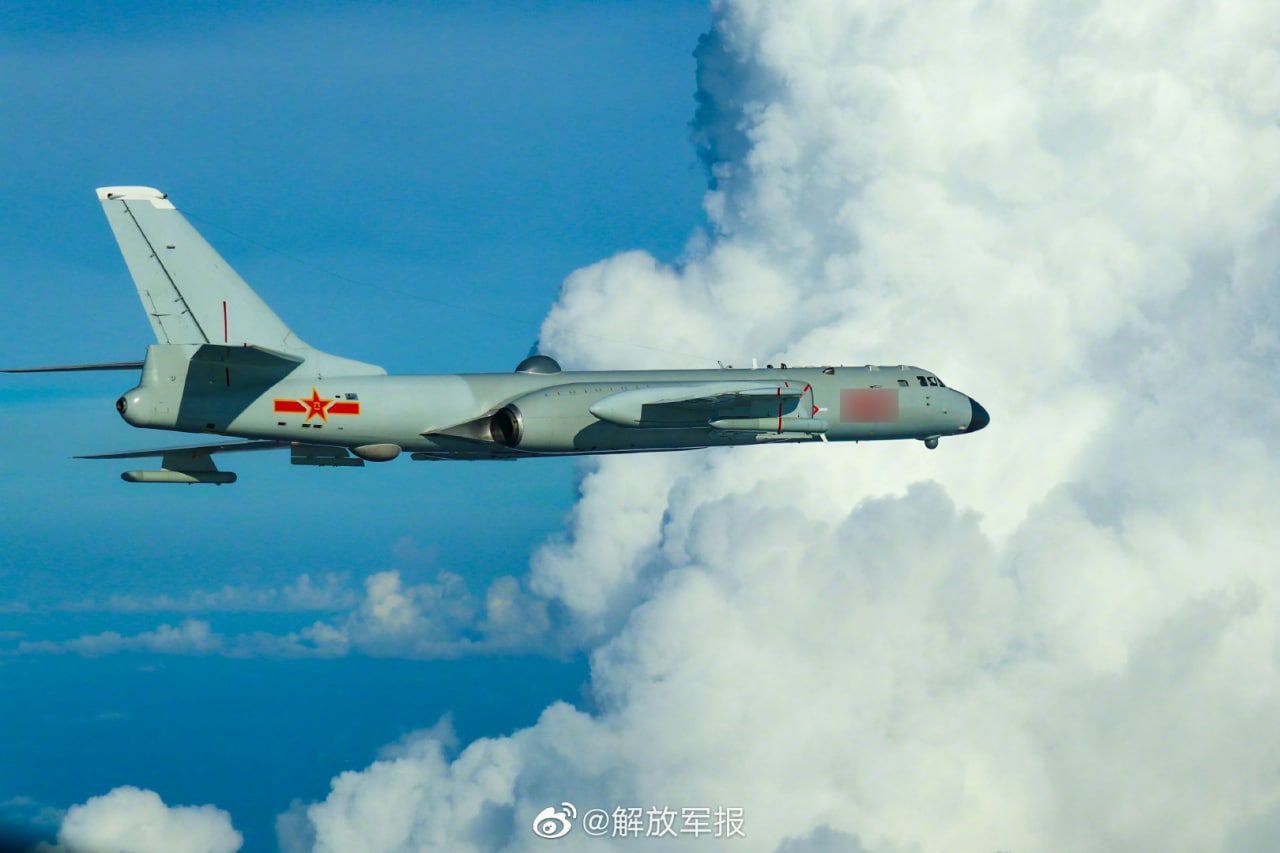 China's H-6 Bombers Cloud Japan
According to images provided by Japan's ministry, two Chinese bombers flew over Japan. An H-6J belonging to the PLA Navy carried eight YJ-12 anti-ship cruise missiles, and an H-6K belonging to the PLA Air Force was outfitted with electronic countermeasure pods for jamming enemy radar, wrote Chinese military analyst Wang Shichun on the Shanghai-based news website Guancha.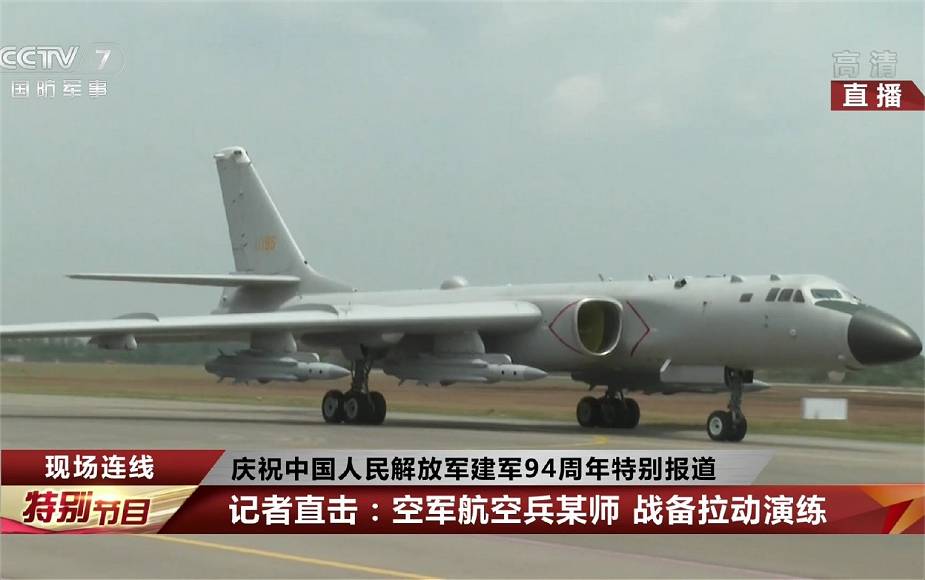 Due to its range and speed, the YJ-12 anti-ship missile is regarded as one of Beijing's most lethal anti-ship missiles. The missile is nearly impossible to intercept, it can be launched from land, air, or sea, has a range of more than 400 kilometers (248.5 miles), and its warhead can arrive at a target in less than 30 seconds.
The H-6 Bombers of the PLA Air Force had conducted a similar maneuver in May, just a day before American President Biden's maiden visit to Asia. Two H-6 bombers had landed in the Pacific after flying over Okinawa Island and Miyakojima. The bombers circled the area before flying back on the same course, as reported by EurAsian Times.
Two Xian H-6J strategic bombers of the #Chinese Air Force with YJ-12 anti-ship missiles on board completed a flight in the airspace of the #Philippine Sea, where the PLA Navy aircraft carrier strike group led by the Liaoning aircraft carrier performing its tasks. #China pic.twitter.com/XKPtr9QRHY

— OsintTv? (@OsintTv) May 18, 2022
However, Chinese military expert Fu Qianshao stated it is unusual for the navy and air force to fly H-6s together. This operation was intended to improve combat coordination.
Nobuo Kishi, the Japanese defense minister, earlier announced that his nation had confirmed that five Russian navy ships had sailed this month south off Hokkaido in the Pacific Ocean, passed through the Tsushima Strait in southwestern Japan, and then moved to the Sea of Japan, or East Sea.
Alarmed by this unprovoked development, Kishi stated, "nearly 10 Russian and Chinese ships moving around our nation in a short period in similar courses." Further, he claimed that last week, six more Chinese ships went close to Okinawa island's southern prefecture as they moved from the East China Sea to the Pacific.
Both China and Russia have territorial disputes with Tokyo, resulting in an increased synergy in their military ops aimed at intimidating Japan. On May 24, as US President Joe Biden wrapped up his tour to Asia, Russian and Chinese bombers flew joint patrols close to air defense zones of Japan and South Korea.
VIDEO: Chinese H-6K bombers and Russian Tu-95MS bombers conducted regular joint strategic patrols above the Sea of Japan, E.China Sea and West Pacific on Tue. The aircraft abided by intl regulations and did not violate any other country's airspace: Russian Defense Ministry pic.twitter.com/771mVKjqW0

— Global Times (@globaltimesnews) May 24, 2022
To combat this threat posed by China to its security, Japan has been mulling a more aggressive military posture and even the option of constructing nuclear submarines like its Indo-Pacific and Quad partner, Australia. These moves could further increase the hostility between the two Asian maritime giants.
However, China's aggressive expansion in the region, coupled with its bellicose rhetoric on the one hand and Japan's increasingly pro-Taiwan posture in the area, on the other hand, have caused alienation to the point of no return between the two bitter rivals.