Turkish defense firm Baykar has announced that it would donate three Bayraktar TB2 drones to Kiev after a successful crowdfunding campaign. The TB2 UAVs have been very popular in Ukraine, but as EurAsian Times reported, they have also been highly vulnerable to Russian defense systems. 
One of the reasons behind the losses of Turkish TB-2 Bayraktar drones at the hands of Russian air defense could be explained by Russia having long prepared for anti-drone warfare since 2015.
Statements and press releases from its Ministry of Defense (MoD) hint at very early efforts in electronic warfare and developing new tactics and procedures to detect and engage drones after learning from its and other militaries' experience elsewhere.
Open-source information about its military indicates it has taken lessons from its experience in Syria and against jihadist rebel groups while supporting the Basher al-Assad regime, the September 2020 Nagorno-Karabakh war between Armenia and Azerbaijan, UAVs used by the Houthis in Yemen, and lastly, the Libyan conflict between Turkish-backed Government of National Accord (GNA) and Khalifa Haftar's Libyan National Army (LNA).
In Syria, Russia faced cheaply made drones by anti-Assad rebel groups used in mass attacks. Some of the UAVs were also allegedly supplied by Turkey, which had links to the Daesh and fundamentalist jihadist organizations like the Hayat Tahrir al-Shams (HTS).
In the South Caucasus, the Bayraktars made their first appearance stunning the world with their devastating strikes against Armenian armor and air defense.
Russia-backed groups in Libya also faced Turkish drones, giving Moscow considerable time to study them and develop tactics. In Yemen, relentless attacks by the Houthis by Iranian-made drones against Saudi Arabian forces exposed the vulnerability of robust air defense systems like the Patriot, which could not track the small radar signature of the UAVs.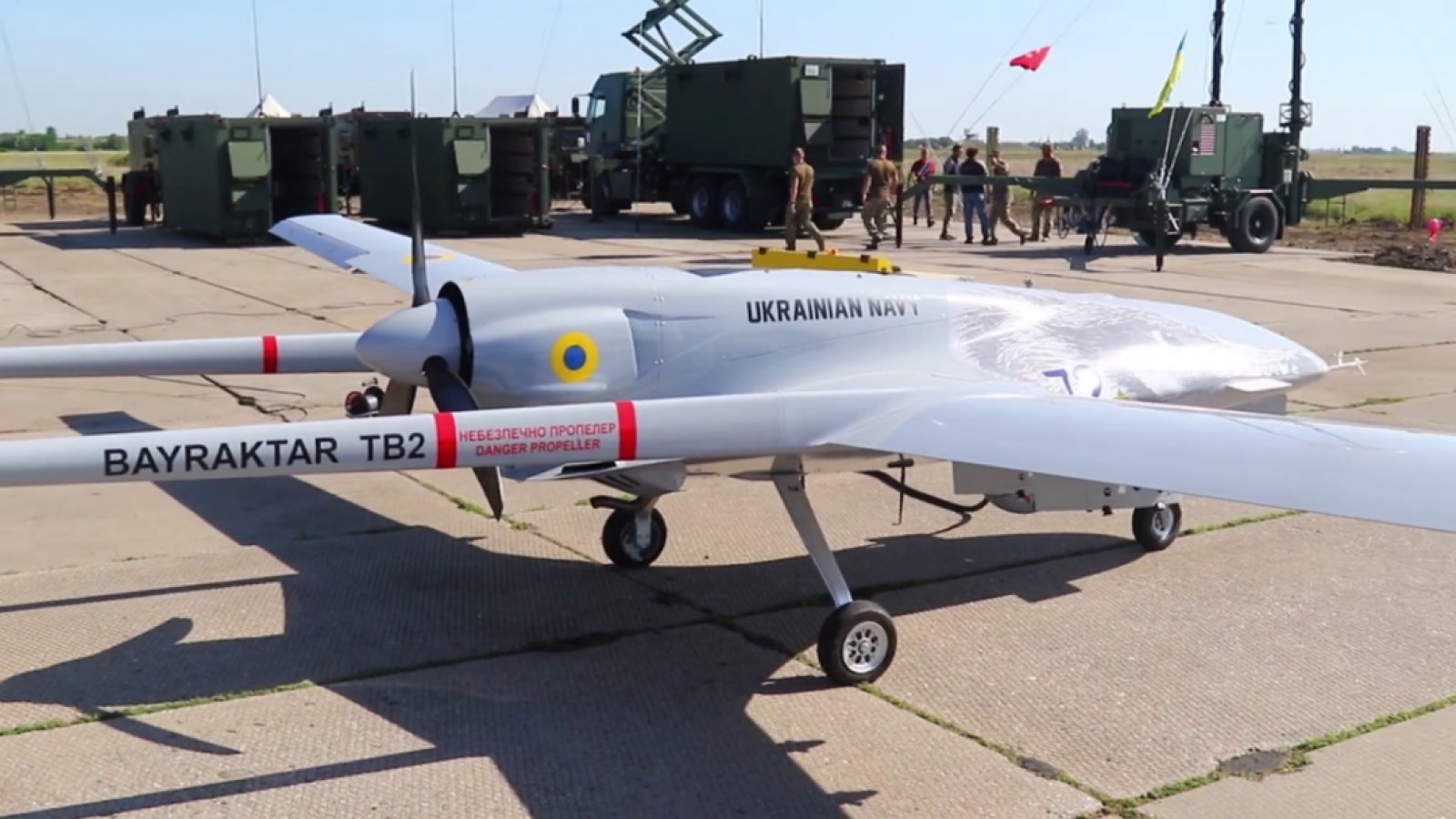 The Syrian Experience
In Syria, overall air defense, both tactical and strategic, that covered the Syrian territory and the Mediterranean Sea near the Khmeimim Air Base operated by Russia, was provided by six air defense systems viz. the ZRPK short-range 'Pantsir-S1'; 'Osa-AKM' short-range system; S-125′ Pechora-2M'; Buk-M2E medium-range air defense system; S-200VE 'Vega' long-range air defense and; the S-400′ Triumph' 400-km range surface-to-air missile batteries.
Moreover, following the loss of a Su-24 Fencer ground attack aircraft, the Russian Aerospace Force (VKS) also deployed the Krasukha-4 electronic warfare system to protect from air and space reconnaissance systems.
But the layering of systems in progressive order of ranges indicated Russia anticipated drone and high-altitude aerial surveillance of its base. Israel often carried out strikes against Iran-backed militias in Syria with tacit Russian approval as a part of a deconfliction mechanism with Moscow, despite Russia and Iran being on the same side in the 10-year-devastating Syrian conflict.
It had also led to Israeli and Russian aircraft often coming close to one another, and a few Israeli strikes are nearly affecting Russian operations. It seems to have given Moscow considerable experience in air defense and tracking multiple aircraft in a moderately contested airspace.
The S-400 and the S-200VE Vega provided the long-range defense, medium-range defense by the S-300FM 'Fort' and Buk-M2E, with short-range quick reaction defense undertaken by the Osa-AKM and the S-125 Pechora.
The Pantsir-S1 protected the S-400 themselves. The efforts bore fruit as, by December 24, 2019, defense minister Sergei Shoigu announced that Russian air defense crews had shot down 53 UAVs used by Islamist rebel groups, most of whom were trying to attack the Khmeimim Air Base.
The extent to which Syria served as a "training ground" for anti-drone warfare for Russia is reflected in the incorporation of counter-UAV training to all arms, trades, and services of the Russian military – ground forces, marine corps, and airborne forces – by 2018.
Soldiers were learning to shoot at UAVs as a unit at platoon, company, battalion, and brigade-level exercises. Not only infantry units but also tanks, artillery crews, logistics, signallers, scouts, maintenance specialists, and even cooks are being trained to shoot at quadcopters.
ISIS had used commercial quadcopters to drop pipe bombs on Iraqi army tanks and Russian military engineers building crossings across the Euphrates.
Jamming & Electronic Warfare Equipment
Russia's air defense chief Lt Gen Alexander Leonov, in an interview with the Krasnaya Zvezda newspaper, had warned of threats posed by UAVs in the context of the cheap and locally-made drones by rebel groups in Syria.
He went on to add how skills and knowledge "reflected in the combat manuals" of all formations, with each of Russia's military districts having specialized counter-UAV systems. By late September of the same year, Lt Gen Igor Konashenkov, the MoD spokesperson, also stated at a press briefing how Syrian rebels were improving their drones' technical characteristics and tactics.
The same year, external intelligence agency chief Alexander Bortnikov and Vadim Kozyulin, a professor at the Academy of Military Sciences, made similar observations. Electronic warfare, involving jamming/signals of the drones' radio frequency, telemetry, communications, and satellite-enabled geolocation signals, was the most effective method of countering drones.
The Syrian experience had already spurred private, state-run Russian companies and research institutes to release highly effective anti-drone EW systems.
The Special Technology Center LLC in Moscow developed the Stiletto, a short-range man-portable backpack containing a hybrid gun-EW anti-drone system. Zala Aero (part of Kalashnikov Concern) had developed the REX non-lethal gun in late 2017 that could jam geolocation signals from the American Global Positioning System (GPS), Russian GLONASS, China's BeiDou, and European Galileo within a 5 km radius.
Even swarm drones – emerging as a concern only now – had been identified, which the 'Repellant' electronic warfare complex could tackle. Made by the Scientific and Technical Center for Electronic Warfare in Moscow, the system with a range of 30 km is mounted on a Kamaz truck.
Its lightweight version is the 'Silk' stationary air defense system, which protected Russian stadiums in the 2018 FIFA World Cup. A private Russian company JSC NPC Elvis also supplied South Korea with their 'Raccoon' drone detection systems to protect airports, oil bases, and power plants.    
The efforts seemed to have borne fruit, as an NBC report in 2018 claimed US military officials were stunned at Russia jamming smaller US drones over Syria.
A US analyst noted that jamming was noticed during the Crimea conflict in 2014 as "faint signals from space bouncing off the earth's surface." They still had a "pretty significant impact on United Nations surveillance drones," forcing the fleet to be grounded for four days.
Four years later, in Syria in 2018, analysts quoted in the report described the Russian military equipment as very sophisticated, even against encrypted signals and anti-jamming receivers.