Chinese fighter jets are clogging Taiwan's military radar as Beijing continues to intimidate the self-governing island.
In the past few months, the frequency of Chinese warplanes entering the island's air defense identification zone (ADIZ) has increased dramatically, fuelling speculations about a major confrontation.
Taiwan's Ministry of National Defense tweeted on November 11 that four PLA aircraft including Y-8 ELINT, Y-9 EW, Y-8 RECCE, and Y-8 ASW had crossed Taiwan's southwest ADIZ. Throughout the month, Chinese planes routinely crossed the southwest air defense identification zone of the island.
Beijing considers the island to be part of its territory and says it has the right to seize it, ideally peacefully, but does not rule out using it militarily. Taiwan, which is governed democratically, is facing greater military and political pressure to recognize Beijing's authority, but Taipei has vowed to protect its independence.
4 PLA aircraft (Y-8 ELINT, Y-9 EW, Y-8 RECCE and Y-8 ASW) entered #Taiwan's southwest ADIZ on November 11, 2021. Please check our official website for more information: https://t.co/7KSkIyALZr pic.twitter.com/5aIbooXjEL

— 國防部 Ministry of National Defense, R.O.C. ?? (@MoNDefense) November 11, 2021
China's 'Gray Zone' Tactics
According to a Taiwanese Defense Ministry's biennial report, Beijing has been using "gray zone" methods such as airspace violations and cyber warfare, to exert pressure on the Taiwanese military.
It accused China of using "cognitive warfare" to alter Taiwanese public opinion. This report stated that while the rest of the world was distracted by the pandemic, Beijing was swiftly expanding its military capabilities.
The report further stated that the Chinese military action is ambiguous in nature and there is no indication of a war right now. However, these activities certainly pose a threat to Taiwan's security.
In early October,  China dispatched 149 military aircraft southwest of Taiwan in strike group formations ahead of Taiwanese President Tsai Ing-wen's speech in Taipei to commemorate the 110th anniversary of the Republic of China. Tsai confirmed to CNN on October 28 that the US military was on the ground training Taiwanese soldiers.
She acknowledged that China posed a growing threat to Taiwan, however, said that she was eager to speak with President Xi Jinping and that the two nations could coexist peacefully.
Reuters had analyzed six hypothetical conflict scenarios based on its interviews with 12 military experts and 15 current and former officers in Taiwan, the US, Japan, and Australia.
The likely scenarios of a Chinese invasion of Taiwan could include – a blockade of the Matsu Islands, an invasion of Kinmen, a customs quarantine, a full blockade, an air & missile campaign and an all-out invasion.
The article also predicted that in order to force the Taiwanese government to hold reunification talks, Beijing will first extend its operations of 'gray warfare' and an ongoing blockade of Matsu.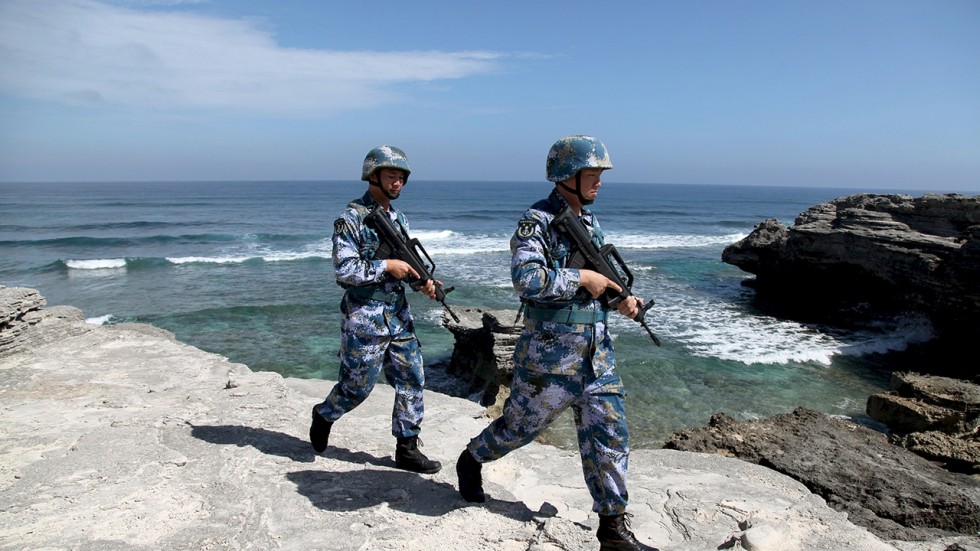 It says the PLA would deploy missiles, naval, and air forces to prevent the US and its allies from moving troops to Taiwan. In an attempt to immobilize US forces and forestall US intervention, the Chinese army would target US facilities in Japan and Guam with air and missile strikes in an all-out invasion.
Recently, after criticizing a visit to Taiwan by US legislators as a severe provocation, China has launched military exercises near the island. China's Ministry of National Defense said in a statement on November 9 that the exercises in the Taiwan Strait area were crucial to protect national sovereignty.
Communication Between Air Forces
After a 10-day incursion of Chinese aircraft into Taiwanese airspace in November, the two Air Forces had a dramatic exchange of words.
According to a local media report, Taiwan's interceptor aircraft dispatched a standard radio warning to its Chinese counterpart: "Attention! You have entered my airspace, affecting the safety of my flight, immediately turn around and leave. If anything happens, all consequences are at your own risk!."
The response from the Chinese PLAAF pilots in Chinese accent was – "This is the high seas, go and read some books"
The report adds that the national army used a strong tone to rebuff the PLA "If anything happens, all consequences will be at your own risk!", but it also attracted quick reply, "What. This is the high seas.."
This isn't the first time two forces have clashed verbally. Earlier this year, a Chinese pilot reportedly said, "This is entirely ours", after Taiwan's interceptor aircraft issued a warning.
Again in October, a Taiwanese combat air traffic controller issued a warning to Chinese aircraft, and the Chinese pilot ignored the warning and used some foul language.
The increasing tensions between China and Taiwan pose a major threat to peace and stability in the entire region. Last year, the US Air Force rehearsed a highly classified wargame over Taiwan, and the way it ended alarmed the military establishment in the United States.
In the wargame, a scenario was created, where a Chinese biological-weapon attack may sweep across American bases and warships in the Indo-Pacific region. According to the classified report published by Yahoo News, the future confrontation would last more than a decade and would most certainly conclude with the US losing.
The US plans to counter China's expanding influence and military capability in the Indo-Pacific region and regularly conducts exercises in the region with its allies. Washington has already stated that the US will aid Taiwan in case of any adversaries.