Images have emerged on social media of a Chinese Multiple Launch Rocket System (MLRS), described as China's version of US-made HIMARS that has gained a 'cult status' after their deployment in Ukraine. According to an expert, this Chinese-made MLRS could be a 'game changer' in a potential conflict with Taiwan.
Faster Than The Fastest Supercomputer, Brain-Cell Powered AI Raises Technical, Ethical & Political Concerns
The pictures were posted on Twitter by Lyle Goldstein, the Director of Asia Engagement at the Defense Priorities think tank.
According to Goldstein, the images, sourced from the Chinese television channel CCTV-7, showed the MLRS firing rockets into the Taiwan Strait on August 4, as part of the Chinese military drills in waters surrounding Taiwan in response to US House Speaker Nancy Pelosi's arrival on the island by aircraft on August 2, despite several warnings from China.
"They might not look as impressive as the missiles shot over Taiwan, but these systems could be the game changer," Goldstein said in his tweet. "This is economical firepower and implies thousands of daily strikes, ranging the whole island."
Chinese version of #HIMARS– The Weishi (guardian) family of MLRS. These are not unguided rocket too, capable of satellite mid-course and terminal guidances. In that sense I am not sure if we could still call that "rocket" https://t.co/PCr0c21aYT

— Thomas Yau (@Tominmedill) August 5, 2022
A video producer with the South China Morning Post, Thomas Yau, responded directly to Goldstein's tweet, saying the MLRS systems depicted in the images are the "Chinese version" of HIMARS and they belong to the "Weishi (guardian) family of MLRS."
HIMARS rockets have risen to colossal prominence due to the Ukraine war and the devastation they have caused at the hands of Ukrainian forces. They have destroyed several significant Russian ammunition stockpiles and supplies, reportedly making the Russian forces feel the crunch.
Furthermore, the ongoing Ukraine war has also highlighted the importance of long-range fire capability in the event of a great-power conflict between the militaries of the US and China, as reported previously by Eurasian Times.
Therefore, China's Weishi series of MLRS systems can be expected to pose a formidable challenge to Taiwan in the event of a full-blown Kinetic conflict like the one in Ukraine.
Wind Tunnel Model Of India's 5th Gen, Twin-Engine AMCA Stealth Fighter Jet Reveals Exciting Details
Weishi Family Of MLRS 
The Weishi (WS) family of MLRS comprises many variants developed by multiple developers, such as Sichuan Aerospace Industry Corporation (SCAIC), China Aerospace Long-March International (ALIT) of the CASC, China National Precision Machinery Corporation (CPMIEC), and Poly Technologies, a subsidiary of China Poly Group Corporation, etc.
The WS series MLRS begins with the WS-1 302 mm rocket system, developed by the SCAIC, which failed to impress the People's Liberation Army (PLA) and received no production order. The SCAIC further developed the WS-1B variant, which featured an improved range of 180 kilometers and was targeted toward foreign customers.
Apart from WS-1B, there is the 122 mm WS-1E which did not enter production.
Finally, the WS-2 400 mm guided MLRS received production orders from the PLA. SCAIC unveiled it during the Zhuhai Air Show in 2004.
The WS-2 rockets can be fired at a range between 70 to 200 kilometers and guided by a simple inertial guidance system or the indigenous satellite navigation system for mid-course guidance with the capability to use terminal guidance for more accuracy.
Also, the WS-2C & 2D variants have 350 and 400 kilometers of range, respectively, with GPS guidance.
The rockets can be equipped with various range of warheads, including blast fragmentation, incendiary blast fragmentation, fuel-air explosive, and anti-personnel & armor-piercing dual-purpose. Furthermore, the WS-2D variant has submunitions, including a specialized anti-radar version, which is a rocket containing three UAVs.
The system can be prepared in less than 12 minutes and is based on the TAS-5450A truck chassis, which can travel at a maximum road speed of 80 kilometers per hour, with a maximum cruising range of 800 kilometers.
The WS-2 is followed by the WS-3 400 mm high precision guided MLRS, designed and manufactured by Poly Technologies.
It is mainly similar to the WS-2 but features a GPS/INS integrated navigation system and a full range of control equipment to improve the firing accuracy. The control system consists of a navigation controller, GNSS antenna, low noise amplifier, actuator system, onboard battery, power distributor, onboard cable, and flight control software.
With the INS guidance, the WS-3 rockets have a Circular Error Probability (CEP) of 300 meters, which is improved with the GPS guidance up to 50 meters.
The 300 mm WS-32 MLRS developed by the ALIT has a maximum range of 500 kilometers with a CEP of 30 meters. Apart from these, several other variants of the WS-series of MLRS systems exist.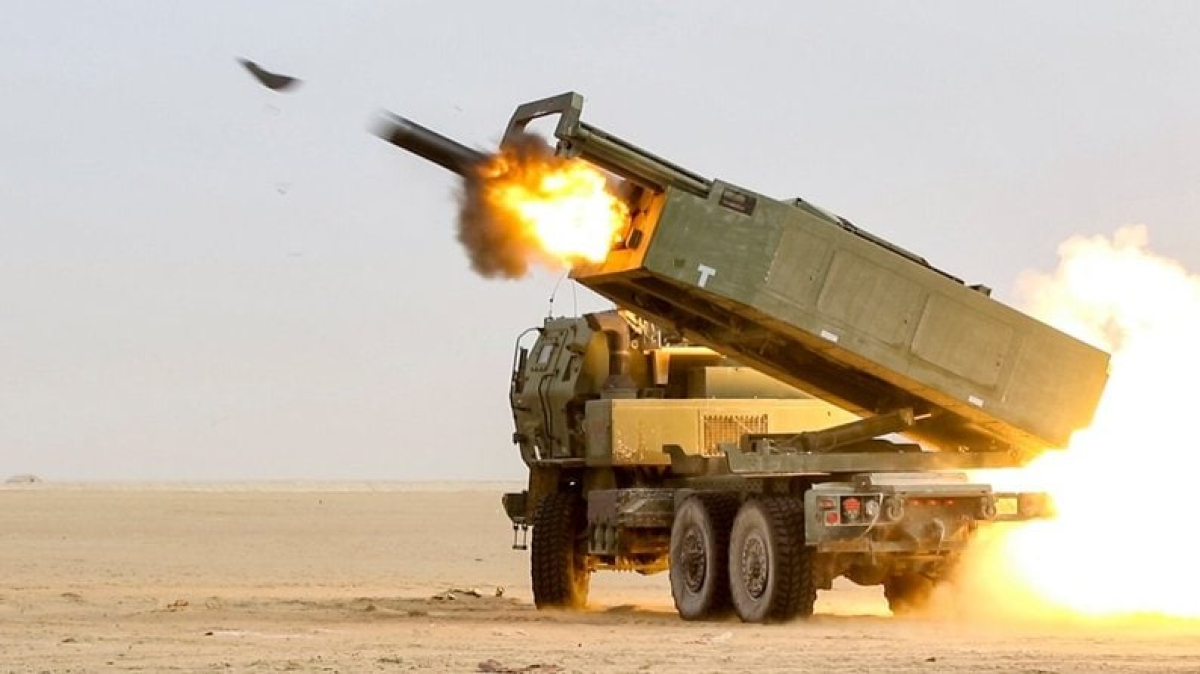 China's Potential Offensive On Taiwan 
EurAsian Times spoke to experts to understand the use of Weishi MLRS in a potential future conflict with Taiwan.
Aadil Brar, an expert on the PLA and China affairs, thinks that the Weishi series MLRS will play a crucial role in China's future potential military offensive on Taiwan.
"Weishi system is particularly suitable for the Taiwan context with a relatively short distance targeting which can be accomplished with improved precision strike capability," Brar told EurAsian Times.
He also noted that the upgraded version of the WS-3 MLRS, "the WS-3A has the ability to conduct precision strikes guided by China's BeiDou navigation system with a reported capability of mid-course correction, but the capability has not been tested in a real-world combat scenario."
Brar further told EurAsian Times that this precision strike capability was tested during the recent live-fire demonstrations of the PLA in waters surrounding Taiwan.
"Despite the improvements, the system only demonstrates precision down to 600 meters. The improved system has a range of approximately 400 kilometers. The system has a greater level of accuracy up to 200 kilometers," Brar said.
According to him, the low cost of the Weishi system makes it a reliable MLRS to "launch an offensive and target Taiwan's population centers along the west coast of the Island."
For targets that are further east, Brar noted said that "PLA appears to have also fired a relatively new PHL-16 (or PCL-191) multiple launch rocket system, which has a maximum range of 500 kilometers with 750mm rockets," while noting that "the PHL-16 is known to have an error of 1 mile (approx. 1.6 kilometers)."
EurAsian Times also spoke to Suyash Desai, a research analyst working in the China Studies Program at The Takshashila Institution, who thinks that "the Weishi series of MLRS rockets would have an important role to play in the initial phase of the reunification offensive if China decides to launch an offensive."
"It would mostly be used to target military targets on the western coast of Taiwan and to make sure that the PLA could conduct landing operations without many hurdles," said Desai.
"However, beyond that, I don't think that MLRS rockets would be used for countervalue targets," he noted, adding, "China has always claimed that it also wants to rule the people and not only the island country. So the use of countervalue targets using MLRS would be counterintuitive."
Experts such as the Editor-in-Chief of SOFREP, Sean Spoonts, have noted that the US has hundreds of HIMARS systems, whereas China only has about 20 Weishi systems.
When asked about the number of Weishi systems China has compared to hundreds of HIMARS of the US, Brar said, "I wouldn't be able to provide an exact number, but China has been actively modernizing its military, especially in the context of a Taiwan contingency. I believe they will have enough systems to simulate an attack on Taiwan."
While Desai said that he thinks it is an unfair practice to compare in terms of numbers – be it weapons systems, ships, aircraft, etc.
Desai noted, "the US also has 100s of problems. It is occupied (in the form of supplying weapons in Ukraine), partially occupied in the middle east, and is also responsible for enabling deterrence in East Asia. So we are unsure how many such systems the US could use at any given time in a particular region."
"On the contrary, China's sole concern, for now, is three seas and the Taiwan strait. So purely number comparison is incorrect," said Desai.