China is making significant strides in the field of space technology, which has been traditionally dominated by the United States and Russia. It seeks to match and outpace the American hegemony in space that has become evident with the communist country launching its own space station and carrying out "unprecedented" tests.
China is now on its way to launching spaceplanes like regular commercial planes. According to a Chinese military publication, China's space travel technology has evolved beyond that of the US, as it can now launch space-planes without rocket fuel, South China Morning Post reported.
It means that space-planes won't need typical launch sites and will be able to take off and land at airports, saving money but raising concerns about space militarization.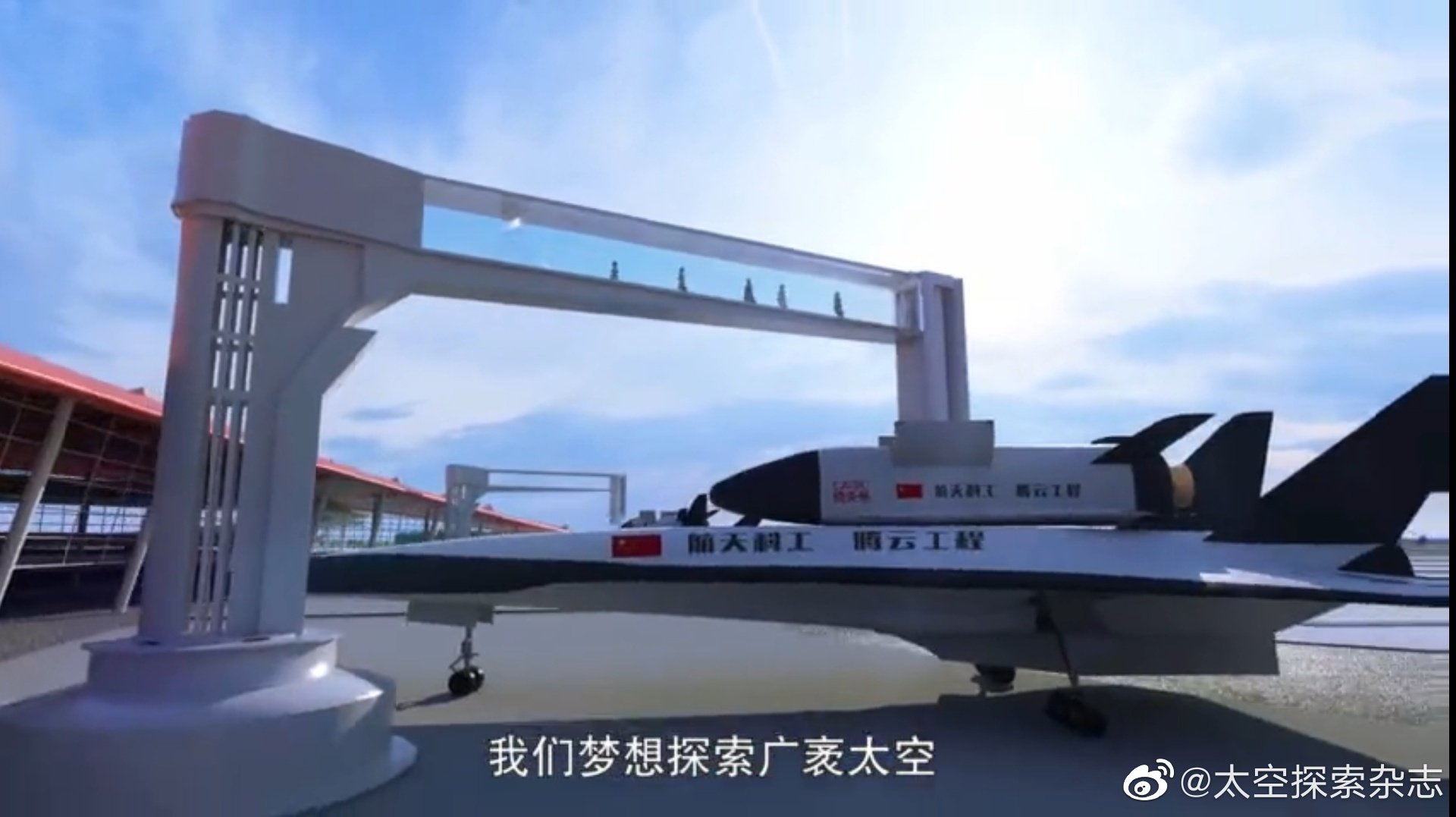 The spaceplane called Tengyun will reportedly have a horizontal take-off and horizontal landing (HTHL) mechanism. According to the military journal Naval and Merchant Ships, this provides it an advantage over the US version, the X-37B Orbital Test Vehicle (OTV), which is rocket-launched.
The X-37B Orbital Test Vehicle (OTV) is the newest and most advanced re-entry spacecraft in the American fleet. The unmanned OTV, which is based on NASA's X-37 design, is intended for vertical launch to low Earth orbit levels where it can conduct long-term space technology research and testing.
The OTV re-enters the atmosphere, descends, and lands horizontally on a runway on command from the ground.
The X-37B OTV is an experimental test program for the US Air Force to showcase technology for a dependable, reusable, unmanned space test platform.
China's Tengyun is believed to be China's answer to the American OTV as well as its own ambition at possessing the technology that allows it to carry out cheaper space missions and send satellites as frequently as it would like, by using the same vehicle.
Potential Game-Changer 'Tengyun'
On December 12, the magazine's Chinese social media channels broadcast a video clip of its editors debating US Control in Space and the Tengyun space-plane project, as reported by the SCMP.
"The American X-37B inspired Chinese space-plane technology, but the American OTV still requires rocket launch, whereas China has now eliminated this barrier," magazine editor-in-chief Su Ming stated in a video.
In July, Tengyun's developer, the state-owned China Aerospace Science and Technology Corporation (CASC), flew it for the first time. Instead of a rocket, it was launched into suborbital space by a mother ship. This is a feat that hasn't been achieved by the US Space Force, a separate military wing launched by the Trump administration.
In 2016, the CASC launched the Tengyun civilian aerospace project with the aim to construct a cost-effective reusable space transport system based on the American OTV. In July this year, it presented the HTHL system, calling it "a solid foundation" for developing reusable transportation technology between Earth and space.
"The successful HTHL test indicates that future Chinese aerospace planes will be able to take off from any airport in the country," Su said. "This means that future spacecraft flights could increase from the present 30 per year to over 1,000 per year, more like normal planes."
While you're reading about the landing of China's first reusable spacecraft, here are my pictures from the 2018 Zhuhai airshow of the CASC Tengyun project. It's an X-37B-like spacecraft sitting on an X-43-like mothership. Obviously, no X-43 look-alike involved in this launch. pic.twitter.com/FierZJg3BW

— Steve Trimble (@TheDEWLine) September 6, 2020
There has been increased bickering about the triangular military contest heating up between Russia, China, and the US with a special focus on space. The American Space Force, in fact, aims to counter Chinese and Russian hypersonic efforts. Russia, too, has upped the ante with its Anti-Satellite test compromising the safety of cosmonauts at the International Space Station (ISS) not too long ago.
However, concerns have been raised about a potential arms race and militarization of space.
Will Space Become A New Battlefield?
As tensions between the West and China and Russia see an upward trajectory and military modernization continues on a war footing, there is a renewed focus on space and its potential weaponization.
Earlier, China had announced its ambitions of becoming a 'space superpower'. It had reportedly said that the Tengyun would be able to take both crew and cargo into orbit, at the time of unveiling a five-year plan for reusable plans.
Enhanced activity in space is not devoid of fears about its militarization and misuse though. The world's three major space powers, the US, China, and Russia, are competing to develop space arms and technology, including anti-satellite weapons and hypersonic missiles.
Since the establishment of the US Space Force under Donald Trump, the competition has intensified, with a focus on catching up to China and Russia in the development of powerful hypersonic weapons.
Su stated in the recently released video that the X-37B may be deployed as a weapon to attack satellites of other countries. He suggested that the powerful robotic arm attached to China's new Tiangong space station's core module may be utilized to combat this.
However, Zhou Chenming, a researcher at Beijing's Yuan Wang military science and technology department, said the robotic arm would not be deployed as a weapon because it would be dangerous and that Chinese reusable space aircraft would be used for commercial purposes like developing telecommunications for rural areas.
Su's statement and American ambitions indicate the mutual distrust between the two arch-rivals because of what is seen as a modern cold war. Russia is also working on a reusable spaceplane, the country's first since the ill-fated Soviet space shuttle Buran, which flew only once before being wrecked in the 1980s.
Both Russia and China have also enhanced their cooperation by pledging to jointly conduct space expeditions, something that deepens the faultlines between the West against Russia and China.