With an uptick in incursions into the Taiwanese Air Defense Identification Zone (ADIZ), a recent clip posted by a pro-Chinese Twitter account has given a glimpse into the capability gap between China and Taiwan and the reluctance on Taiwan's part to challenge China aggressively.
A clip posted by the Twitter account that goes by the name 'Zhao DaShuai' reveals an alleged verbal encounter between Taiwan's ground control and a Chinese fighter pilot.
"You are entering our airspace. Leave now," warns Taiwan's ground control crew. "If you have the guts, open your fire control radars," the Chinese pilot fires back.
In a subsequent tweet, the account says that Taiwanese forces are very constrained in what they can do since the PLA outmatches them in military capabilities, which allows China to normalize its activities. The tweet comes at a time when the Pentagon leaks have revealed essential info about Taiwan's shortcomings in a future invasion scenario by China.
The leaked Pentagon documents that have caused a furor worldwide have revealed that China would likely quickly achieve air dominance in any attack on Taiwan, unlike the Russian Aerospace Forces (VVS) that have been unable to achieve air superiority over Ukraine more than a year into the invasion.
The documents, accessed by The Washington Post, paint a grim picture of Taiwan's capability to fight against China. It states that Taiwan is unlikely to prevent Chinese military air superiority in a cross-strait conflict. It added that Chinese strategies like using civilian ships for military ops have diminished the US's ability to detect an imminent invasion.
According to the Pentagon assessments, Taiwanese officials question whether their air defenses can "accurately detect missile launches," that fewer than half of their aircraft are fully capable of performing their missions, and that moving the jets to shelters would take at least a week. If China were to launch its lethal missiles before Taiwan could disperse those planes, it might present Taipei with a massive problem.
The documents reveal that China's air force would have a considerably better chance than Russia in Ukraine to seize early control of the sky, which Taipei believes will be the basis of an attack.
This information is vital, as reports have suggested that Beijing has been keenly watching Russia's battlefield strategy to avoid making the same mistakes in Taiwan. While the Russian Air Force has traditionally been known to be formidable, and China's own air force has fighter jets it secured from Russia, Beijing would still be set for a better air performance than its friend Moscow.
The Kremlin does not control the skies over Ukraine despite deploying cutting-edge fighter jets like the Su-30, Su-35, and MiG-31s, etc. On its part, Ukraine has an inventory of old Soviet-era jets, many of which it pulled out of storage.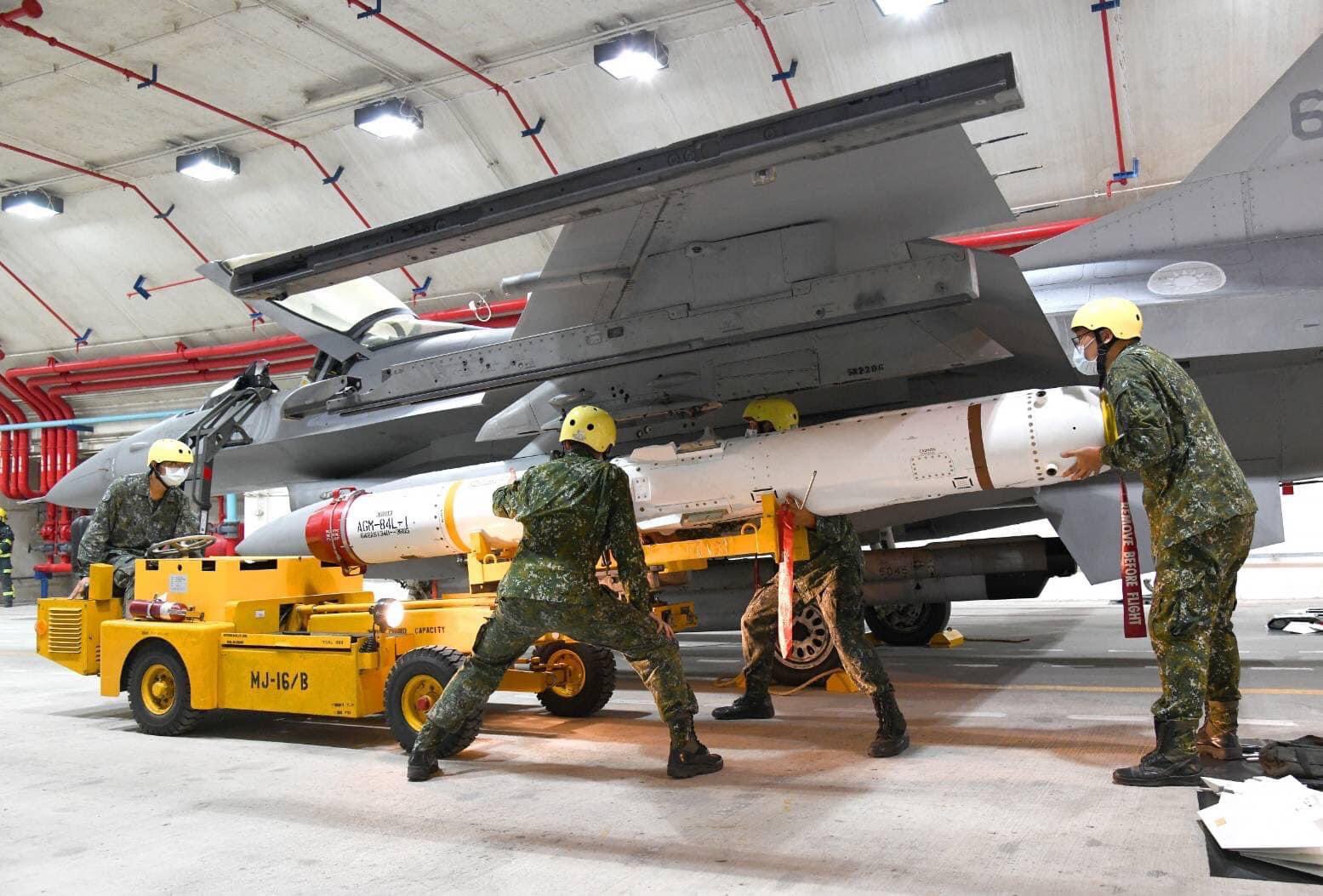 Meanwhile, Taiwan has advanced F-16 Vipers acquired from the United States. When Lockheed Martin delivers the 66 F-16s in the next three years, the Taiwanese Air Force will have more than 200 fourth-generation fighter jets.
Unlike the Ukrainian fighter jets, the F-16 Viper aircraft in the Taiwanese Air Force can be outfitted with AGM-84 Harpoon, AGM-88 HARM, AGM-154 JSOW, and SLAM-ER missiles. However, despite having a modern fighter jet that Ukraine has been pleading for, Taiwan will fare way poorly than Ukraine if China launches an invasion.
Is Taiwan Set For Doom? The Leaks Answer
Ukraine has kept Russian aircraft at risk with ground-based air defenses, including modern Western systems, obsolete Soviet-era equipment, and man-portable air defenses. The airspace is saturated, and several Russian warplanes and choppers have been shot down.
However, Taiwan's air defenses might be unable to stop a Chinese PLA Air Force (PLAAF) onslaught. The Pentagon document claims that under "high-volume PLA fires" from China's short-range ballistic missile system, distributed over numerous moving launch platforms, Taiwan's present tactic of launching two air defense missiles per target "would be strained."
Currently, Taiwanese pilots practice shooting at single, stationary targets. Furthermore, according to Pentagon analysts, Taiwan's missile warning exercises are overly scripted and insufficient to prepare the public and civil authorities for "a real-world event."
Taiwan's officials withholding air defense equipment early in a fight to save them for later is another big concern. Independent analysts believe such a delay would be problematic given that Taiwan is within striking distance of over 40 Chinese air bases.
Further, the Joint Staff Intelligence directorate of the Pentagon claims that Taiwan's air defense units lack a "common operating picture" or the capacity to know where all units are at any given time. They also lack secure radios that are compatible. Since the targets are not separated, there is a greater chance that numerous units will fire on the same target, causing a waste of missiles.
According to one paper, even with first-strike orders or immediate air threats, Taiwan's air defense commanders may hesitate to engage manned aircraft due to fear of escalation.
The documents have noted how China has continued ramping up its military capabilities while asserting that it will unite the self-ruled island state with the Chinese mainland. Chinese fighter jets and bombers regularly enter Taiwan's Air Defense Identification Zone (ADIZ) to intimidate the island nation.
With tensions rising continually, the PLAAF warplanes now frequently cross the median line. These aircraft are intercepted by Taiwanese fighter pilots, who are essentially drained due to repeated incursions. However, earlier this year, a Chinese fighter pilot claimed he flew his J-20 over Taiwan, calling into question Taiwan's interception capabilities regarding PLAAF's stealth jets.
Taiwan, on its part, has adopted an asymmetrical warfare strategy against China to thwart a potential invasion. It has also extended the period of compulsory conscription that the Pentagon documents believe would not be a game changer.
Last month, Taiwan conducted extensive military drills in which F-16Vs, Mirage 2000-5s, the domestically made F-CK-1 Ching Kuo Indigenous Defense Fighter (IDF), the P-3C submarine-hunting aircraft, and the Navy's S-70C anti-submarine helicopters and drones participated from military bases around the country.
The US administration has made concerted efforts to force Taiwan to strengthen its defenses, notably with non-conventional weapons like anti-ship missiles and other cutting-edge equipment more likely to survive a Chinese strike. Taipei is also purchasing Stinger anti-aircraft missiles, Harpoon anti-ship missiles, and High Mobility Artillery Rocket Systems (HIMARS) from the United States.
Pentagon's assessment does not bide well for the narrative preached by Taiwanese leadership about its military preparedness.
The documents were part of a series purportedly leaked by US air national guardsman Jack Teixeira on April 16, as the G7 foreign ministers met to discuss a shared China strategy. At the same time, Beijing temporarily imposed a 'no-fly zone' to the north of Taiwan as it launched a weather satellite.
Moreover, the revelations about Taiwan's defenses and military preparedness come at an interesting time. Earlier this month, China's People's Liberation Army (PLA) launched a three-day military drill, 'Joint Sword,' that simulated the encirclement of Taiwan. Concluding the exercises, Beijing said, "It was ready to fight."
Contact the author at sakshi.tiwari9555 (at) gmail.com