The Zhuhai Air Show is dotted with China's state-of-the-art Unmanned Aerial Vehicles (UAVs), signaling the significance of autonomous aerial combat in modern warfare.
One system that has particularly caught the attention of military observers is a drone that can reportedly travel at hypersonic speeds.
China reportedly debuted its brand-new MD-22 wide-range aircraft, which could travel at hypersonic speed, two days ahead of the opening of Zhuhai Air Show 2022 on November 6. The platform was speculated to be a testbed platform for China's hypersonic technology.
Developed by the CAS Institute of Mechanics and the Guangdong Aerodynamic Research Academy (GARA), this Unmanned Aerial Vehicle, the MD-22, is believed to be a near-space hypersonic technology test platform. It is a great leap as China is testing and improvising its hypersonic technology on a war footing.
MD-22 reusable near-space hypersonic technology test platform in #ZhuhaiAirShow2022.

Length 10.8m
Width 4.5m
Height 1.6m (excluding landing gear)
Weight:1ton
Take off weight 4ton+15% max. load factor
Speed Mach 0-7
Max. range 8000km
(via wb/某些人中的某些人) pic.twitter.com/clUMhlVH59

— EurAsian Times (@THEEURASIATIMES) November 9, 2022
According to a banner of the MD-22 available on Chinese social media and translated by EurAsian Times, the UAV is 10.8 meters long and about 4.5 meters wide. It has a range of about 8,000 kilometers.
It has a take-off weight of about 4,000 kilograms and a maximum load coefficient of 15%, a ratio of the average load to the maximum demand.
According to the information accessed from the banner placed near the aircraft, the UAV would mainly be used for a series of technical verification and in-situ scientific practice of proximity space shuttle aircraft.
It can be compatible with different thrusts, suitable for speeds between 0 to 7 Mach. The UAV could take off autonomously or by a rocket launch. In addition, it has 6G stable disk overload under medium and high-speed conditions.
No other information has been provided regarding the drone's intended usage or whether it will also have a striker role.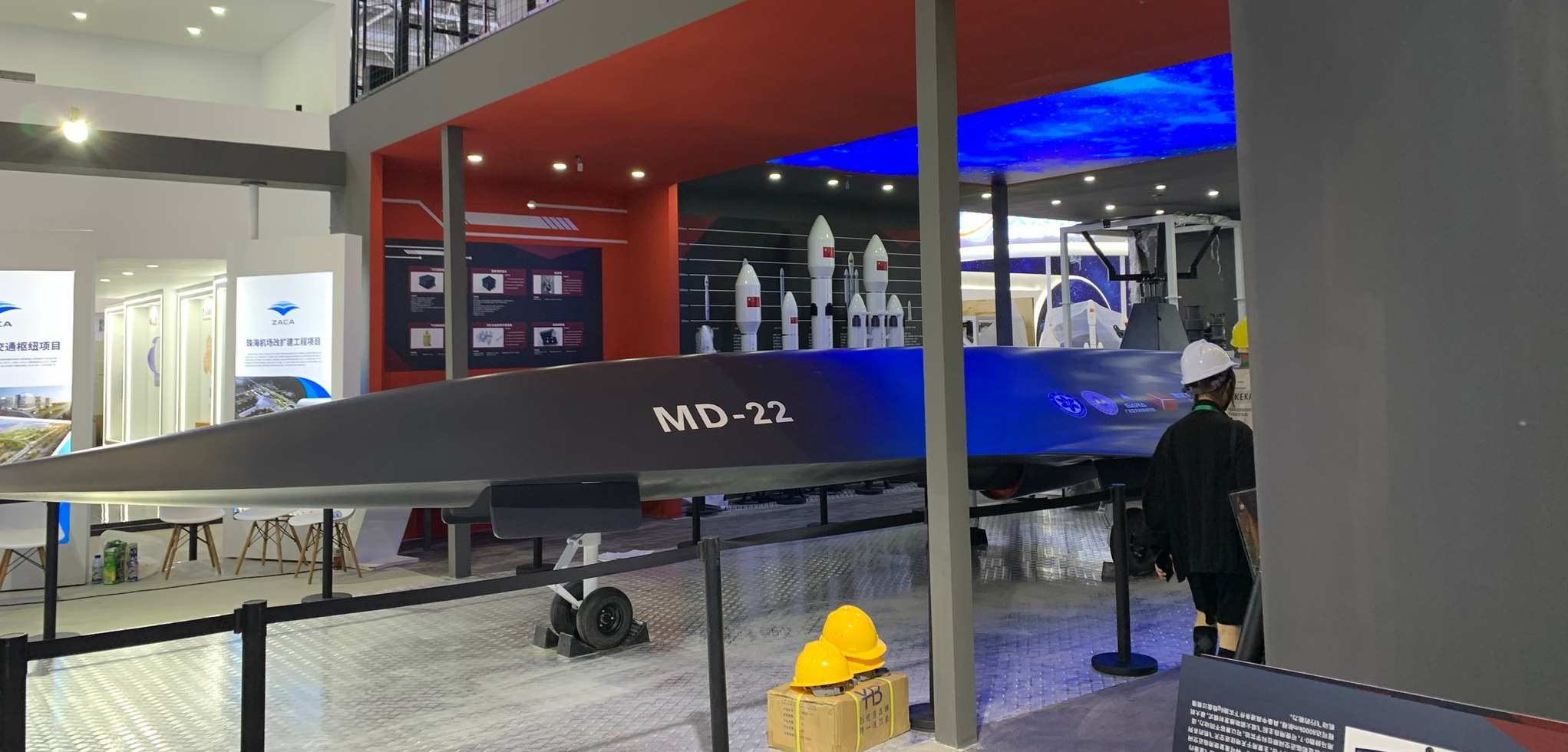 The exhibition's design is subject to change as the system is reportedly developing. It has been claimed that the MD-22 can be used to produce 6th-generation aircraft. However, these claims could not be independently corroborated by EurAsian Times.
Due to the scarcity of details about the platform, it would be premature to predict the duties delineated by this UAV. However, it indicates the pace at which China is developing its hypersonic technology ahead of its American and Russian counterparts.
On its part, the US has a similar initiative, the Stratolaunch Talon-A, which is primarily meant to support research and development, test, and evaluation activities linked to other hypersonic systems, including aircraft and missiles.
It is also converting its Block 20 and 30 RQ-4B Global Hawk aircraft into RangeHawks for its Skyrange initiative aimed at hypersonic testing in the United States.
China's Overcrowded Exhibition Of Drones
China's annual Zhuhai Air Show is an occasion for teasing and unveiling new technologies. The ongoing edition has seen some stunning visuals of China's J-20 fighter jets flying in formation, their first-ever static ground exhibition, the Z-20 helicopters firing military flares, and a sneak peek into the sixth-generation concept.
Z-20 releasing flares

Credits to 大喵酱
P.S. 大喵酱拍的真的很好? pic.twitter.com/8LKhRlF9v0

— 東風 EastWind (@eastwind6699) November 8, 2022
China's indigenously developed, cutting-edge Unmanned Aerial Vehicles have taken centerstage at the airshow.
In days leading up to the air show, Chinese state media reported that the country was readying to showcase an array of drones at the much-awaited event.
According to a Global Times report, China has decided to exhibit an extensive collection of drones, including the Wing Loong series armed drones, the CH-7 high-altitude long-endurance drone, and the WZ-8 high-altitude high-speed reconnaissance drone, among others. The air show also saw the debut of the Wing Loong-10 in an electronic warfare variant.
Not just that, China also debuted its FH-97A loyal wingman, a type of unmanned aerial vehicle (UAV) that can accompany manned aircraft and provide it with intelligence, information, and firepower assistance. Named FH-97A, the loyal wingman drone was exhibited to the general public for the first time.
Another UAV made an appearance at the air show, named the CS-5OOO. The aircraft had a flying wing design and was compared to the B-2 Bomber of the US Air Force on social media.
That said, even in a sea of drones showcased by China, the hypersonic testbed MD-22 stands out as a unique concept that would potentially aid China's hypersonic capabilities against its rivals.