China has recently opened the country's longest underwater tunnel. The 10.79-km Taihu tunnel beneath Lake Taihu in eastern China's Jiangsu Province took four years to complete.
Historically, China's Eastern provinces have seen lesser economic and infrastructure development compared to the rest of the mainland. The tunnel on which the work began on January 9, 2018, cost about $1.56 billion.
According to the team associated with the tunnel's construction, automatic steel processing equipment and intelligent systems were used to assure zero sewage and dust discharge, said Global Times.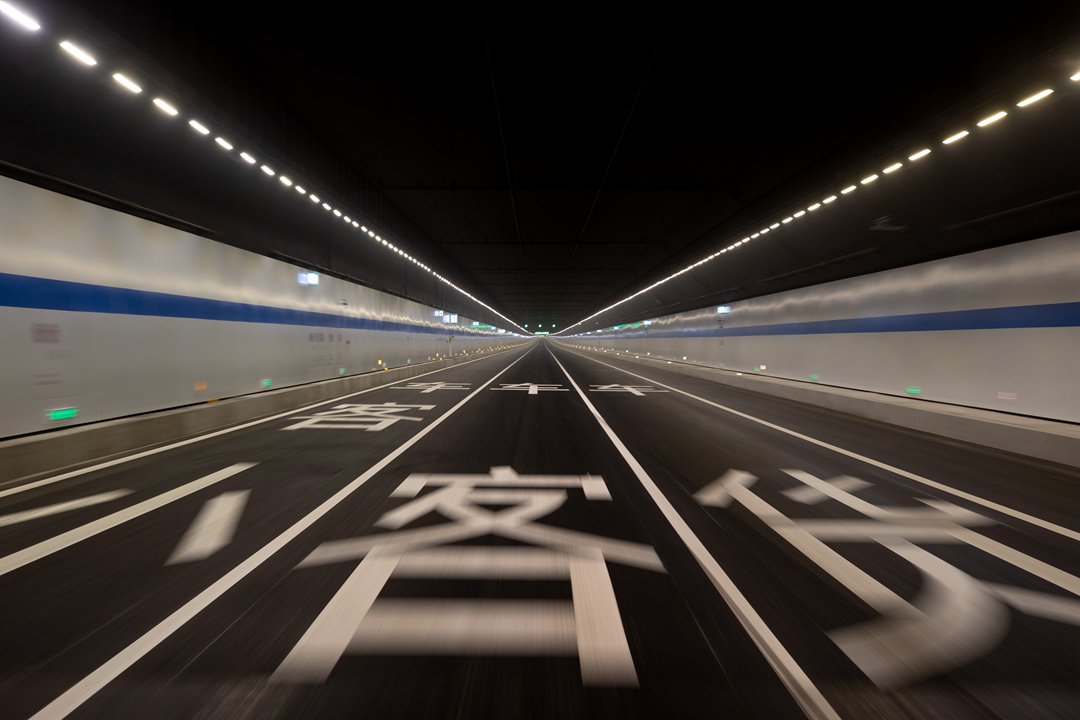 China's official news agency, Xinhua, reported that almost 2 million cubic meters of concrete were used to construct the two-way tunnel, which has six lanes and is 17.45 meters wide. The tunnel's ceiling has been illuminated with colorful LED lights to reduce driver fatigue.
The tunnel is part of the 43.9-kilometer Changzhou-Wuxi Highway, which opened to the public on December 30, 2021. Travelers between Shanghai and Nanjing, Jiangsu's capital can use it as an alternative expressway.
#ChinaMegaInfrastructure on the move! The Taihu tunnel, China's longest underwater highway tunnel, just opened to traffic in China's Jiangsu Province. The near 11-kilo long tunnel runs under Taihu Lake, China's third-largest freshwater lake. #HighWay #tunnel pic.twitter.com/6lPWa0JE5D

— Zhang Meifang张美芳 (@CGMeifangZhang) December 31, 2021
Ensuring Connectivity & Prosperity
The Taihu Tunnel will connect various towns and areas in the Yangtze River Delta region, China Daily reported. The Yangtze is the longest river in China.
The tunnel will cut travel time between Mashan and Nanquan, lakefront sub-districts of Wuxi in southern Jiangsu province, by half, and make travel from Wuxi's urban center to Yixing more convenient.
Wuxi city of the Jiangsu province could be considered a very significant region as it has traditionally been a thriving economic center and is the export hub of rice, silk, and textiles. Additionally, in the past few years, it has also emerged as a trade hub for electrical motors, software, and solar technology parts.
"In the Yangtze River Delta region, it rarely takes more than one hour to travel between a prefecture-level city and a county in its jurisdiction," said Chen Degang, director of the publicity department at CCCC Third Harbor Engineering Co.
According to him, the underwater tunnel project will link cities such as Shanghai, Nanjing, Suzhou, and Wuxi, boosting the regional economy.
An Engineering Marvel
The tunnel is 43.2 meters long and is divided into two bores, each measuring 17.45 meters.
According to Li Baozhi, a project manager from CCCC Third Harbor Engineering, the main engineering issue has been seepage-proofing the tunnel, which is as deep as 20 meters into the lake bottom, said China Daily in its previous report.
The contractor built a sophisticated, real-time monitoring system for concrete pouring and invented innovative ways for processing high-quality concrete. The Jiangsu Transportation Engineering Construction Bureau is promoting these procedures as a seepage-proofing guideline for such tunnels across the province.
To protect Taihu Lake's ecology, the contractor has gone to great lengths to eliminate dust and noise pollution by operating a completely enclosed concrete mixing plant, utilizing environmentally friendly trucks, and substituting diesel pile hammers with hydraulic pile hammers that are half as loud.
China Lags Behind Norway
Norway's twin-road Ryfast tunnel, which connects the cities of Stavanger and Strand, is the world's longest under construction highway tunnel. The 14.4-kilometer tunnel has the steepest gradient of 7%, which applies for 4 kilometers up to Solbakk, and it is 292 meters below sea level at its deepest point. The tunnel is the world's longest and deepest undersea road tunnel.
But in terms of depths, the Channel Tunnel, which connects England and France by rail, takes first place. Its submerged section is 37.9 kilometers long, making it the world's longest underwater tunnel, according to CNN.
Despite China lagging behind these underwater tunnels, it has still achieved a breakthrough that is expected to bring significant economic returns to it in the longer run.