A digital artistic representation of J-20 Generation 5 stealth fighter and H-6K/N strategic bombers controlling wingmen drones, released by China Central Television (CCTV), has set social media ablaze.
---
However, experienced watchers of Chinese military aviation recommend exercising caution, pointing to discrepancies between their computer-generated images, leaked photos of defense equipment, and the final rollout of military platforms. Nevertheless, it does indicate China is firmly on the path of eventually achieving the capability.
The screengrabs of the video on social media showed a twin-seat Chengdu J-20 flying with three GJ-11 'Sharp Sword' Unmanned Combat Aerial Vehicles (UCAV) in the top, side, and front views.
That the J-20 is a twin seat gives credence to the long-running theory that this version will be used to control wingmen drones. EurAsian Times analyzed in August about a prototype version of the twin-seat J-20 that was photographed from the ground.
The graphic illustration with the GJ-11 does confirm one of the purposes of the twin-seat version. Still, there has been no official comment on the J-20's wingmen teaming from the People's Liberation Army Air Force (PLAN) or China's Defense Ministry.
Another couple of video grabs showed three to four Feihong FH-97 surveillance and attack drones flying alongside China's frontline cruise missile carrier and strategic bomber, the H-6K.
While one picture showed just the quartet of UCAVs flying together in a formation, subsequent grabs of the drones alongside the bomber indicated that they were part of a manned-unmanned teaming (MUMT) concept.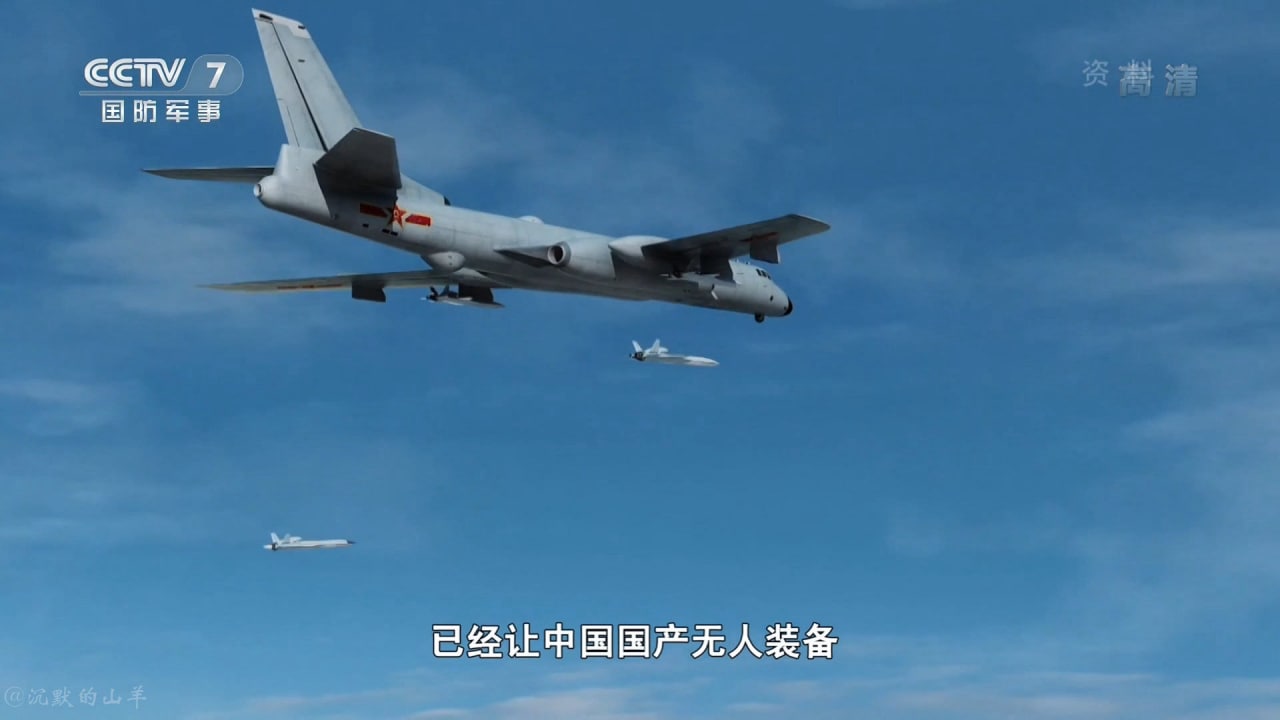 FH-97 & GJ-11 Wingmen Drones  
The FH-97 drones are being developed by the China Aerospace Science and Industry Corporation (CASIC) and were first unveiled at the Zhuhai air show on September 29, 2021.
CASIC representative Wu Wei was quoted in a Reuters report about the FH-97s being able to carry different weapons and possessing swarming and electronic warfare capabilities. The FH-97 is similar in mission set and appearance to the US' XQ-58A Valkyrie.
The GJ-11 was first revealed in an October 2019 military parade marking the 70th anniversary of the People's Republic of China (PRC) (or the National Day) and has been widely believed to rival the US stealth RQ-170 Sentinel drone.
Developed and manufactured by the Aviation Industry Corporation of China (AVIC), the first photos were only top and side views of the drone mounted on a truck during the parade.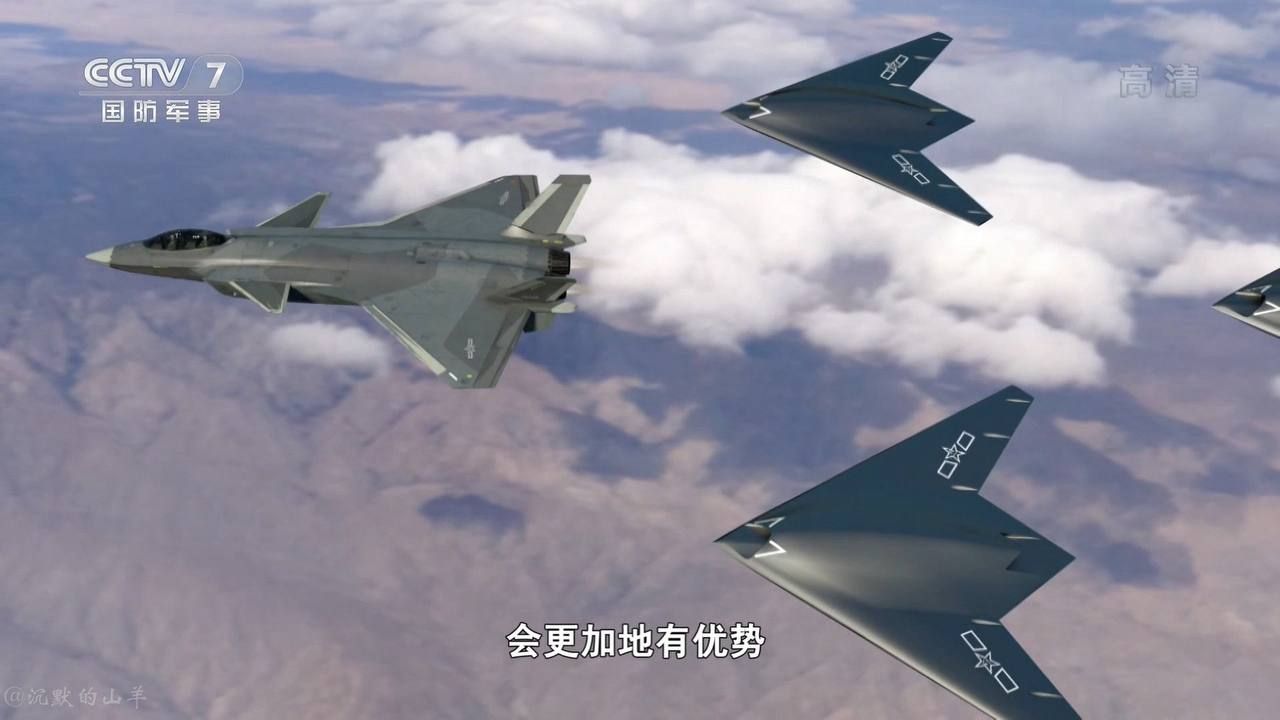 But subsequent photos of a scale model in September 2021 during the Air Show China showed its two internal belly weapons bays open between two side landing gears.
"Each bay has four ammunitions, which look like guided precision air-to-ground glide bombs. Experts said that the drone would likely carry multiple types of precision ammunition, including larger ones that were not displayed at the air show," a Global Times report said.
It further quoted military aviation expert Zhang Xuefeng saying that the flying wing-shaped drone has high stealth and subsonic cruise capability, coupled with extended range.
Narrators on CCTV during the parade said that the GJ-11's primary mission would be conducting deep penetrating strikes on critical targets. The "GJ" in the designation, also meaning 'gonji' (Chinese for 'attack'), is an additional indication that the primary role of the UCAV is strike-focused.
It is not unreasonable to assume a limited Intelligence Surveillance and Reconnaissance (ISR) capability, however, as targeting information generation and data linking has been envisaged for all airborne assets as a part of China's 'intelligentized warfare' concept.
State Media Exaggeration?
While tweeting the pictures, leading Chinese military aviation expert Rick Joe said that the CCTV graphic is "generic and flawed." Enclosing three other screen grabs and pictures from previous national press reportage, he pointed to how to present Chinese military aviation developments are at variance with what was reported then.
The first picture showed a cockpit selfie video grab of a J-20 pilot, which Rick Joe said was from a year ago. "Recall as early as a year ago, J-20 pilots alluded to (single seat) J-20 leading *four* UAVs." Whether Joe meant the Mandarin subtitles at the bottom of the screen that possibly contained the pilot's commentary is unclear, but given the context, it can be assumed to be the meaning.
But subsequent photos and analyses of the twin-seat J-20 indicated it was this version meant to control the Manned-Unmanned Teaming (MUMT). "All it shows is PLA are ok letting CCTV show they're pursuing high-end MUMT – which we've known for a while (pic 2-4)," Joe added.
The other pictures showed illustrations of J-20-centric MUMT on what appeared to be printed paper, possibly a magazine. The first showed a single J-20 controlling four GJ-11 drones opposite two F-35s. The second showed a different drone, the FH-97, taking off and joining an airborne J-20, being controlled by it, and then landing at another runway.
This indicates semi-autonomous capability that flies between pre-set coordinates. The third showed a J-20 sharing data with two UCAVs, one of which fires an air-to-air missile and hits one F/A-18 fighter, part of a formation of three.