A recent photo of China's J-20 'Mighty Dragon' with a twin-seat configuration emerged on social media, making it the only Generation 5 stealth fighter of this design.
Lockheed Delivers 'Game Changing' High-Energy Laser Weapon HELIOS To US Navy; Ready For Real Combat
This bares the rapid pace at which China is rolling out its crown jewel and how it will serve longer while continuously upgrading, unlike its American counterparts – the F-22 Raptor and the F-35 Lightning II.
The second seat might also control Chinese 'wingmen' drones, revealed in September 2021.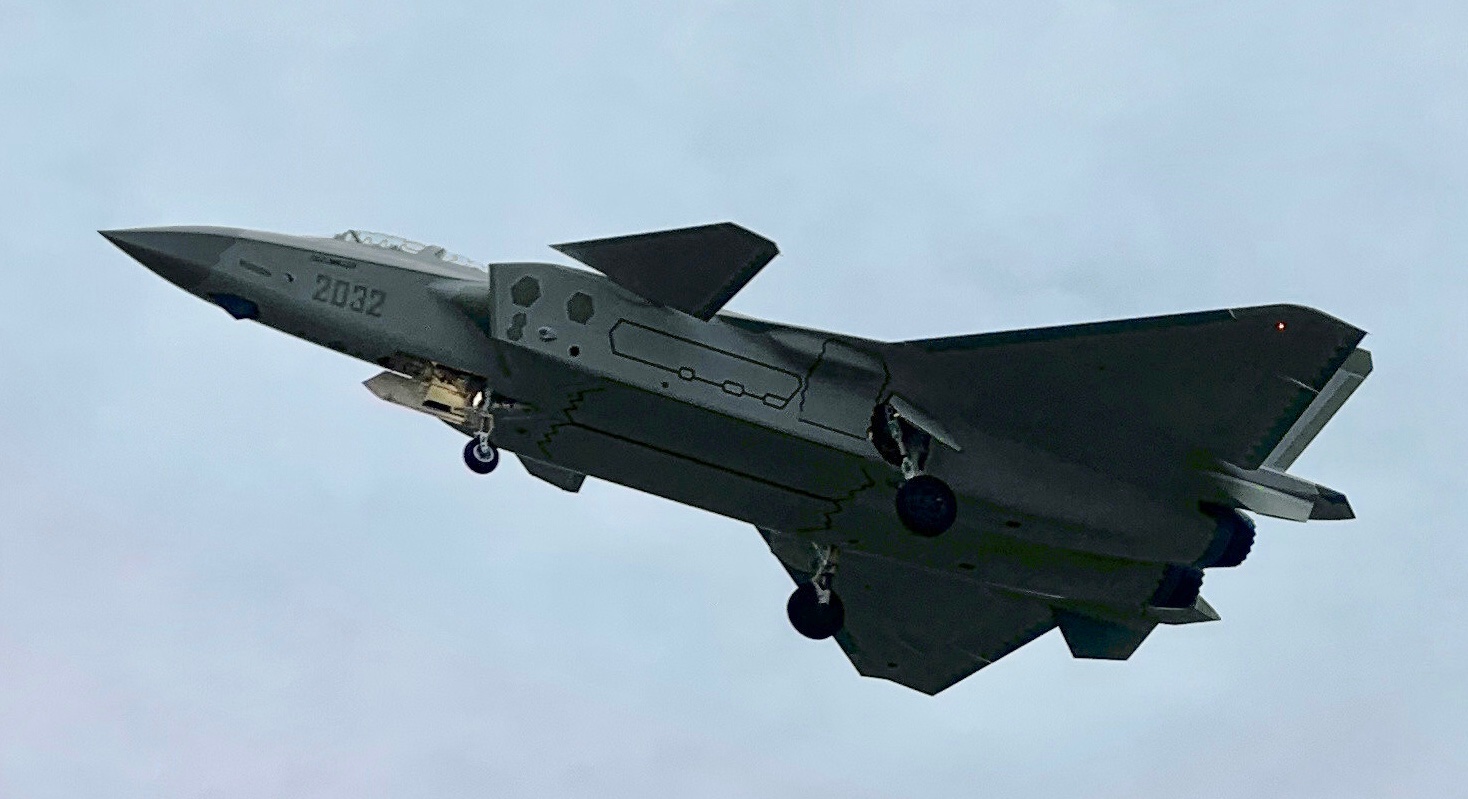 What Does The Photo Show?
The J-20 is seen in a dark-grey color scheme and the serial number 2032 along its nose, which according to Germany-based Chinese military aviation expert Andreas Rupprecht means it is the second prototype of the J-20's third subtype.
The photo also shows some notable differences with the single-seat J-20 variants until now, beginning with the chin-mounted Electro-Optical Tracking System (EOTS) looking slightly different. (A previous version of this article incorrectly mentioned that it had been accepted into the People's Liberation Army Air Force service).
A pair of sideways sensors on the nose cone also appear missing. Antennas/sensors close to the engine inlet are also missing, meaning the sensor Distributed Aperture System (DAS) has been re-arranged.
One of the reasons could be wanting to reduce electromagnetic interference. These antennas/sensors are believed to be laser-warning detectors, radar warning receivers, and data-link transmitters, much like the F-35.
The two-seater variant, the J-20S, made its first flight in October 2021 in a full-yellow factory roll-out color scheme. Furthermore, photos in July 2022 showed the aircraft having a larger canopy and a stud to support the center frame of the canopy.
All weapons bay doors were open, which housed missiles and ordnance internally. On a different note, the landing gear structures are also visible, which are weak and not meant for aircraft carrier operations. The People's Liberation Army Navy (PLAN) does not intend to expect the aircraft to be carrier capable.
The side-launch bays that carry the short-range PL-10E air-to-air missiles also have a unique design where the launch pylons are two-ring structures.
They rotate outwards as the single door opens and the door immediately closes, with the missile ready to fire in a dogfight. The primary weapons bay doors in the belly meanwhile hold four 300-kilometer range PL-15 Beyond Visual Range (BVR) missiles.
It is unknown how long it takes for this PL-10E 'readying' process, but it wouldn't take more than 10 seconds and has to be activated by the pilot well before a dogfight begins. This also indicates that the J-20 is quite capable of tight maneuvers, which many experts initially said was not, but made up for with its superior stealth, avionics, network, and data-linking and sensor fusion.
While this has been speculatory, given the Chinese penchant for disinformation and never revealing the true extent of their systems' capabilities, doubts about the J-20's maneuvering were also put to rest in another video that surfaced online last year.
The J-20 currently flies with either the Russian AL-31F or the domestically developed WS-10C engines, while the WS-15 project concludes and is operational. Expected to have a higher thrust and super-cruise capability, the J-20 might match the Su-35, F-35, or the F-22 in kinematic performance.
Two-Seats For Training, Advanced Missions & 'Wingmen Control'  
In state-media interviews, China's J-20 pilots have said that training on the plane predominantly happens on simulators, which, albeit quite effective, will be eased with the two-seat variant. Secondly, in combat, the two seats are handy in complex missions like ground attacks under enemy air defense or long-range penetration.
But its most awaited and exciting use would be to control the Feihong FH-97 surveillance and attack drone concept at the Zhuhai airshow on September 29, 2021.
The FH-97 drone concept can carry different types of weapons, and has swarm and electronic warfare capabilities, said Wu Wei, a representative of China Aerospace Science Technology Corp's (CASTC) Feihong product line, according to a report by Reuters.
A January 23 Global Times report said that the J-20 could get Directed Energy Weapons (DEW) and even an advanced radar for dedicated fighter-cum-early warning capability. The induction of the two-seat variant should be looked at in this light.
This will also encompass China's intelligentized 'warfare' concept, reported by Eurasian Times if one goes by Wang Ya'nan's, chief editor of Beijing-based Aerospace Knowledge magazine, revelation in the same Global Times article.
According to Ya'nan, "combat data from the second seat could be gathered, analyzed and used to train artificial intelligence, which could eventually replace the second pilot."