The Wing Loong-3 UAV has become a top attraction in the Zhuhai Air Show, marking a milestone in Chinese homegrown drone manufacturing capability.
A video of the system performing a series of extreme missions, including anti-submarine warfare (ASW), ground strike, maritime strike, and search and rescue in a single sortie, has generated considerable excitement.
Manufactured by the Chinese aircraft manufacturing association Chengdu Aircraft Industry Group, part of the state-owned Aviation Industry Corporation of China (AVIC), WL-3 is a further development of the already well-known mass-produced Wing Loong 1 and 2.
These are largely similar to the US General Atomics MQ-9A/B UAVs.
The UAV has a turboprop engine in the tail with a pusher propeller. Wing Loong-3 has a maximum take-off weight of 6200 kilograms, with a payload of up to 2300 kilograms (including 2000 kilograms on eight external hangers and 300 kilograms in the internal compartment).
The flight range is declared up to 10,000 kilometers, and the flight duration is up to 40 hours. The computer-generated (CG) video shows WL-3 with a five-blade propeller.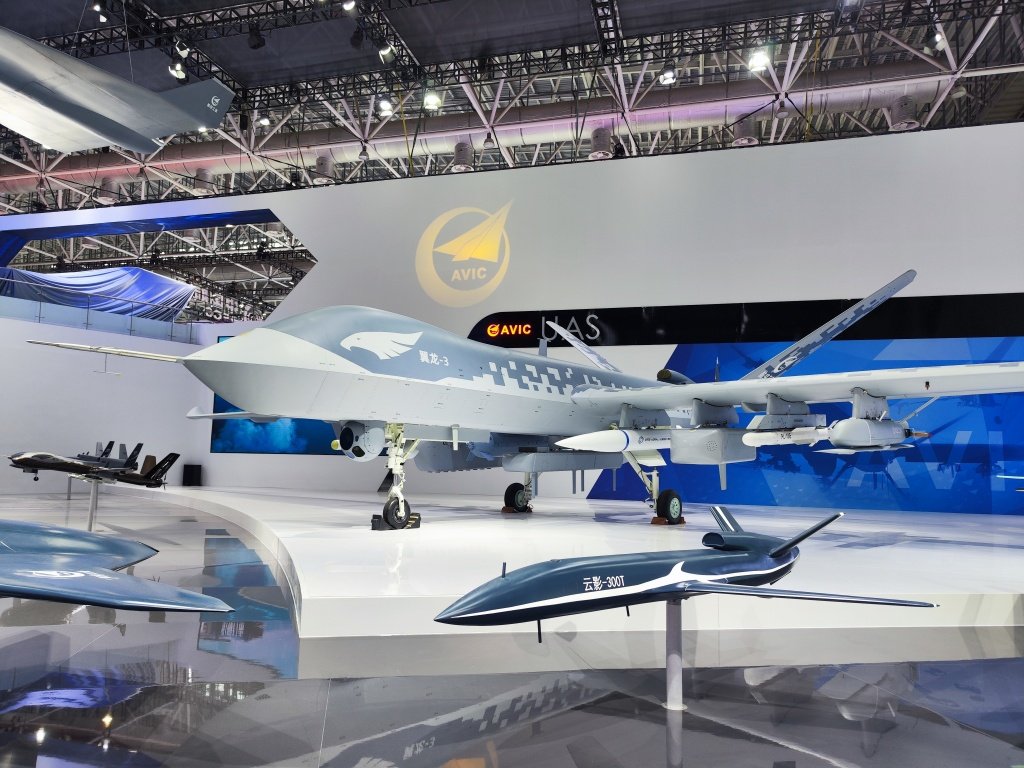 South China Morning Post (SCMP) claimed its range was "intercontinental," armed with air-to-air missiles (AAM) to hit other aircraft, drones, and helicopters.
State media reports asserted it could carry 16 missiles and bombs. At Zhuhai, the Wing Loong-3 on display was shown carrying PL-10E fourth-generation short-range AAM, which Chinese analysts deem a significant improvement over the WL-1 and WL-2 models.
SCMP quoted retired PLA Colonel Yue Gang, who said the WL-3's ability to hit other drones and helicopters "gives it a self-defense capability and improves its survivability." The larger size enables it to undertake longer-range missions with heavy payloads.
Zhou Yi, the chief designer of Wing Loong-3, told state broadcaster China Central Television (CCTV) that the advanced drone could carry out intercontinental operations, including long-distance surveillance or reconnaissance, striking time-sensitive targets, and carrying out long-duration air patrols.
"Its entire payload is ahead of the existing mid-altitude long-endurance UAVs in weight, quantity, or type," Zhou said.
All-In-One UAV?
The video shows the WL-3 flying over the sea and dropping dozens of miniaturized sonobuoys from a large under-wing pod. The buoys detect a submarine and transmit the information to the WL-3, which relays the data to a naval surface vessel, which goes on to destroy the submarine.
The WL-3 then dodges a surface-to-air missile (SAM) and fires an AAM toward another aircraft, which appears to be a drone.
It then dives down and destroys two unmanned boats that look like US-made Sea Hunters, with air-to-ground missiles, before detecting an enemy command center, radar site, and an armored personnel carrier (APC) on an island.
It launches kamikaze drones/loitering munitions to destroy the radar station, another AGM to shit the APC, and, shockingly, a volley of what appears to be unguided rockets on the command center.
The is in a classic diving attack like a strike aircraft that pulls up after a strafing run. The WL-3 is shown being remotely controlled, indicating the Chinese have not yet envisaged autonomous artificial intelligence-based control for such complicated and challenging missions.
Finally, it launches what looks like a guided bomb but expands into an inflatable raft that rescues friendly forces.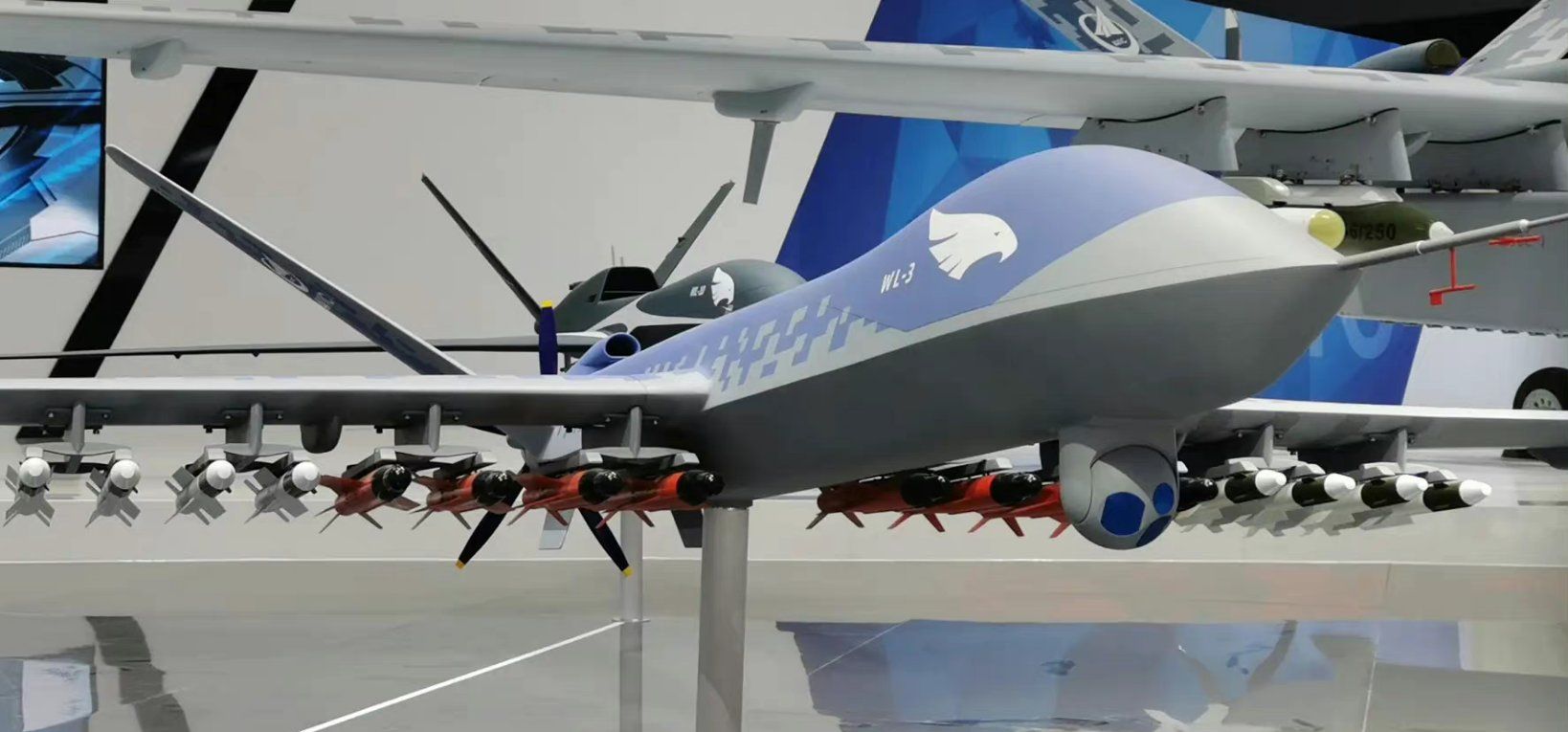 Other new drones in the Wing Loong family – including the WL-1E and WL-10A – also debuted. WL-1E, built as a challenger to American MQ-1C Grey Eagle, also saw its maiden flight earlier this year. The variants are based on the Wing Loong 1, broadly similar to the US Predator and Reaper Drones.
With a maximum endurance of 45 hours and a maximum range of 7,000 kilometers, the WL-1E can fly at an altitude of 10,000 meters while carrying two 50-kilogram-class weapons, giving it a strong take-off and landing performance.
Even at a high-altitude airport of 4,000 meters above sea level, the Wing Loong 1E can take off and typically land under the maximum weight condition of the external configuration. Taking off and landing at the maximum weight of a low-altitude airport requires only a few hundred meters, according to Wing-Loong Chief Designer Tang Yong.
Will Chinese Drones Displace The US Commercially & Militarily?
A report by the Russian International Affairs Council (RIAC) discussed the proliferation of drones and drone technologies. It notes China, Russia, Iran, and Turkey as competitors to US supremacy in the systems and its impact in the Asia-Pacific.
The report discusses how these countries have "coordinated" and "improved" upon their drone manufacturing technologies, industrial processes, and components to make their UAVs more capable in performance, rivaling the United States.
The report explained how most Asia-Pacific countries, which use many American systems, are not likely to rely on drones as the primary weapon.
They are "wealthy enough" to buy and use more sophisticated and traditional military systems than UAVs. "However, the region's armaments and military equipment market will inevitably be saturated with various devices and related products.
Therefore, it is now important for the Asia-Pacific countries to discuss the issues of the responsible use of unmanned vehicles and refraining from provocations," the paper by Andrey Gubin said.
Gubin is an associate professor in the Department of International Relations of the Far Eastern Federal University and the Northeast Asia Research Center of Jilin University in the People's Republic of China (PRC).
Gubin recognizes Asia-Pacific as the next major flashpoint given the heightening US-China Great Power Contest, where countries in territorial disputes with China have been purchasing US drones.
While the then-Donald Trump administration approved the sale of Sea Guardian UAVs for Taiwan to monitor the People's Liberation Army Navy (PLAN), Malaysia, Indonesia, Philippines, and Vietnam have also bought the Boeing ScanEagle light reconnaissance drones.
But the Chinese are not far behind, with the Stockholm International Peace Research Institute (SIPRI) having noted sixteen countries that have brought military UAVs from Beijing over the last ten years.
"If the Reaper costs up to $30 million, then the price of the WL-2 is only $2 million. It should be expected that within the next few years, China will approach the United States in terms of the level of development of UAV production technologies and the volume of foreign deliveries," the paper added.