As Indian and Chinese navies ramp up their combat readiness, China's first domestically built aircraft carrier, Shandong, has concluded its third sea trials and is now few steps away from being commissioned in the Chinese Navy (PLAN). 
'Country Of Spies': Why China Runs The Risk Of Being Called The Hub Of Espionage After 'Data Leak'?
The development comes at a time when the two nuclear-armed neighbors have been locked in a border stand-off in Eastern Ladakh for the past seven months.
China's Shandong completed its 23-day sea trials and returned to the Dalian Shipyard in Northeast China's Liaoning Province, Chinese state media reported.
However, the carrier may reach combat readiness by next year. The pandemic has led to delays in reaching the initial operational capability (IOC), the initial level of combat readiness required for deployment. 
Double Trouble: Massive Russian Transport Aircraft Skids Off The Runway After Engine Failure: Watch
During the 23-day trial, J-15 fighter jets took off and landed on the Shandong as part of the aircraft carrier's training exercises, the China Central Television said.
The carrier was seen in the Bohai Sea accompanied by a submarine through foreign satellite images. Pro-Beijing newspaper Wen Wei Po speculated a joint exercise. Analysts speaking to Global Times said that in actual combat, an aircraft carrier will not operate alone, but in a combat group consisting of other warships like cruisers, destroyers, frigates, replenishment ships, and attack submarines
The construction of the carrier began in 2013 at Dalian Shipbuilding Industry and the vessel was first lowered in the sea in April 2017. CNS Shandong is the second carrier after CNS Liaoning, which was originally a Soviet-era vessel.
Double Trouble: Massive Russian Transport Aircraft Skids Off The Runway After Engine Failure: Watch
CNS Shandong can carry at least 36 J-15 fighter jets on its flight deck, unlike Liaoning which could carry only 24.
According to information shared by the Chinese Navy, CNS Shandong displaces at least 50,000 metric tons of water. It has conventional propulsion systems and uses a ramp to launch J-15 fighter jets, the spearhead of China's carriers, like CNS Liaoning. The ship also deploys several types of helicopters. "It features the advanced Type 346 S-band AESA radar system," said a Center for Strategic and International Studies note on the vessel.
India Preparing For A Third Carrier
While the Chinese People's Liberation Army Navy (PLAN) gears up for its second carrier, India's INS Vikrant has recently completed basin trials and is expected to undergo sea trials in early 2021. The navy already operates INS Vikramaditya, a modified Kiev-class aircraft carrier and the flagship of the Indian Navy.
Its second carrier, Vikrant, is India's largest indigenously-built naval ship under the 'Make In India' initiative launched by Prime Minister Narendra Modi. It is expected to be commissioned in service by the end of 2021 or early 2022.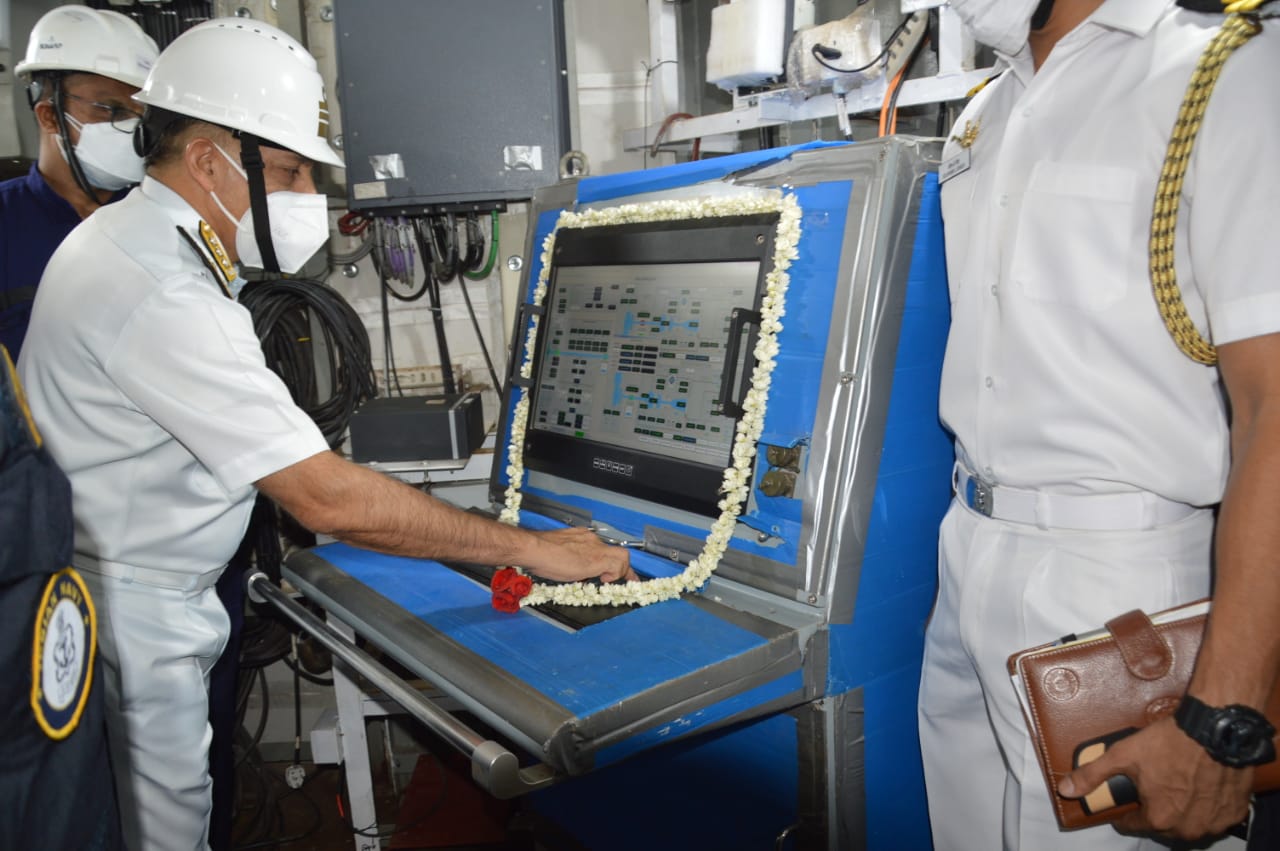 With Shandong expected to reach operational readiness by next year, China is aggressively working on its third and fourth aircraft carriers at the Jiangnan shipyard in Shanghai, which many media outlets in China including state-run Global Times predicted, could be launched by 2025. Last year, the Indian Navy chief said that China is projected to operate 10 warships by 2049.
Meanwhile, the Indian Navy has already declared its intention to procure a third carrier. On the occasion of Navy Day on December 4, Admiral Karambir Singh said that the Navy will make a formal request to the government for the acquisition of a third carrier.
INS Vishal, a proposed carrier hasn't been laid down. It was supposed to have a displacement of over 65,000 tons and would integrate an electromagnetic catapult system (EMALS) to allow fighters to deploy with considerably more fuel and munitions. It was envisaged as a much more formidable warship to be fielded alongside the Navy's sole serving carrier, the INS Vikramaditya, and the upcoming INS Vikrant.
However, due to the exorbitant cost, the government scrapped plans of nuclear-propulsion for the proposed INS Vishal. As reported earlier by EurAsian Times, Vice Admiral Shekhar Sinha (retd) believes a third carrier could help serve the Indian Navy's requirement of "full surveillance of the Indian Ocean region" and to provide help to "like-minded countries".
---
Follow EurAsian Times on Google News