Chinese people will never forget the barbaric crimes that NATO committed in Yugoslavia, Chinese Foreign Ministry spokesman Wang Wenbin said on Monday.
On March 24, 1999, NATO commenced air strikes against Yugoslavia. On May 7, five bombs hit the Chinese embassy in Belgrade, killing three people and injuring over 20.
"Chinese people will never forget the blood and the lives that it gave for the protection of truth, honesty, and justice. And it will never forget the barbaric crimes of US-led NATO as well," Wang told a briefing.
He pointed out that, on the one hand, NATO portrays itself as a regional defense alliance, but on the other hand, it constantly heightens regional tensions and generates bloc adversities.
"Following the end of the Cold War, US-led NATO has repeatedly stirred up conflicts all over the world, from Bosnia and Herzegovina to Kosovo, from Iraq to Afghanistan, from Libya to Syria," the spokesman said.
He emphasized that NATO continues to expand its presence to the East, to the Asia-Pacific region, creating bloc opposition and disrupting regional peace and stability.
"US-led NATO needs to give serious thought to its crimes, to completely abandon its outdated, Cold War era mentality and to stop provoking regional conflicts and causing discord and riots," Wang said.
In 1999, an armed confrontation between Albanian separatists from the Kosovo Liberation Army and the Serbian army led to a bombing of what was then the Socialist Federal Republic of Yugoslavia, consisting of Serbia and Montenegro, by NATO forces.
The operation was undertaken without the approval of the UN Security Council and was based on allegations by Western countries that the Yugoslav authorities were allegedly carrying out ethnic cleansing of Kosovo Albanians.
NATO airstrikes continued from March 24 to June 10, 1999, and claimed the lives of over 2,500 people, including 87 children.
China's Ambition To Become A Global Mediator
Amid the US' waning clout in the Middle East, President Xi Jinping of China did not lose the opportunity for his country to fill the vacuum. He cherished it because China is the largest oil importer from the Gulf States. America's exit from Afghanistan and Iran's intensification of anti-American rhetoric made it easier for China to focus on the ground reality in the Gulf region.
Beijing's ultimate objectives in prioritizing the Gulf region are almost the same as those of the United States. The difference lies in the style of approach and methodology. Three years of leg-work ultimately brought China's cherished objective of bringing the two traditional antagonistic Gulf States of Saudi Arabia and Iran to the talking table in Beijing.
Iraq and Oman assisted in China's endeavors. Finally, the March 10 agreement signed in Beijing gives Saudi Arabia a stake in drawing China away from a potential Russia-Iran-China axis that could have encouraged Iran's offensive actions in the region, further empowering it to escape US and international sanctions on its economy and increase Russian and Iranian encroachment on Saudi Arabia's oil.
For Iran, signing the deal was a big step in breaking the isolation imposed on it by economic sanctions. Moreover, Tehran found that reconciliation with Saudi Arabia could eliminate Saudi's opposition to its nuclear program, weakening Israel's argument for justifying its aggressive designs against Iran.
The international community has welcomed the beginning of the reconciliation process between the two most important countries of the Gulf region. Even the US State Department expressed satisfaction with the two countries signing the peace deal.
China has found enhancement of its influence among Middle East countries as a broker of peace and goodwill. It will re-image China in the eyes of those who saw nothing but evil in all that China does. Elated by successfully negotiating a deal between the two traditionally antagonistic states in the Gulf, China has now focused on the Ukrainian war. Beijing is seriously considering brokering peace between Russia and Ukraine.
On April 27, President Xi had an hour-long telephonic dialogue with Ukrainian President Volodymyr Zelensky. It was a serious exchange of views on the war raging between Ukraine and Russia for over a year. Both sides are reported to have suffered heavy losses regarding men and materials.
We presume President Xi must have brought home to the Ukrainian leader the immensely detrimental impact which the war has on the economy of many countries the world over and the constraints it has placed on international trade and commerce.
Briefly, the crux of the whole conflict is that the US-led NATO is propping up Ukraine as their proxy right under the nose of Russia. Moscow considers it a grave threat to its sovereignty and territorial integrity. Moscow had repeatedly warned Ukraine to desist from all hostile activities and stop turning Ukraine into an anti-Russian bastion.
The question that needs to be taken up for a proper answer is whether China enjoys the trust of the US and its NATO allies that Beijing has been neutral in the conflict so that its mediation becomes relevant. The answer is a big no. European Union had not minced words when it said that though China has remained neutral at heart, it is a close ideological ally of Russia.
They further said that though China has been maintaining normal relations with the European countries and trading with them on equal terms, they do not repose confidence in China's goodwill. They have also been suspecting that China will not hesitate to replenish the arsenals of Russia, which are depleting of ammunition and missile stockpiles.
Analysts have called the telephone call between the two leaders a "diplomatic coup" for Beijing. But it is too simplistic to think that China will have an easy go in mediation in the Ukrainian war. This is essentially an ideological war; in that sense, China is on the same page as Russia.
Secondly, Ukraine is projected as the Western proxy, whereas Russia does not have proxies which explains how seriously Moscow takes the threat. China is aware of it. It means China feels confident it can be a more active peacemaker in regional conflicts.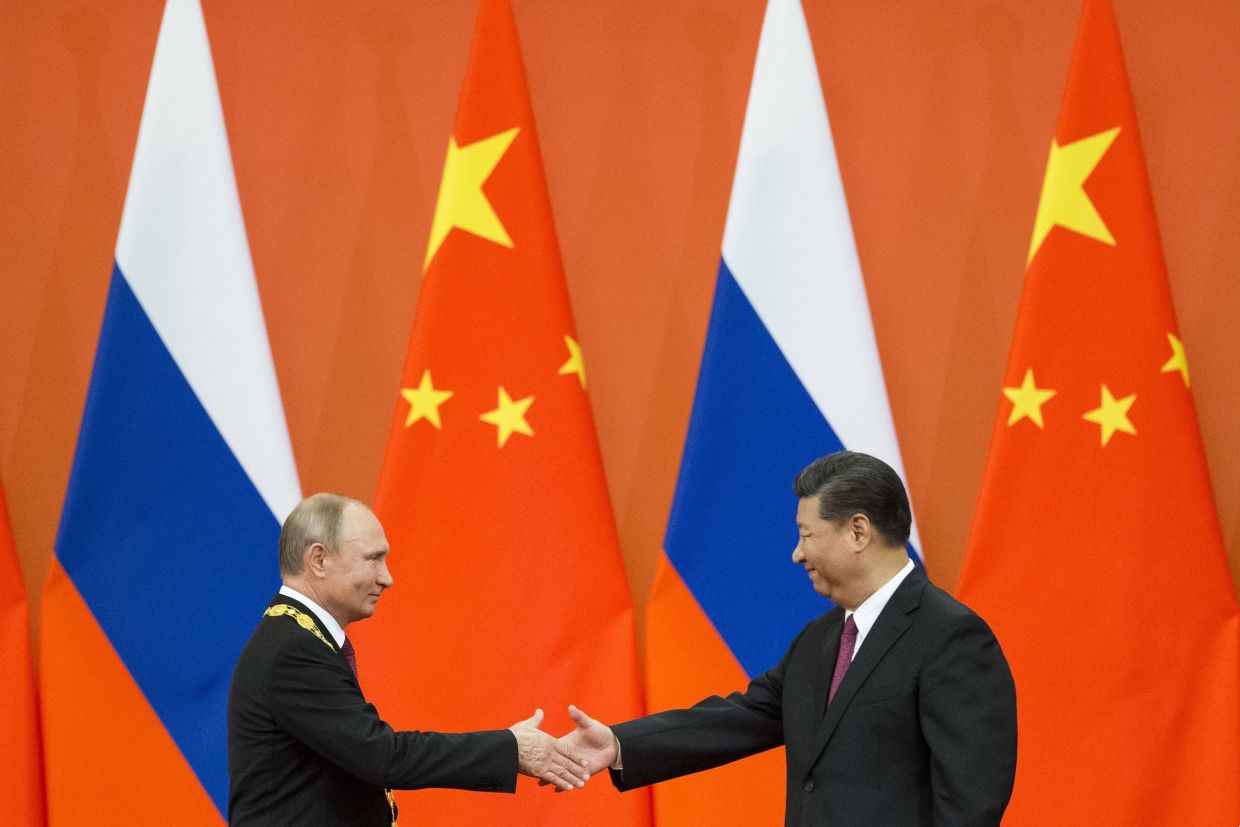 Accepting an active role aims to project itself as a responsible power to broker peace. If that profile is raised, China might be able to mend its ties with Europe and bolster its diplomatic influence, especially with its Central Asian neighbors.
Analysts also believe that an hour-long telephonic call with the Ukrainian leader means that China has been able to normalize its relations with Ukraine. An official readout said China would send a special envoy to Ukraine shortly. The two leaders have agreed to maintain regular dialogue. Zelensky has assured that his country would abide by the "one China principle," which is the condition Beijing laid down for all countries with relations with Taiwan.
Significantly, Chinese Foreign Minister Qin Gang told his counterparts in five Central Asian countries: Kazakhstan, Uzbekistan, Turkmenistan, Kyrgyzstan, and Tajikistan that Beijing and Central Asia should work closely to push for peace talks between Russia and Ukraine.
The need for China to register the approval of five Central Asian States is self-explanatory. These states are adversely affected by Russia's engagement away from them. Thousands of Central Asians find work in Russia, and there is a strong Central Asian Diaspora in Moscow, Leningrad, and other Russian cities.
Ukrainian war has forced the Central Asian labor force to leave their workplaces and return to their native countries. Secondly, some of the Central Asian States are not happy with how Russia handles them. Even though minimal, China's presence on its soil has given them an opportunity to reflect on competitive terms. Therefore, they are enamored by the carrot which China is hanging before them.
By taking the five Central Asian countries on board for brokering a deal between Russia and Ukraine, China is using pressure tactics against Moscow because China knows how deep the relations between Russia and the Central Asian States are. China is trying to use that leverage.
We cannot say the terms based on which ceasefire and peace deal will be struck. The chances of Russia promising to return the Donbas are quite bleak. Moscow needs a buffer zone between its western border and Ukraine. It will be in the interests of Ukraine if it agrees to dismantle its proxy status and stops dubious behavior toward Russia. In turn, it can expect goodwill from the Russian government.
KN Pandita (Padma Shri) is the former Director of the Center of Central Asian Studies at Kashmir University. Views expressed here are of the author's.
Mail EurAsian Times at etdesk(at)eurasiantimes.com