China unveiled an advanced variant of its Wing Loong series of Unmanned Combat Aerial Vehicles (UCAV) at the Paris Air Show. 
Called the Wing Loong-X, the Aviation Industry Corporation of China (AVIC) displayed a 1:10 scale model of the possibly under-development aircraft at the exhibition, presumably as a marketing tactic.
The air show was held between June 19 to June 25. 
The Medium Altitude Long-Endurance (MALE)-class UCAV has three prior variants, namely WL-1, WL-2, and the WL-3. According to Janes, the aircraft was shown with four underwing hardpoints under each mid-mounted wing surface ending in upswept wingtips.
New UAV, New Features 
The UCAV features a bulged nose that carries a Satellite Communications (SATCOM) terminal, radars, a ventral electro-optic/infrared (EO/IR) turret, a V-tail, two canted ventral fins, and a rear-mounted turboprop pusher-propeller engine driving a five-bladed rotor, among others.
However, the company released no further information on the aircraft's specifications, configurations, and kinematic performance data. 
According to reports, the wingspan of WL-X is about 14.5 meters, and its length is 26.1 meters, suggesting a longer fuselage and lower aspect ratio wings compared with that of Wing Loong-10A (WL-10A).
It has straight wings spanning to the midsection tapering towards the outboard section. Shortening the wingspan with straight wings till the mid-section is suitable for carrying heavier payloads. 
'Bomb Truck' UAVs Are The New Trend
This indicates China, too, is moving in the direction of the evolving 'weapons truck' concept. Reconnaissance-strike UCAVs carry a massive payload to act as a force multiplier while complementing and acting in conjunction with land and manned aerial assets performing ground attack tasks.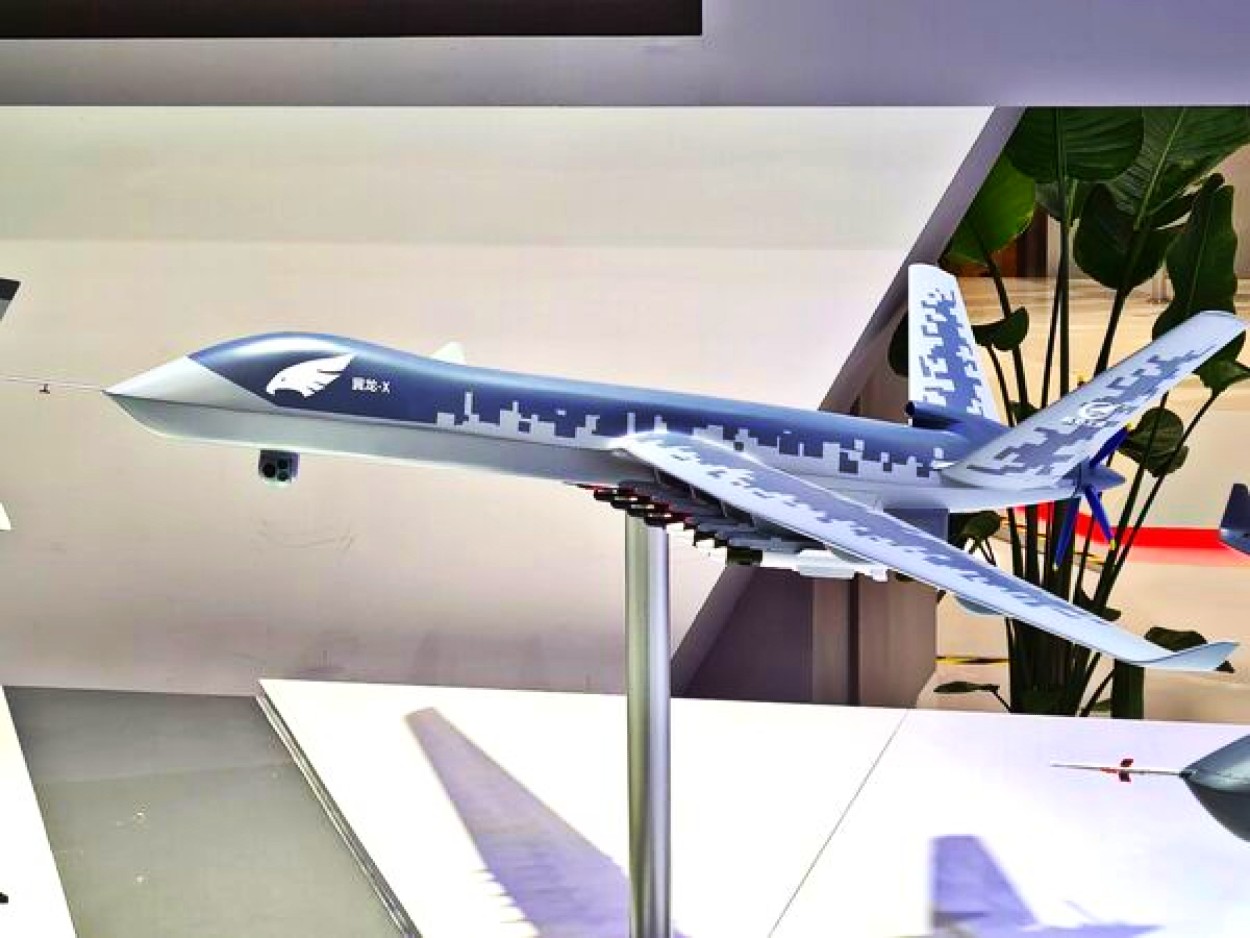 The EurAsian Times had previously reported how the Tengden TB-001 was photographed carrying full air-to-ground munitions of missiles and bombs. Also called the 'twin-tailed Scorpion,' Global Times too reported how three of the UCAVs, fully loaded with a wide variety of munitions, including precision bombs, missiles, and smaller drones, took off from an airfield one by one before forming into different formations including a line formation and a triangle formation. 
Chinese UCAVs A Big Hit In Africa
It also broadly reflects the overall growing interest in the Wing Loong series of UCAVs, especially following their possible use by the Nigerian Air Force (NAF).
Nearly 100 Boko Haram terrorists were killed in a three-day operation between June 9 to June 11, where a WL-2 that Abuja had recently acquired was used in one of the strikes. 
Algeria is also a prominent user of Chinese UCAVs, with Algiers receiving the latest batch of WL-2s, according to multiple reports. It ordered 24  aircraft in September 2021. Algeria also operates Chinese CH-3, CH-4, and the older Wing Loong-1 model. 
Morocco, too, uses the WL-1 gifted to it by the United Arab Emirates (UAE). In July 2022, Morocco began negotiating with China to purchase Wing Loong II drones to replace their Wing Loong I models.
Global South Looking At Cheap Chinese Weapons
At a larger level, it can be considered an otherwise negligible yet growing Chinese defense industrial clout, apart from its established economic heft in multi-billion dollar Belt and Road Initiative (BRI) investments.
Some reasons are underdeveloped countries trying to diversify their arms purchases by including cheaper sources like China and the exorbitant American and European wares. 
"If the Reaper costs up to $30 million, then the price of the WL-2 is only $2 million. It should be expected that within the next few years, China will approach the United States in terms of the level of development of UAV production technologies and the volume of foreign deliveries," a paper by the Stockholm International Peace Research Institute (SIPRI) added. 
Meanwhile, the Janes report also added that the China National Aero-Technology Import & Export Corporation (CATIC) had revealed the variant WL-10A as an electronic warfare (EW)-a capable variant of Wing Loong-10 (Pterodactyl 10), initially dubbed 'Cloud Shadow.'
The WL-10A is characterized by high-altitude and high-speed electronic reconnaissance unmanned aerial system (UAS). The UAS has four UAVs and two ground control stations (GCSs). Each GCS includes a central control system, a dynamic light scattering device, a global descriptor table register, and a differential Global Positioning System (GPS).