China's state broadcaster, China Central Television (CCTV), announced on September 23, ahead of the 10th anniversary of the commissioning of the country's first aircraft carrier, the Liaoning, that the country's third aircraft carrier, the Fujian, is conducting mooring trials as planned.
---
Mooring trials involve testing all the systems on a vessel, ranging from power propulsion to mechanical equipment, to check how they work individually and together.
Benefits Of Mooring Trials
According to Chinese military experts, the latest development suggests the Fuijan's construction and tests are going smoothly.
As a general pattern in shipbuilding, mooring trials are conducted when a vessel is moored at port and include the testing of onboard equipment and machinery and their compatibility with each other, a Beijing-based military expert told the state-owned Global Times.
The expert clarified that carrying out installation and calibration work, also called outfitting, at the same time as mooring trials could reduce the time until delivery.
In a previous interview with Global Times, a Chinese military expert Song Zhongping said that outfitting work involves installing equipment such as fuel pipes, gas pipes, electric devices, and weapons systems.
Zhongping noted that since Fujian is China's first aircraft carrier equipped with electromagnetic catapults – technology only the US has so far on its USS Gerald R Ford – the outfitting work may take longer than usual to ensure everything is done correctly.
EurAsian Times reached out to the former Vice-Admiral of the Indian Navy, Shekhar Sinha, to learn more about mooring trials and their advantages during equipment installation.
He said, "Mooring a ship offers two advantages.
"One, it permits installation and trials of equipment while not sailing at sea, yet the ship is static in seawater. Since moorings are close to the coast and harbor, it is much easier to obtain logistics shore support necessary during installation trials.
"The harbors and moorings are well protected in peacetime due to shore support. However, during wartime, it requires assets to protect docks and moorings, or they become a static target themselves.
In a non-war situation, it is a good idea to carry out installation calibration trials at moorings."
The trials occurred just three months after the aircraft carrier was launched in June at Shanghai's Jiangnan Shipyard. Once complete, Fujian will embark on sea trials and tests such as ship-borne aircraft operation before entering service. The sea trials are expected to begin next year.
The Fujian Aircraft Carrier 
So far, China is not known to have released the detailed specifications of the Fujian, except that it has a displacement of more than 80,000 tons.
Based on the satellite images, its length is about 320 meters, and its width is about 73 meters, possibly making it the largest non-American aircraft carrier in the world.
The most remarkable feature of Fujian is the electromagnetic catapults aboard the aircraft carrier that enables it to launch a broad range of aircraft.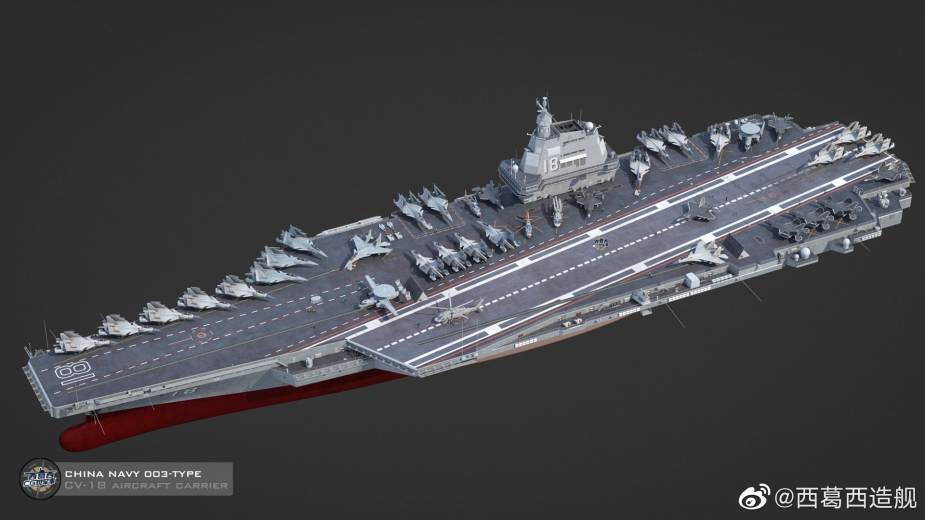 Powerful magnetic fields generated by electromagnetic induction motors are used to power these catapults that propel the aircraft, just like the steam-powered catapults used in the CATOBAR (Catapult Assisted Take-Off But Arrested Recovery) technology.
The electromagnetic catapults of Fujian can propel heavier aircraft at much faster speeds, thereby allowing it to launch fighter jets loaded with more ammunition, as well as drones and large transport aircraft that are better than the transport helicopters on aircraft carriers in terms of range, speed, and cargo capacity.
Furthermore, the electromagnetic catapults can launch large reconnaissance aircraft fitted with airborne warning and control systems (AWACS), increasing the range at which adversaries can be detected in advance.
Jyh-Shyang Sheu, an Assistant Research Fellow at the Institute for National Defense and Security Research, based in Taipei told EurAsian Times that electromagnetic catapults would significantly enhance the combat value of Chinese carriers.
"Fujian does have a catapult. That's the biggest difference, as it could enhance the combat capabilities of Chinese carrier-based fighter jets since they could carry more payloads and make it easier to launch bigger planes (AEWs and so on if they have)," Sheu said. However, he also pointed out that the PLA Navy needs to upgrade its equipment for naval aviation.
Fujian will operate the J-15T, a catapult-enabled version of the J-15B that flies from the STOBAR ski-jumps onboard the Type 001 'Liaoning' and Type 002 'Shandong' aircraft carriers.
Russian Sukhoi Su-33 inspired the J-15 Flying Shark. It is presently the only carrier-borne fighter in PLA Navy's service, with the FC-31 'Gyrfalcon' being tested and awaiting serial production.
Also, as earlier reported by EurAsian Times, Fujian could eventually get electronic warfare (EW) variant of the J-15, just like the EA-18 Growler EW aircraft of the US Navy based on the F/A-18 Super Hornet; a next-generation stealth fighter jet said to be the J-35; a fixed-wing early warning aircraft dubbed the KJ-600; armed reconnaissance drones, and the Y-7 transport aircraft.
Liaoning Celebrates Its First Decade In Service 
Meanwhile, the Liaoning, China's first aircraft, celebrated its first decade in service with a "full load exercise" in the Bohai Sea by carrying a full load of 24 J-15 carrier-borne fighters for the first time, in addition to two Z-8 helicopters and a Z-9 helicopter on its flight deck.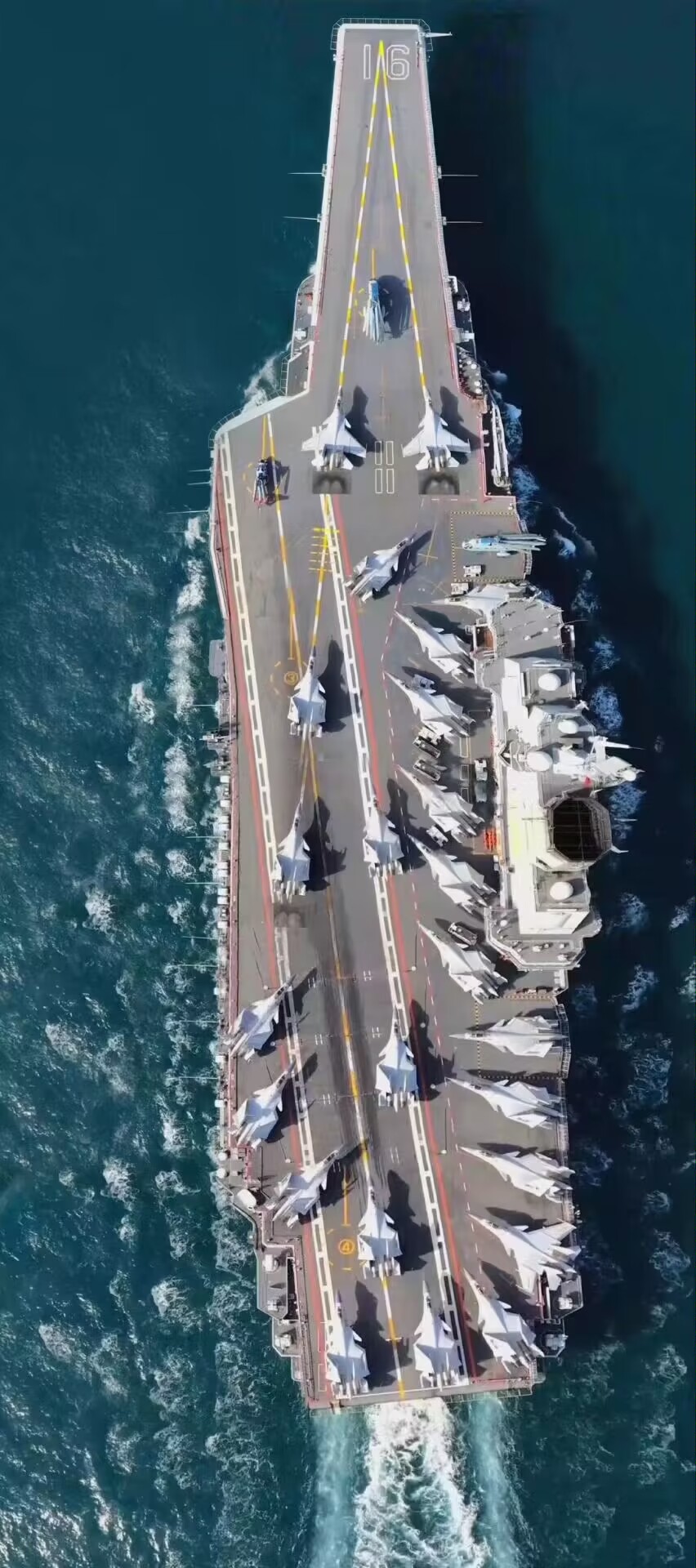 The Liaoning was an incomplete Soviet Kuznetsov-class carrier purchased from Ukraine in 1998 and towed to China in 2002. It was retrofitted and delivered to the People's Liberation Army (PLA) Navy in 2012.
After that, China built its second aircraft carrier, Shandong, based on Liaoning. It was launched in 2017 and entered service in 2019. Shandong was China's first domestically produced aircraft carrier.
When asked how the three aircraft carriers figure in PLA Navy's maritime strategy, Sheu explained that it's much easier for the PLAN to organize their maritime operations with carriers.
"The reason is about their readiness. When you have three, you could put one in maintenance, one in training, and the other ready for deployment. That means the PLAN could always have at least one carrier able to deploy in case of urgent needs," Sheu said.