China is working towards becoming a leading global player in robotics by 2025. Last month, Beijing announced a five-year plan to push this initiative.
The communist nation is also known for its research and development in the field of dual-use technology with potential military applications.
China's state media claims that the country has developed the world's largest electric-powered quadruped bionic robot, which is expected to join logistics delivery and reconnaissance missions in complex environments that have proven too difficult for human soldiers, such as remote border regions and high-risk combat zones.
According to Global Times, the robot, which walks on four legs, has been termed as a "mechanical yak" by some. The state broadcaster, China Central Television (CCTV), claimed that the robot is the world's largest, heaviest, and most off-road-capable of its kind.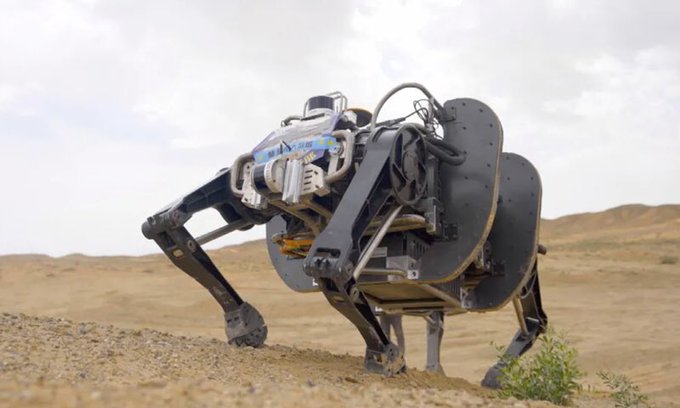 According to CCTV, another example of a quadruped bionic robot is Geda, a bionic mechanical dog. The robotic dog is almost the same size as a live dog and weighs 32 kilos with a capacity to carry a full load of 40 kg of items.
Geda has been trained to understand verbal instructions and recognize faces. It has passed testing to cross forests, rocky roads, tiny corridors, and single-plank bridges.
Last year, Chinese tech giant Xiaomi had unveiled the "CyberDog," a bionic quadruped robot with a high-precision environmental sensing system and 11 high-precision sensors distributed throughout its body that can communicate data to its AI-controlled brain in real-time.
Xiaomi founder Lei Jun announced the establishment of a robotics lab to boost the development of global bionic robots, as previously reported by China Money Network.
Xiaomi launched their 1st ,a bionic quadruped robot "CYBER DOG", the Chinese name Tiedan.

Bio Inspired Quadruped Robot
Support voice interaction
Walk, run and jump
Automatic obstacle avoidance
Automatic follow
12 sets of motors
21TOPS computing power NVIDIA chip
32N-m
220rpm pic.twitter.com/PriY5IsHum

— Techy Preacher   ?‍? (@TechyPreacher) August 11, 2021
Other Chinese tech companies may have also developed quadruped bionic robots for various applications and probably to compete against the American robots like the Big Dog that had created quite a sensation when it was first unveiled in 2005.
The new "mechanical yak" surpasses all the quadruped bionic robots developed by China so far as it reportedly possesses capabilities to deliver logistics in complex environments and collect strategic intelligence from these battlefields.
Mechanical Yak
The machine looks more than half as tall as an adult yak while walking, and its length is about two times its height, according to Global Times. It can carry up to 160 pounds and, despite its large size, can sprint at speeds of up to 10 km per hour, according to CCTV.
The mechanical yak is equipped with sensors that allow it to be aware of its surroundings and environment, and it has demonstrated a strong adaptive ability to a variety of terrains, including steps, trenches, and cliffs, as well as muddy roads, grasslands, deserts, and snowfields.
This makes this mechanical yak very versatile and also well-suited to and compatible with China's large landscape that is home to diverse terrain and varied topography.
China developed "Electric Yak", World's largest electric-powered quadruped bionic robot with strongest load capacity and cross-country capability. Its max speed is 10 km/h and carry a weight of 160 kg. It can easily cross mountains, snow and carry out reconnaissance missions. pic.twitter.com/sNLMECoOH0

— 彩云香江 (@louischeung_hk) January 14, 2022
The robot can move forward and backward, turn, walk diagonally, run, dash, and jump in a stable manner thanks to 12 sets of joint modules, according to the report. This makes the robot capable of carrying functions that a human can ideally carry and with enhanced capability to tread difficult slopes.
The quadruped bionic robot may be used to bring supplies such as munitions and food to plateaus, mountains, deserts, and forests where standard vehicles have difficulty crossing.
Close-in reconnaissance is another potential application, as it can acquire battlefield intelligence and follow target movements even in complex circumstances that have proven too difficult for human soldiers, CCTV claims.
According to a Chinese military analyst who requested anonymity, the robot is an excellent choice for missions in distant border regions where regular surveillance is required but conditions do not allow for a permanent human presence, such as high altitude plateaus, snowy regions, and dense forests, according to Global Times.
The robot could play a crucial role in high-risk battle zones, since it may be able to replace some human scouts and delivery teams, reducing losses, according to the expert.
The robot can also execute armed reconnaissance missions, exactly like a drone, but only on the ground, if necessary, the Chinese expert added.