In an unusual development, the Chinese People's Liberation Army (PLA) Navy's Liaoning aircraft carrier group was recently spotted sailing close to Guam, a major US military outpost in the Pacific.
---

Equipped With On-The-Go Oxygen, Chinese Soldiers Look To Outdo Indian Army Along The Himalayan LAC
Earlier this month, the PLA Navy's aircraft carrier Liaoning crossed the Miyako Strait and entered the West Pacific for routine training with a record number of Type 055 heavy destroyers serving as its escorts. It has conducted several maneuvers since then in a massive show of force far away from its shores.
Guam is a frontline US territory in the Pacific and will act as a staging ground in case of a conflict between the US and China in the Indo-Pacific region. It is home to the US Air Force bases that host strategic bombers and nuclear-powered submarines.
China considers the island of Guam as a nodal point in the second island chain.
In 2019, media reports suggested that a Chinese Liaoning aircraft carrier strike group sailed near Guam on its way to conduct maneuvers in the Taiwan Strait and the disputed South China Sea. However, the timing of the latest Liaoning voyage near Guam is significant for several reasons.
China PLA Navy aircraft carrier Liaoning operates in Philippine Sea west of Guam from Dec. 23 to Dec. 25 (marked ⑦ ⑧ ⑨ on map). It is underway in Philippine Sea about 270 km east of Okidaitōjima, Japan, Dec. 27 (marked ⑪ on map).https://t.co/0NnvfsFUZB pic.twitter.com/bVE5Pe3GlB

— Ryan Chan 陳家翹 (@ryankakiuchan) December 28, 2022
Intriguingly, the Chinese Liaoning Carrier's sail near Guam on December 25 coincided with PLA's cross-service joint combat alert patrols and joint fire strike exercises around Taiwan.
These military drills were conducted in retaliation to US President Joe Biden signing the National Defense Authorization Act for the fiscal year 2023, allowing Washington to finance weapons for Taipei.
The messaging here could be interpreted as political, with China telling its arch-enemy that the PLA was ready for 'tit-for-tat' by threatening Guam if the US continued to aid Taiwan's military.
This became perceptible with the comments of noted Chinese military experts. For instance, PLA expert and observer Song Zhongping told the Global Times that Liaoning's exercises in the West Pacific certainly had a tactical purpose since they demonstrated its improved capacity for capturing air superiority and maintaining control of the sea far from the homeland.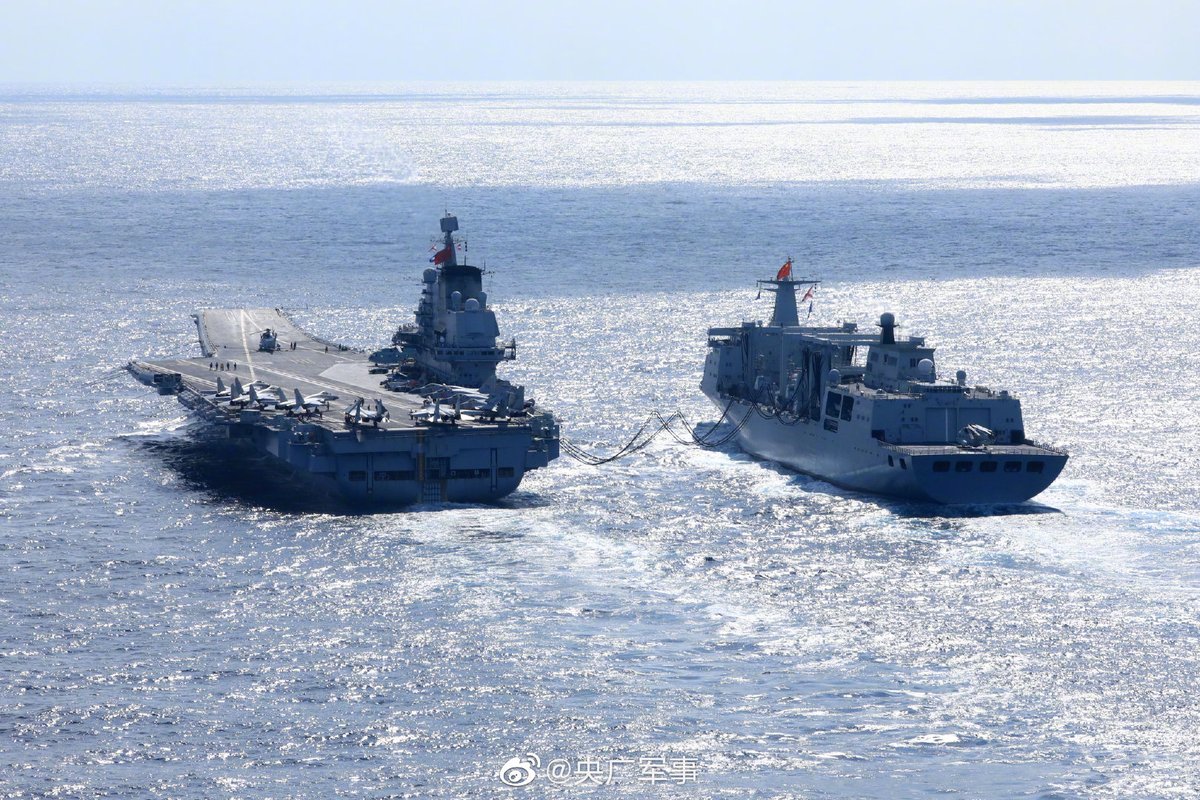 Some analysts told the state-owned media that China won't ever attack US military installations on Guam if the US military doesn't invade China or meddle in the Taiwan issue.
However, they added that having such capability serves as deterrence against future US provocations.
This means that if the US were to support Taiwan militarily, Guam could become a sitting target for the PLA. China has made no bone of its intent to attack the Andersen Air Force Base in Guam if the need arises.
Guam Remains Under Threat
Besides the Liaoning Carrier Battlegroup, Chinese H-6J/K bombers also entered the Pacific Ocean earlier this month and reached Okidatio Island, roughly 1600 kilometers from Guam Island.
As previously observed by EurAsian Times, the Andersen AFB can quickly come under attack from the 2000-kilometer-range CJ-20 Air-Launched Cruise Missiles (ALCM) and the YJ-12 anti-ship missile, which is almost impossible to intercept.
The Andersen Air Force Base in Guam, US, can host B-1, B-2, and B-52 strategic bombers, all equipped to launch nuclear weapons.
統合幕僚監部12/19発表 中国機の動向について
12/19,午後、中国軍用機H-6爆撃機(H-6J或いはH-6KGか?)2機が東シナ海方面より飛来。宮古海峡を通過し太平洋へ至り、沖大東島南東沖で反転。宮古海峡から東シナ海方面へ
位置的に遼寧航母編隊との演習等と想像は出来る。4枚目が12/17,11時の遼寧の位置 pic.twitter.com/D3LcFyt4kS

— miki@横鎮 (@09120309) December 19, 2022
Furthermore, the Andersen Air Force complex is the only US base in the Western Pacific equipped to house heavy bombers for an extended period, and it takes up most of the island's northern part.
Not just bombers but even submarines can safely launch operations from Guam. They can dive quickly into the deep ocean as they leave Guam's Navy station to avoid being seen. This makes Guam a very valid target for the PLA in case of a conflict with the United States.
China went as far as releasing a propaganda video in 2020 depicting a simulated attack on Guam, making no effort to mask its intention. A contingency plan to attack Guam to retain Taiwan in case of a conflict could be on the cards.
The United States military has also acknowledged that China's long-range missiles, like the DF-26, pose a significant risk to its military assets in Guam. In August 2017, the PLA purportedly test-fired four DF-26 missiles in a simulated attack on a THAAD battery, suggesting that it intended to launch a rocket barrage and conduct a "kick-in-the-door" attack to disable US air defenses.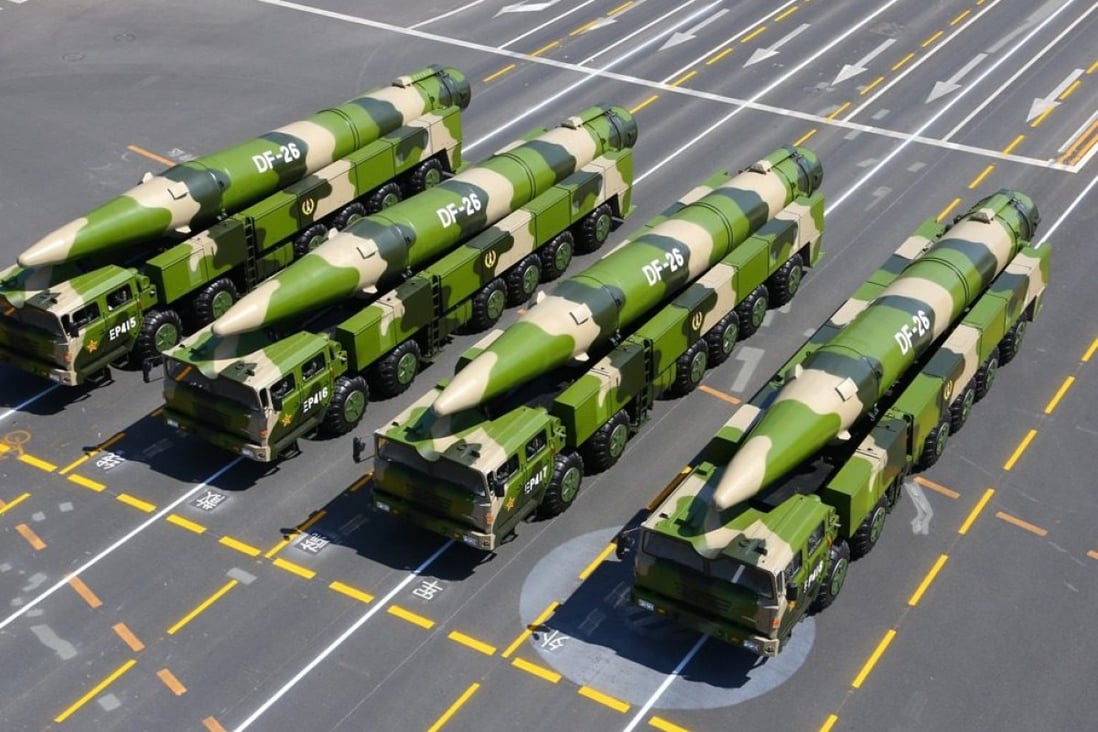 The US has been working to bolster the defenses of Guam to guard it against potential Chinese missile attacks. In August this year, the head of the US Missile Defense Agency, Vice Adm. Jon Hill, detailed the progress towards upgraded air and missile defenses on the strategic island of Guam. The US Army and Navy joined forces on this project with the Missile Defense Agency (MDA).
New air and missile defense capabilities are being provided to the island as part of a bigger effort to discourage China throughout the Indo-Pacific area. Higher-ups have discussed the need for Guam to have at least some more defenses in place by 2026. You can read a detailed coverage of EurAsian Times about this here.
The US is committed to providing the military support Taiwan needs to protect itself against a Chinese invasion. After China criticized the US for financing weapons sales for Taiwan, the country authorized a potential sale of Volcano anti-tank mine-laying systems. In addition, it is boosting its presence in the region as Chinese aggression grows in leaps and bounds.
Contact the author at sakshi.tiwari9555 (at) gmail.com