China launched an unmanned ship, named Zhu Hai Yun, on May 18 that can be controlled remotely and navigate autonomously in open water and carry dozens of drones, submersibles, and other vessels for conducting ocean research, according to state-run Science and Technology Daily.
The ship is 88.5 meters long, 14 meters wide, and 6.1 meters deep, with a designed displacement of 2,000 tonnes. It can sail at 13 knots (24 km per hour), with a top speed of 18 knots (33 km per hour).
The expansive deck of the ship can carry dozens of unmanned vehicles, including drones, unmanned ships, and submersibles which are all part of the vessel's Intelligent Mobile Ocean Stereo Observing System (IMOSOS) developed by the Southern Marine Science and Engineering Guangdong Laboratory (Zhuhai).
The system is said to be the world's first and according to Science and Technology Daily, it could be used for marine environment monitoring, marine disaster prevention and mitigation, offshore wind farm maintenance, and providing accurate marine information.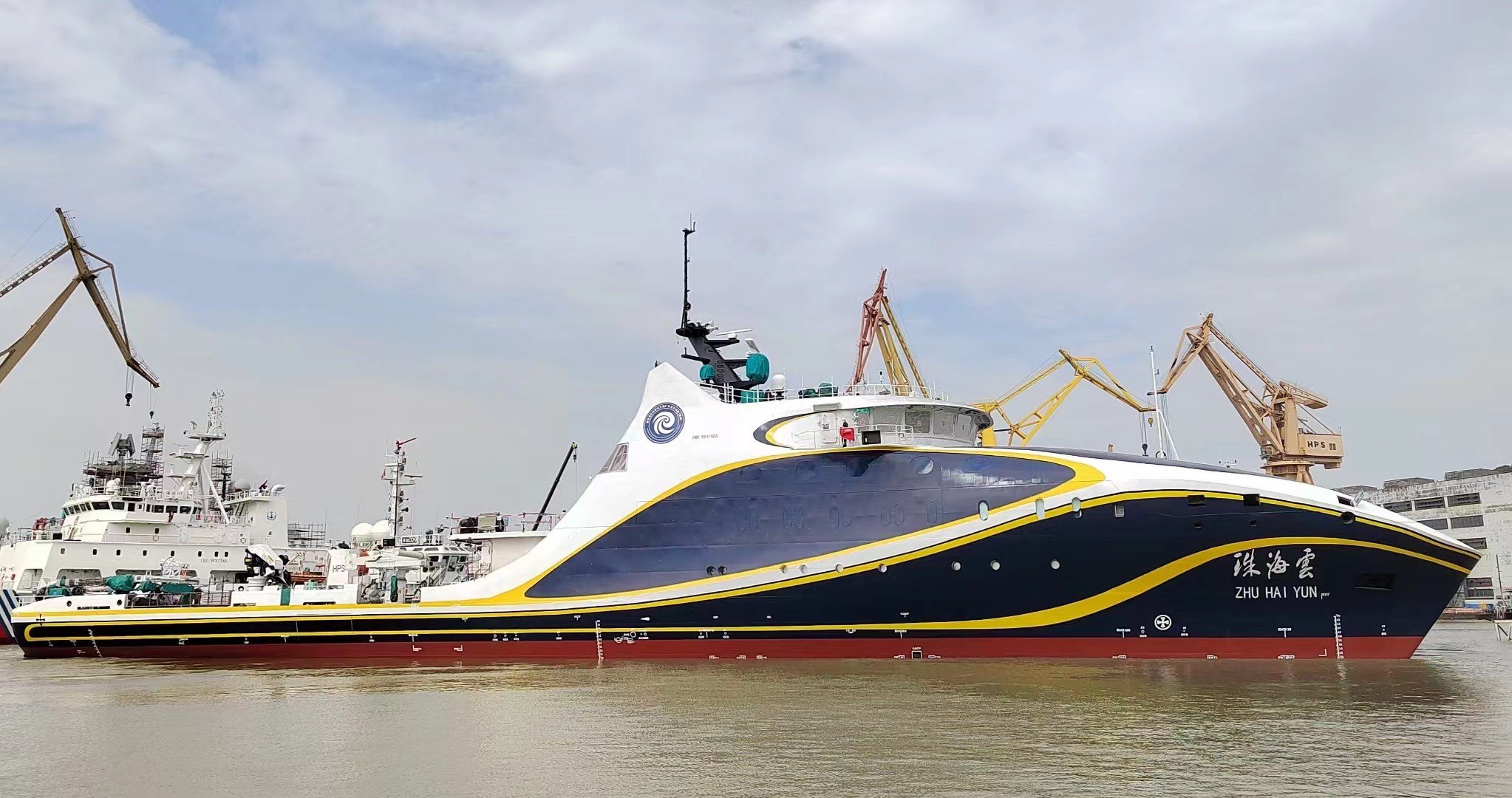 "The intelligent, unmanned ship is a beautiful, new 'marine species' that will bring revolutionary changes for ocean observation," Chen Dake, director of the laboratory, had told the Science and Technology Daily in 2021.
Construction of the Zhu Hai Yun began in July last year in Guangzhou by the Huangpu Wenchong Shipyard, a subsidiary of China's largest shipbuilding company, the China State Shipbuilding Corporation. The ship will begin sea trials shortly, after which it is planned to be delivered by the end of this year.
According to Fan Lei, the chief designer at the Huangpu Wenchong shipyard, a large proportion of the ship was made locally.
"The power systems, propulsion systems, intelligence systems, and survey operation support systems equipped are all developed by China," Fan told the Science and Technology Daily last year.
The Advent Of Unmanned Surface Vehicles
Rapid development in artificial intelligence has made way for the increased role of unmanned platforms for the purposes of maritime security, controlling sea lanes, and competing for marine resources.
Therefore, the Chinese PLA Navy has also been working on an uncrewed surface vessel (USV), known as JARI, developed by CSSC (China State Shipbuilding Corporation), specifically by their No. 702 Research Institute and No. 716 Research Institute.
The small 15.24 meter-long craft has been described as a mini-destroyer because of its ambitious weapons and sensor fit. With a remote weapons station (RWS), it is planned to be equipped with a small vertical launch system (VLS) for surface to air missiles and two lightweight torpedo tubes, while its sensors will include phased-array radars, electro-optical devices, and sonar.
The People's Liberation Army Navy (PLAN) first revealed JARI as a model in 2018, launched a prototype in August 2019, and conducted sea trials in January 2020.
According to H.I. Sutton of the US Naval Institute (USNI), China has been testing JARI at a secret PLAN pier near Dalian, just nine miles from the submarine base at Xiaopingdao, based on the satellite photos from Maxar and an analysis of open-source intelligence.
Several other navies foresee USVs at the heart of their future strategies, such as the US Navy, setting up an entire operational command dedicated to testing and developing its next-generation USVs, known as the Unmanned Surface Vessel Division One.
"Unmanned systems will be key in future operations – and there is a clear need to field affordable, lethal, scalable and connected capabilities," US Navy chief of naval operations, Admiral Michael Gilday, was quoted as saying last year by the Institute of Marine Engineering, Science and Technology.
"That is why we are now expanding and developing a range of unmanned vehicles and surface vessels which will play a central role as we shift our focus toward smaller platforms operating in a more dispersed manner," added Gilday.
Apart from the US and China, UK, Australia, Singapore, and Turkey are also among the early adopters of USVs for their navies.
PLA's Upcoming Drone Carrier Assault Ship
The Zhu Hai Yun is not only an unmanned ship but also a 'drone carrier', possibly a prelude to PLAN's Type 076 landing helicopter dock (LHD), which is under development and said to be capable of carrying Unmanned Combat Aerial Vehicles (UCAVs).
Type 076 is the next-generation assault carrier currently being developed as a successor to PLAN's Type-075 LHD. It is going to be equipped with an electromagnetic aircraft launch system, or EMALS, for launching planes from aircraft carriers. A similar system is fitted to the US Navy's Ford-class aircraft carriers.
Reports suggest that China's stealthy GJ-11 Sharp Sword UCAV may be one of the drones being planned to board the Type 076 LHD, based on a CG simulation released last year by the China Aviation Industry Group at the Zhuhai Airshow.
The simulation depicted the stealthy drone taking off from a ship having a full straight-through deck, not belonging to the Liaoning or Shandong Aircraft carriers and also different from the current Type 075 amphibious assault ship suggesting it may be the Type 076 LHD.
The GJ-11 UAV is 12.2 meters long, with a wingspan of 14.4 meters and a height of 2.7 meters, and has a maximum takeoff weight of over 10 tons with an estimated payload estimated of around 1.9 tons, and a combat radius of over 1,500 kilometers with an endurance of six hours.
To understand the advent of USVs and UCAVs in coming years, EurAsian Times spoke to the Indian Navy's Vice Admiral Shekhar Sinha (retd).
Admiral Sinha said — "USVs will play a marginal role in the near term. Till such time confidence level in USVs builds up, it may just be 'an additional asset' and not a primary asset."
"Use of UCAV in the real-time situation could become a possibility within a few years, but for them to replace manned aircraft is virtually impossible. Computers cannot think."
There have also been reports of India looking to develop a third aircraft carrier that will be able to accommodate both fighter jets and drones.
"There are debates on the third aircraft carrier, and funding will be a major factor. These are in the ambit of a decade, and making any prognosis will only be conjecture," Admiral said when asked about these reports.
Turkish Navy Set To Become The World's First In Deploying A Drone Carrier
Meanwhile, Turkey has also been pursuing the drone carrier concept, and its TCG Anadolu LHD is currently undertaking a series of sea trials.
Built by Turkey's Sedef Shipyard in collaboration with Spain's Navantia, TCG Anadolu is based on Spain's SPS Juan Carlos I, a multipurpose amphibious assault ship and aircraft carrier in the Spanish navy.
The ship was initially envisioned to operate the short takeoff and vertical landing (STOVL) version of the F-35, but Turkey was removed from the F-35 program in 2019 due to its purchase of the Russian S-400 surface-to-air missile system.
So now, the TCG Anadolu is being reportedly planned to carry indigenous Hürjet light trainer-attack aircraft and a naval version of the Bayraktar combat drone, the TB-3, which is still under development and is being designed to take off from and land on LHD-type ships using a simple roller system and rescue nets.
Haluk Bayraktar, the chief executive of Turkish drone-maker Baykar, revealed the new launch system for TCG Anadolu last year during an online event. The Artwork Bayraktar posted during his presentation depicted Baykar TB-2/3 drones on Anadolu's deck.
?Haluk Bayraktar ANADOLU LHD konuşlu ??Bayraktar TB3 SİHA'yı paylaştı

?"Bayraktar TB3'ün aslında iniş ve kalkış konseptini gösteren bir resim. Deniz kuvvetlerimize önemli katkı sunacak"
?Kanatları katlanan Bayraktar TB3 yaklaşık 1200 kg ağırlığında
?https://t.co/iWm8tv8AUZ pic.twitter.com/81o7IxTwdp

— DEFENCE TURK (@Defence_Turk) May 8, 2021
The drone is said to have a takeoff weight of 1,450 kilograms, 24-hour flight endurance, and foldable wings for storage aboard the ship.
In addition, TCG Anadolu will also carry the Bayraktar Kizilelma drone, a jet-powered, single-engine, low-observable, supersonic, carrier-capable unmanned fighter aircraft being developed by Baykar.
With a maximum takeoff weight of 6000 kg and five-hour flight endurance, the new drone will reportedly have aggressive maneuvers, advanced artificial intelligence, and the ability to carry out air-to-air combat like manned warplanes.
The TCG Anadolu is planned to have a capacity of 30 to 50 drones. The ship began port acceptance trials on March 07 and is scheduled to enter Turkish Navy service by the end of 2022. A sister ship to the TCG Anadolu, to be named the TCG Trakiya, is also planned.