China has been working to close the gap between the capability of its J-20 stealth fighter and the US Air Force F-22 Raptor. However, military experts and officials in the west have asserted for many years that China stole US military secrets to develop the J-20 'Mighty Dragon.'
In a recent interview, military experts told Fox News that if more isn't done to protect key weapons information, China might keep pace with the US and challenge the military.
According to former Acting Under Secretary of Defense for Strategy, James Anderson, the key issue in this situation is that "we know [China's] J-20 is more advanced than it otherwise would be because of the espionage activities."
"Over the years, they have substantially benefited from their theft," he claimed, adding, "it's impossible to say how the J-20 compares to the American F-22 Raptor fighter, but they've put it to good use and developed an advanced fifth-generation fighter."
These comments come when media reports have indicated that the PLA Air Force and Chinese engineers are working on novel technologies, such as the 2D thrust vectoring control nozzle used by the American F-22 Raptors to close the capability gap with the US Air Force.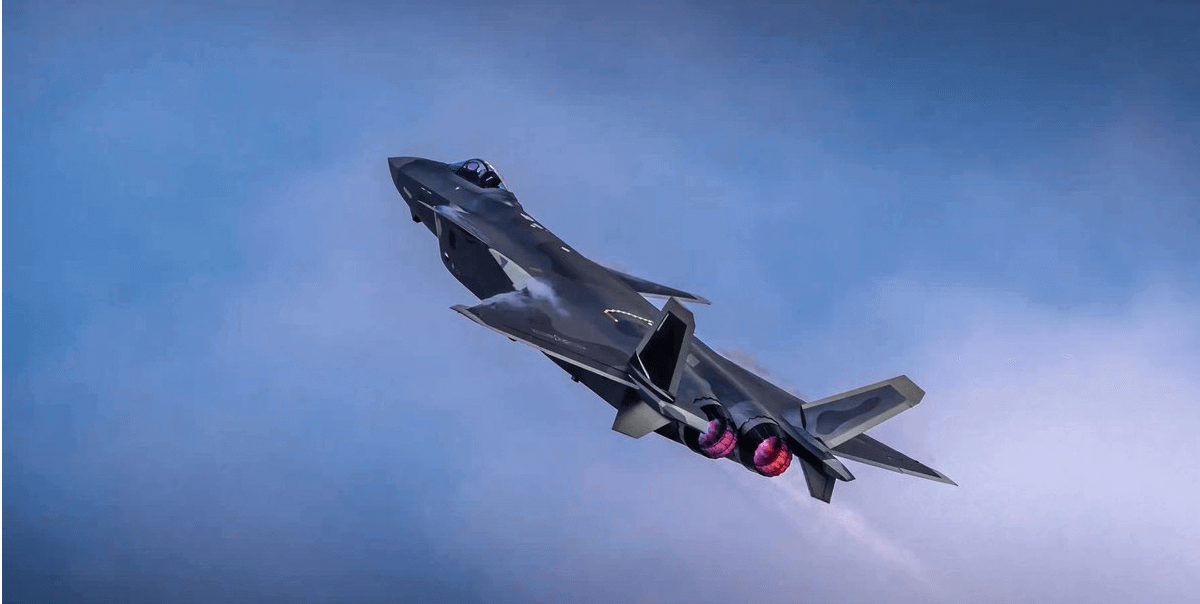 China started working on the J-20 in 2008 as part of a strategy to create a brand-new fighter that could compete with US models. The aircraft made its first flight in 2011 and entered service in 2017. However, soon after its induction, US officials and military experts accused China of creating a fighter eerily similar to the US F-22 Raptor. China was fast accused of espionage.
Not just the F-22 Raptor, in 2019, the then National Security Adviser of Donald Trump's administration, John Bolton, alleged that China stole stealth technology and other classified information related to another US stealth fighter, i.e., the F-35 Lightning II.
Many terabytes of data related to the F-35 program have been allegedly stolen by Chinese hackers, including information on the F-35's radar design – such as the number and types of modules used by the system – and its engine, including the method used for cooling gases, leading and trailing edge treatments, and aft deck heating contour maps.
China Closing An 'Insurmountable' Gap
The technology and capabilities of the aircraft began to be compared to those of American fighter jets in stories in 2015. According to an Associated Press story, "some of its technology, it turns out, may well have come from the US itself."
Military experts that Fox Digital spoke to alleged that owing to ongoing intellectual property theft, China now has a fifth-generation stealth fighter comparable to the US F-22. This has narrowed the formerly seemingly insurmountable technological gap between the two militaries.
As tensions between the two countries rise and officials contemplate a potential invasion of Taiwan, including a US military response, the disparity between Chinese and American military technology has reduced.
According to James Hess, a professor at the American Public University System's (APUS) School of Security and Global Studies, the US must finally deal with China's "philosophical difference" and willingness to put its interests first.
"You may even look at Chinese history with an overarching culture of things that have improved society rather than worrying about it," said Hess. "There is undoubtedly a cultural component to this, as seen by the absence of enforcement."
"There's an author who said, 'to steal a book is an elegant offense," so you have that mentality that knowledge is not necessarily looked at as theft of knowledge … is not looked at as a capital offense by any means," he continued. "It's looked at as kind of good thing, that this is a positive thing you're doing."
To recruit American contractors, academics, and government employees, Anderson alleged that China employs various espionage techniques, from "low-tech" honey traps, spies, and bribery to more sophisticated ones like cyber-activity to gather vital information on military systems.
"Unfortunately, they've had some success there," Anderson said, adding that they spent "well over a decade" repeatedly going after the Joint Strike Fighter, which they've exploited in the design and construction of the J-20.
"It saves the Chinese time and money. In effect, we end up subsidizing a portion of their research and development budget because they are successfully stealing some of our secrets," Anderson said. "Ultimately, this puts our men and women at greater risk on the battlefield."
These assertions come when China has ramped up the production and deployment of its J-20 fighter jets. Chinese J-20s are already set to outnumber the US F-22 Raptors.
The head of the London-based International Institute for Strategic Studies stated China's most sophisticated J-20A stealth fighters' inventory is expected to surpass the US Air Force's F-22 Raptor this year, as previously reported by EurAsian Times.
According to past estimates, China has built more than 150 J-20 warplanes. On the other hand, the US Air Force initially intended to purchase 750 F-22s to create a sizable fleet of stealth fighters for the twenty-first century.
However, just 186 fighters were produced before its production lines were closed in 2012. The number of F-22 Raptors that are combat-capable at any given time comes down several notches, giving China a numerical advantage. On its part, China has deployed the J-20 fighter jet in all five theater commands.
The F-22, on its part, registered its first kill last month when it fired a missile to shoot down an alleged Chinese spy balloon after days of tracking it. In addition to that, the Raptors have now been sent to Japan to replace the older F-15 fighters.
Amid rising regional tensions between the two adversaries, the two rival fifth-generation fighters now sit just miles apart.