China has been on an economic and military expansion beyond Asia for a while now. The massive capital that it possesses has allowed it to make forays from Asia to Africa. The Chinese Belt and Road Initiative (BRI) has been one tool that Beijing has used to further its ambition of assuming the role of world power.
However, there is one region where the United States has enjoyed leverage against its arch-rival China despite the latter's effort to expand its presence. However, China has now boosted its prospects in a big way.
China has signed a new agreement with Latin American and Caribbean leaders to strengthen relations across practically all aspects of life, in what one expert described as a scheme to 'take over the region, according to the Daily Mail.
Beijing has agreed to supply the region with 'civilian' nuclear technology, to assist in the development of 'peaceful' space programs, to build 5G networks of the type that Washington fears will be used to spy on people, and to pump in cheaper loans and financing for "elaborate development plans", as part of the agreement.
US disengagement from Latin America has opened the door for a drastic expansion of Chinese influence pic.twitter.com/UEkjCJoC9z

— Samuel Ramani (@SamRamani2) January 4, 2022
China has also promised to create schools and sponsor classes teaching the Chinese language and 'culture,' despite the fact that such institutions have been criticized in the past for spreading state propaganda and restricting academic independence.
It follows decades of Chinese investment and development in Latin America and the Caribbean, with hundreds of billions of dollars poured into the region to build critical infrastructure like ports, roads, and power plants in what many see as an attempt to buy power and influence in America's backyard.
"It is absolutely ambitions for China to become the dominant influence in Latin America," Mateo Haydar, a researcher at the Heritage Foundation said in response to the latest slew of deals.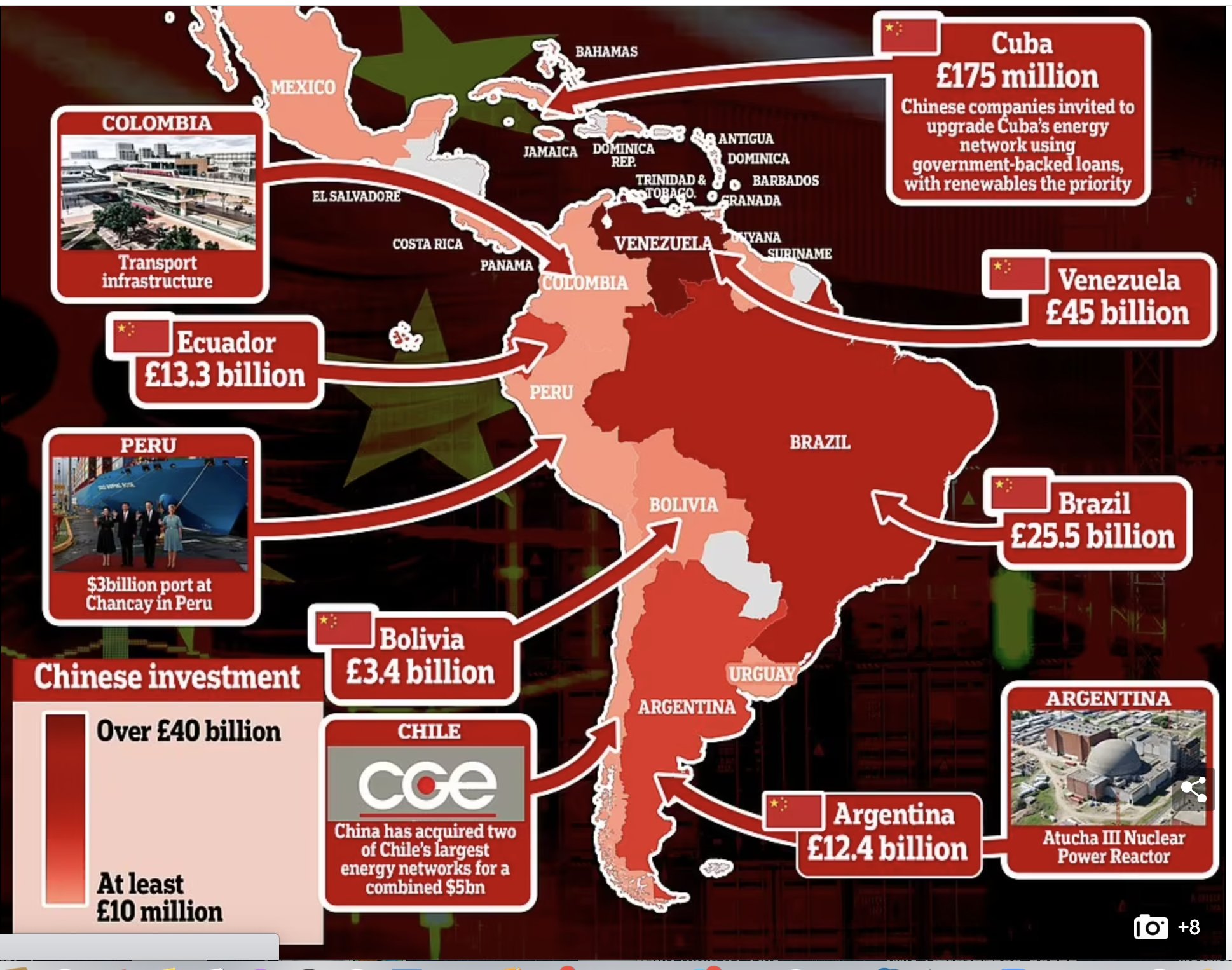 "The challenge is comprehensive, and there's a security and military interest there. That threat is growing, and it's a different kind of threat than what we saw with the Soviets," he told the Washington Examiner.
Professor Evan Ellis, of the US Army War College, added, "The Chinese don't say, We want to take over Latin America, but they clearly set out a multidimensional engagement strategy, which, if successful, would significantly expand their leverage and produce enormous intelligence concerns for the United States."
Between 2005 and 2009, Chinese investment in all-new projects in Latin America increased from 4% to 6.8% over a five-year period ending in 2019, according to the database FDI markets. According to Jorge Heine, a former Chilean ambassador to China, Beijing began investing in Chile just five years ago and is now the South American country's leading source of foreign cash, said a previous report of Voa News.
China and Cuba have signed a plan that expands bilateral cooperation to promote the development of the Chinese New Silk Road— this could also help the economic recovery of the Caribbean island choked by American sanctions for decades.

— ASB News / MILITARY〽️ (@ASBMilitary) December 28, 2021
In 2017, China extended its Belt and Road Initiative (BRI) to Latin America and the Caribbean, signaling a growing interest in the region. Despite the fact that Latin America and the Caribbean were among the last regions to join the program, 19 of the 24 countries from these regions that recognize China have signed on as of 2021 in the hopes of attracting Chinese investment.
A Game-Changing Deal?  
The agreement, formally known as the 'Joint Action Plan for Cooperation in Key Areas,' was signed last month by China and CELAC, an alliance of Latin American and Caribbean states, including major players like Brazil, Argentina, Colombia, Venezuela, Uruguay, and Chile, said the Daily Mail.
While lacking in specifics, it lays out a broad framework for China's relations with the area through 2024, pledging them to strengthen links between governments, banks, businesses, and educational institutions.
The majority of the commitments appear commonplace-pledges to protect the environment, develop green technology, and promote equality and sustainability, for example – but a few could give the Pentagon a cause for worry.
The first is a pledge to share nuclear technology and encourage "important practical projects", such as scientists' training, in order to "put into action the advantages given by nuclear technology and nuclear energy".
The agreement stipulates that this will be 'peaceful,' and elsewhere commits the parties to achieve 'nuclear disarmament', yet the technology used to enrich nuclear fuel may be recycled to manufacture weapons-grade material for use in bombs.
In recent months, Washington has issued more frequent warnings about Chinese enterprises assisting the military, and it is likely to be concerned that any civilian nuclear firms that establish themselves in South America are being exploited for a dual purpose.
To put things into perspective, the Chinese government in recent years has implemented financial and technological incentives to stimulate nuclear power exports and propel its nuclear sector into other markets, including legislation that assists nuclear exports financially and technologically.
China's nuclear business benefits from the same advantage that propelled Russia to global dominance: state ownership, which helps the country weather budget challenges, mitigate disastrous public damage, and provide security and diplomatic support, says a previous article of Atlantic Council.
Similarly, China's commitment to assist in the development of space programs for the 'peaceful exploration of space' is certain to raise eyebrows.
Beijing has tried to pass off surveillance satellite launches as "communication" satellites in the past, and it recently refuted charges that it had tested a hypersonic orbital vehicle by claiming that it was actually a civilian spacecraft aimed for "peaceful exploration of space".
There has been an intense space race going on between China and the United States with the former improving its capabilities and carrying out sophisticated test launches in the year gone by. Even Russia is collaborating with China for its launches. Now, the Chinese space cooperation with countries that the US considers its backyard could cause further friction.
The agreement also promises more cooperation in the areas of "digital infrastructure, telecommunications equipment and 5G".
Since it became clear that Beijing was edging ahead in the race to develop the world's new communication networks, the US has been embroiled in a proxy war with China over the rollout of 5G technology.
Countries which have banned or restricted Huawei from their 5G networks, and countries that already use or plan to use Huawei hardware. pic.twitter.com/V9A3egnUPE

— OSINTtechnical (@Osinttechnical) November 29, 2021
Former US Secretary of State Mike Pompeo lobbied hard in the final years of Trump's presidency to persuade western nations and US allies to abandon the technology, saying that it might be used to spy on users.
The US has since made sure that its allies ban China from 5G trials and has itself sanctioned the Chinese telecom giant Huawei that it considers to have links with the Chinese military.
It has also had diplomatic tensions with countries like the UAE that have refused to sanction the company and have essentially given an entry to China for cooperation on 5G, a precedent that it considers detrimental to its security and that of its allies. Thus, this is another potential area of concern for the US.
China and Latin American countries have also agreed to establish direct military cooperation, reportedly to combat terrorism and dismantle organized criminal networks.
In dealing with the dangers, the two sides stated that they will share knowledge, policies, technology, and experiences, implying some level of collaboration and intelligence sharing between their troops and police forces.
The presence of Chinese troops so close to home in any capacity could be one area that America draws the red lines. It is also indicative of the reverse action on the Chinese part. Like the US has a presence in the Asia-Pacific in the Chinese neighborhood, China seems to be expanding near the United States.
Other pledges appear to be a continuation of infrastructure projects already underway in the region, many of which are being built as part of China's multibillion-dollar Belt and Road Initiative.
Deepening trade and financial connections, including investment and financing for "elaborate development plans", and assisting with the "transition to green energy" by constructing new power plants are among them.
China has also offered assistance with oil, gas, and mining development, claiming that green initiatives will take precedence over fossil fuels.
Even though Latin America and the Caribbean region have traditionally been the bastions of the United States, China has been making swift inroads into the region with its massive economic capital and Xi Jinping's flagship project, BRI.
Of late, many countries in the region that were earlier averse to China have warmed up to it seeking trade, investment and the aid that the Chinese are capable of providing. This has certainly made the region another area of intense rivalry between the US and China.
However, the United States has begun to retaliate. Biden dispatched diplomatic teams to South America in September last year with the goal of expanding his 'Build Back Better' project, which originated as a plan to reconstruct the US after the Covid-19 pandemic.
The 'listening tours' were intended to find projects in which the United States could participate, thereby outperforming China with higher-quality products and a better track record of delivery.
So the contest between the two mega powers is expected to grow in the face of China's ambitious expansion and the American push-back in the face of it. This brings the role of the Latin American and Caribbean states at the forefront.