By Takashi Hosoda
Security policy, which prefers to be driven toward the development of "deterrence," such as armed forces and defense agreements to demonstrate deterrence against hostile actors. A nation's economic policy prefers to be driven toward the promotion of trade through keeping stable and inclusive trade relations and reducing or eliminating tariff/non-tariff barriers. Both exist simultaneously and influence each other. Yet the essential nature of their policies is different.
This can be seen from the fact that even in Japan-China bilateral relations, which experienced heightened tensions in 2010 and 2012 over the territorial dispute on the Senkaku Islands (Chinese name: Diaoyu Islands), aside from a temporary downturn, economic and trade relations have remained relatively stable, expanding, and growing.
In particular, Lin Yifu and others have pointed out the possibility of China overtaking the United States and becoming the world's largest economy by 2030 if it can maintain a 5% annual growth continuously. Therefore, continuous economic growth is one of the important political goals of the Chinese Communist politburo to keep their pragmatic approach to secure the legitimacy of party rule over the Chinese people.
However, in recent years, as the friction of ongoing strategic competition between the US and China has increased, the effects of Russia's invasion of Ukraine have spilled over into the Asian security environment, and the boundaries between the security and economic spheres have blurred.
Therefore, there are increasing opportunities for economic activities to be used as part of security policies and for strategic enclosures of underground resources, semiconductors, and digital information. The border between the security and economic spheres has been blurring in recent years.
The Association of Southeast Asian Nations (ASEAN), likely to occupy a crucial position in the global economy in the future, is negotiating to agree on free trade agreements with various countries. However, the security environment surrounding the ASEAN region is changing dramatically. This is an important process for the future of ASEAN.
I have no objection to the reduction or elimination of tariff and non-tariff barriers through a Free Trade Agreement (FTA) as long as it contributes to the economic growth of ASEAN countries and the development of societies of ASEAN member countries.
However, if, through improving the content of its FTAs, a country, based on a clear strategic intent within itself, seeks to expand its own influence while at the same time eliminating the influence of other major external players and locking ASEAN countries into a subordinate relationship with it, I need to be alert to this concern.
Loopholes In ACFTA Can Give China An Upper Hand To Exploit ASEAN
It is undeniable that the ASEAN-China Free Trade Area (ACFTA), which was established in 2005 as a trade-in-goods agreement, followed by a trade-in-services agreement in 2009 and an investment agreement in 2010, has not only facilitated trade between ASEAN and China but has also contributed to the promotion of trade in the region as a whole through this agreement.
However, the negotiations for "ACFTA 3.0," which were agreed to begin in November 2022 when Cambodia was a chairman and the second round of negotiations was held in April, have the potential to become a framework for China's subordination of ASEAN, depending on the content of the renewal, and caution is required.
ASEAN-China
The current negotiations toward ACFTA 3.0 discuss trade liberalization (improving market access) and investment liberalization, strengthening supply chain connectivity, developing a green economy, and promoting digital economy cooperation. In addition, it is announced that China will provide seminars, workshops, and capacity-building support to expand the knowledge of ASEAN members about these issues.
To begin with, however, the trade relationship with China, ASEAN's largest trading partner since 2009, consists of ASEAN's exports of agricultural and fishery products, processed goods, and clothing products to China (US$299.8 billion in 2021) and China's exports of parts, materials, and finished products such as electricity, machinery, chemicals, and steel to ASEAN (US$426.2 billion), which tends to be a "one-way" flow in terms of both content and value.
In other words, unlike agricultural and fisheries products and processed goods, which are relatively substitutable by other producing regions, parts and finished products are hard to find substitutes for.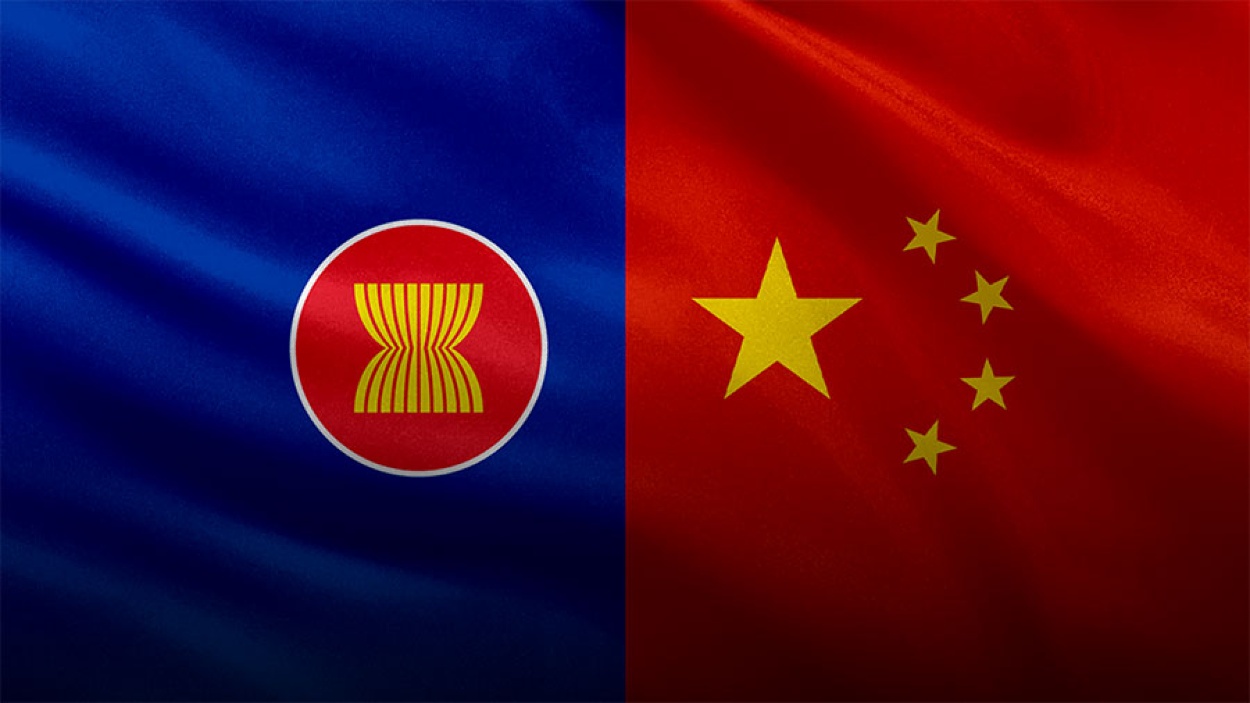 Hence, China will be better positioned to negotiate tariff reduction/elimination on "sensitive items." China may achieve greater political goals here by showing concessions to ASEAN countries on sensitive items. In other words, "rulemaking" through the ACFTA 3.0 negotiations is important for China to secure its future economic growth and to realize a "new world order" with Chinese characteristics that the West does not lead, as China claims.
In this regard, the ACFTA 3.0 negotiations may seek to formulate rules favorable to China concerning investment liberalization in terms of establishing Chinese (Chinese companies') control over the critical infrastructure of ASEAN members and access to the intellectual property of ASEAN companies.
Furthermore, in "strengthening supply chain connectivity," the objective may include the formation of rules and order to limit the influence of the US, European countries, Japan, Australia, and so on as much as possible by adjusting various definitions and rules so that ASEAN countries become more dependent on China.
On top of that, by establishing China's influence over the ASEAN market, which is expected to grow in the future, the objective is also likely to be to promote the continued economic growth of China, which has already entered an "aging society (with the population over 65 years old is between 7 and 14% of the total population according to the UN definition)" and will enter the "aged society" soon.
In addition, regarding the promotion of a green economy, many Chinese norms and rules related to environmental protection were developed based on rules from Europe and Chinese standards for equipment such as solar panels, charging stations, batteries, and wind power generation equipment would be made into ASEAN standards, thereby effectively aiming to make Chinese standards as international standards.
In addition, there are concerns about the possibility of expanding the introduction of a "digital renminbi (E-CNY)" to undermine the position of the US dollar as the international reserve currency through the promotion of the development of the digital economy, the expansion of the China-led e-commerce market into ASEAN, the formation of regulations on information protection and personal information in a manner favorable to China, and the de facto international standardization of Chinese standards through the introduction of 5G/6G and other related technologies to ASEAN market.
In addition, "Chinese values" with an anti-Western tone will be instilled through seminars, workshops, and capacity building. Beijing is aware that the expansion of China's international influence through its economy and diplomacy promotes effective control of neighboring countries and sharps a formation of a substantial Chinese "sphere of influence," unlike Russia's "changing the status quo by force" approach through full invasion of Ukraine.
Beijing knows that China's "making Chinese hegemony through economic influence" approach seems less likely to attract significant international condemnation. If China thinks that providing immediate economic benefits to the ASEAN countries, the ASEAN countries might not complain when China's real dominance is strengthened is a strategic mistake.
Line Of Action For ASEAN Nations To Defend Their Interests
How should we respond to "economic pressure/coercion" by China through discriminatory trade measures such as customs restrictions and permit revocations and to attempts to change the status quo by non-military means such as economic rulemaking? The experience of European countries that have experienced similar challenges by China, particularly those in Central and Eastern Europe, would be helpful.
For example, China wanted to impose economic sanctions on Czech companies in response to the official visit to Taiwan by Milos Vystrcil, the Senate President of the Czech Republic, at the end of August 2020, but it was difficult to pinpoint sanctions only on the Czech companies, which are EU members, and as a result, China ended up imposing sanctions at the individual level.
In addition, when Lithuania allowed the opening of the "Taiwanese Representative Office" in Vilnius, Beijing was also denied customs clearance for Lithuanian agricultural and meat products and called for German and US companies to purchase Lithuanian products, but the European Union showed its determination to defend Lithuania's sovereignty by filing a complaint against China to the World Trade Organization in January 2022.
The US and European countries have also succeeded in organizing lower loan rates for Montenegro, which fell into a "debt trap" by China for highway construction, by refinancing a massive loan from a Chinese bank to American and European banks.
In addition, the European Union (EU) has been encouraging its member states to develop Foreign Direct Investment (FDI) screening systems to control foreign investment. This system is being implemented to alert and prevent possible takeovers of important infrastructure and advanced industries by authoritarian countries such as China, including arms and intelligence industries.
Furthermore, at the end of March this year, the Council of the European Union and the European Parliament reached a tentative government agreement on a "draft regulation on Anti-coercion instrument" to counter economic coercion to the EU (which will need to be formally adopted by the European Parliament in the future).
The EU has stepped forward in developing new measures of promptly taking countermeasures. Once formalized, the EU can retaliate with trade, investment, and financial measures if one of its member states is targeted by economic coercion or other actions.
These examples show that strengthening the functions and cohesion of ASEAN is essential for ensuring its centrality. However, even within the European Union, member states have different senses of policy toward China and Russia, and there are scattered cases where the Common Foreign and Security Policy (CFSP), which is bound by the principle of unanimity in principle, has not progressed.
Hence, even among the European Union member states, forms of cooperation outside the EU CFSP framework by "like-minded countries" are also being explored. In other words, depending on the circumstances, ASEAN's Unity principle must be more flexible to combine the principle of majority rule.
Furthermore, China has recently been promoting a "New World Order" centered on BRICS to replace the post-World War II American-led international order, but this so-called "New Order" concept is not an entirely new global order, but rather a Chinese rule controlled by Communist regime based on the existing international order.
It is crucial not to absolutize China's revolutionary-historical propaganda and narratives based on using easy-to-understand indicators such as "size" and "quantity"; instead, it should be the dignity of each human being. To this end, nowadays, each recipient of information needs to consider the literacy of information and not be deceived by the announced amount of investment or the verbal promises of "win-win" relationships.
In other words, to maintain the ASEAN centrality, it is important to educate society always to be objective about "information," which contains various political and ideological messages, and to maintain freedom of the press and information disclosure to make this possible.
Possibilities Of China Using Its Military To Grab Land
Regarding the Code of Conduct (CoC) negotiations that began in 2017, although China notes that while the regional situation and the negotiations themselves have stabilized, the window for concluding the talks has recently narrowed due to "US intervention" and the actions of "US-inspired countries" (Global Times, March 30, 2023). Is this true?
Let's take a look at the ongoing actions of the Chinese oceanographic research ship Xiang Yang Hong 10, protected by Chinese Coast Guard CGC 5305 and 3 maritime militia fishing vessels, in Vietnam's Exclusive Economic Zone (EEZ), specifically in blocks "04-03" and "05-1b & c" in the Nam Con Son basin.
How will the Chinese government explain its actions of approaching 10 to 20 nautical miles from Vietnamese rigs and intimidating them? Is this not a more tense act than the 2019 standoff by the Chinese research vessel Haiyang Dizhi 8, which came as close as 40 to 50 nautical miles to the rig?
Also, at this point, how is China going to explain the gathering of fishing boats of maritime militias at the Julian Felipe (Whitsun) Reef and the Iroquois Reef, which are located within the Philippines' EEZ, without notifying the Philippine authorities?
What a childish pattern of behavior if Beijing is angry that the US has allowed the Philippines to use four additional military installations in the Philippines.
Furthermore, if China seizes and moves without permission from Manila the buoys that the Philippine Coast Guard recently installed within the Philippines' EEZ in the South China Sea, it can be predicted that tensions in the South China Sea will further increase.
Such unilateral Chinese assertive behavior in the South China Sea is related to the fact that the oceans, especially the Exclusive Economic Zones, are not part of territorial waters but only waters under the provisions of the United Nations Convention on the Law of the Sea, which grants primarily and exclusive economic activities to a coastal state, and is part of international waters.
In other words, China has always taken advantage of the ambiguity of international law, the ambiguity of the scope of national sovereignty in the ocean, and the significant disparity in military and maritime law enforcement capabilities between China and the ASEAN countries, to strengthen its stance of denying the entire economic activities of other countries in the South China Sea.
Furthermore, China understands that, unlike land areas, maritime areas are uninhabitable and, therefore, difficult to control permanently. Hence, it is building artificial islands in the South China Sea, deploying radars, jamming devices, and naval guns on the artificial islands, breaking Xi Jinping's promise in September 2015 "not to pursue militarization," and deploying Y-8 anti-submarine patrol aircraft and Y-9 early warning aircraft on a rotating basis.
Compared to this ambiguity in the scope of state sovereignty in the maritime domain, all of the land domain, except undetermined border areas, is the territory of one of the sovereign states with clear jurisdiction. Hence, the coast guard, maritime militias, and Chinese People's Liberation Army troops cannot be used directly to enforce China's unilateral behavior in a territory of ASEAN countries.
Instead, China's unilateral actions are to be implemented through penetration by Chinese companies through investment and corporate acquisitions, by securing bridgeheads through Chinese infrastructure construction and port modernization, and by using Chinese migrants and others to establish and expand "legal" penetration of influence in the societies of ASEAN countries including cyber domain, and through financial gains in the likely to expand its influence over some ASEAN governments.
ASEAN countries are expected to "rightly fear" China and modernize ACFTA based on objective analysis and with reference to FTA negotiations with other countries to achieve further economic and social development to secure ASEAN Unity and Centrality.
Dr. Takashi Hosoda is a Japanese international political scientist and security studies scholar in the Czech Republic. His research focuses on China's "Multi-domain Military-Civil fusion" warfare, Japan-European Maritime Security/Space Security Cooperation, Security observation of the Indo-Pacific theater, including the East China Sea/South China Sea, as well as possible Taiwan contingency.