Following the US House speaker Nancy Pelosi's recent trip to Taiwan, Beijing conducted major military drills around the island. This prompted some experts to conclude that China demonstrated its military might to carry out its long-standing dream of merging Taiwan with the mainland.
Using Nukes For PR – US Was About To Use Nuclear Weapons For The 2nd Time After Russian Space Heroics
China's military modernization has also been primarily fueled by Beijing's desire to push Taiwan's integration with the mainland and thwart any effort by Taiwan to achieve independence.
However, one of the most important factors China would rely on in any attempt to invade Taiwan is its capabilities to launch amphibious assaults.
From a military standpoint, a large-scale amphibious invasion is one of the most challenging operations to organize and carry out. This operation calls for air and sea control and the quick accumulation and maintenance of supplies on land. 
Beijing has been expanding its fleet of landing ships. These ships are meant to carry soldiers, supplies, and heavy equipment such as tanks and unload them straight onto a shore via bow doors and ramps. 
Given that Taiwan has enhanced its military capabilities to repel such attacks, China continues to strengthen its armament with new weapons and ways to boost its amphibious powers.
PLA's New Equipment
On September 27, a video purportedly showed PLA's new equipment for individual landing operations. The footage depicts PLA soldiers riding jet-propelled surfboards, sailing till they land on the shore, and charging forward holding rifles. 
PLA's new equipment for individual landing operations pic.twitter.com/5gSTs1W9x0

— 彩云香江 (@louischeung_hk) September 27, 2022
The footage was posted on Twitter by @louischeung_hk, a user who routinely posts images and videos about the Chinese military. The video does not offer any additional information on such operations of the Chinese army. 
In the case of a Chinese invasion, the PLA's special forces may deploy this technology to undermine Taiwan's defenses.
Taiwan has, in recent years, deployed a range of strategies, such as placing undersea mines, to thwart Chinese ships. The island nation will be impenetrable if its military succeeds in thwarting China's amphibious assault.
In such circumstances, it would also be futile for the PLA to continue air and naval warfare or to launch a strike on Taiwan's peripheral islands. So, theoretically, PLA soldiers armed with jet-powered surfboards could move up from boats, ambush the Taiwanese military, and seize vital installations.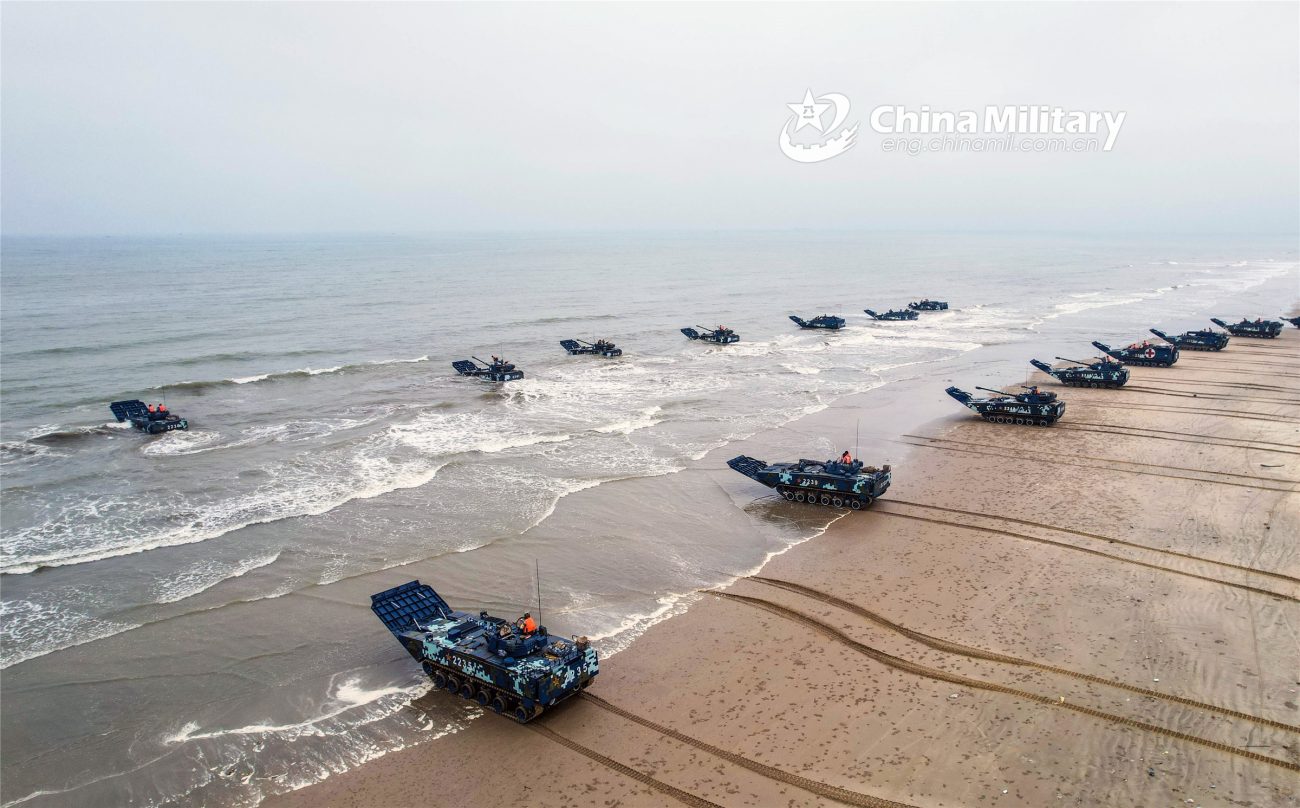 However, there are many drawbacks to using these surfboards. Many Twitter users underlined that the Chinese troops using this equipment would be unable to bring many munitions with them, which might be critical in the event of an invasion.
Additionally, they would merely serve as easy targets for the Taiwanese military. The surfboard also doesn't appear to have a great cruising range, and it will probably be difficult for the troops to use this equipment in high ocean waves. 
China's Amphibious Capabilities 
China's Navy is already the world's largest in terms of ship count, swiftly constructing new vessels as part of a larger military expansion. In June, it launched the first aircraft carrier that it had built domestically. 
Beijing is attempting to have a bigger impact in the area to support its territorial claims in the South China Sea. It is stepping up military operations surrounding Taiwan, negotiating new security arrangements in the Pacific islands, and creating man-made islands in disputed waters.
China has also been using commercial fishing trawlers for military objectives for many years, although the number of these vessels has considerably expanded recently.
However, military analyst Ou Hsi-fu of the Institute for National Defense and Security Research stated in 2021 that China's amphibious capabilities are still insufficient to invade Taiwan successfully. 
In a report titled "Amphibious operations capability of the People's Liberation Army (PLA) in an attack on Taiwan," Hsi-fu argued that China has a wide range of military ships, including its Type 075 amphibious assault ship, Type 071 transport dock, and Type 072 landing ship, that it might deploy to support a beach landing. He also said it could swiftly deliver PLA troops to Taiwan's coast using its Type 958 and 726 hovercraft. 
According to the expert, if China indeed decides to invade Taiwan, its initial amphibious assault wave will only consist of roughly 400,000 men, which is probably insufficient to overcome Taiwan's defenses.