Russia's forces are conducting nuclear drills in the Ivanovo province, northeast of Moscow, involving some 1,000 servicemen and over 100 vehicles, including Yars intercontinental ballistic missile launchers, the Russian defense ministry has said.
"In the Ivanovo region, autonomous launchers of the Yars mobile ground-based missile system of the Strategic Missile Forces (Teikovsky formation) are performing intensive maneuvering actions on combat patrol routes as part of the exercises," the Russian Defense Ministry was cited as saying by the Interfax news agency.
The Strategic Missile Forces are the main component of Russia's nuclear forces, whose purpose is nuclear deterrence.
The equipment used by Russia's Strategic Missile Forces (RVSN) included the 'RS-24 Yars' an intercontinental ballistic missile (ICBM) with a range of up to 11,000 km (6,500 miles), equipped with multiple warheads having individual guidance units.
Such a range can enable Russia to strike any target in the US.
In addition, the drill also involves the use of new Typhoon-M Combat anti-sabotage vehicles to detect, block and destroy threats to Yars.
It is said to be equipped with the latest reconnaissance technology as well as an unmanned aerial vehicle (UAV) and is supposed to destroy subversion and reconnaissance groups of the enemy.
During the maneuvers, the MDR Listva remote demining vehicle was used to escort the Yars mobile ground-based missile system on combat patrol routes. The MDR neutralized the remotely controlled explosive devices planted along the route of the column by conditional saboteurs.
Reports suggest that one of the top priorities of this exercise was to simulate a wide array of scenarios relating to searching and destroying conditional sabotage and reconnaissance formations of the enemy in the daytime and at night.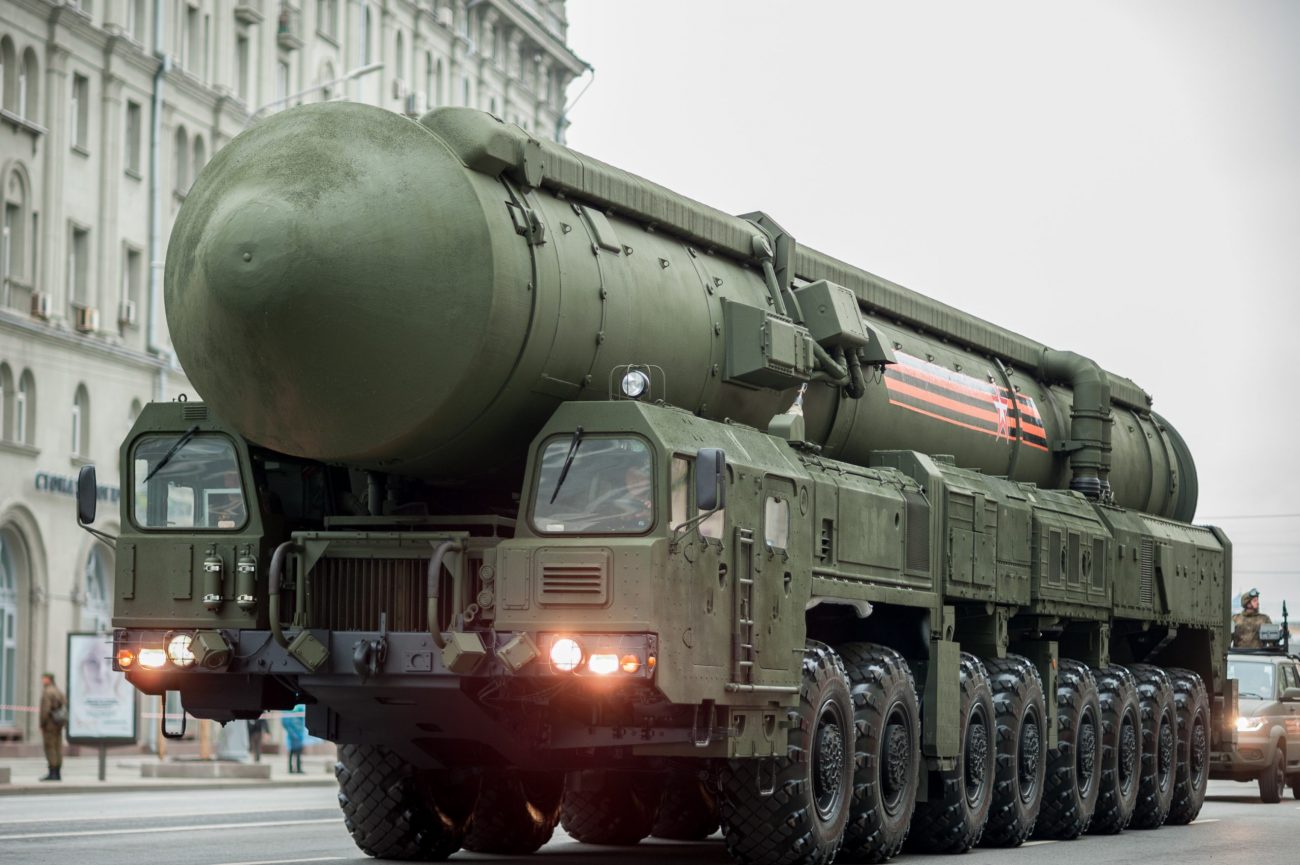 "The exercise makes it possible to improve the level of training of personnel, the coherence of formations and military units of the Strategic Missile Forces," the Russian Ministry of Defense said.
Russia's Nuclear Threat To NATO Countries
Russian nuclear forces have been on a high alert since the onset of the Ukraine war and some of the top Kremlin officials and state-owned media have repeatedly threatened nuclear strikes on NATO countries.
In late May, the head of Russia's space agency, Dmitry Rogozin, warned that Russia would have about 50 Sarmat missiles by autumn 2022, capable of reducing all enemies to a "nuclear crater."
Earlier, a Russian state-backed television channel had simulated a terrifying nuclear attack on Europe and issued a warning that there would be "no survivors".
"One Sarmat missile and the British Isles will be no more," nationalist politician Aleksey Zhuravlyov told Channel One's '60 Minutes, a show hosted by Evgeny Popov and Olga Skabeyeva, also known as the 'Iron Doll of Putin TV'.
The show presented a diagram of how the missiles could be launched from Kaliningrad, a Russian enclave sandwiched between Poland, Lithuania, and the Baltic Sea. It stated that a nuclear strike could destroy Berlin in 106 seconds, Paris in 200 seconds, and London in 202 seconds.
This map was broadcast on Rossiya-1. It shows that a Russian Sarmat based in Kaliningrad can nuke Berlin in 106 seconds, Paris in 200 seconds and London in 202 seconds. pic.twitter.com/KOwe9RdkOY

— Samuel Ramani (@SamRamani2) April 29, 2022
US To Provide Ukraine With Rocket Systems 
The recent nuclear drills come after US President Joe Biden said that Washington would provide advanced rocket systems to Ukraine.
"We will provide the Ukrainians with more advanced rocket systems and munitions that will enable them to more precisely strike key targets on the battlefield in Ukraine," Biden wrote in a guest essay in The New York Times on May 31.
The war in Ukraine is currently concentrated in the Donbas region, where Russia has fielded its heavy artillery and multiple launch rocket systems (MLRS) that have been devastating Ukraine's position.
Therefore, in recent weeks, Ukraine has been asking the US and NATO for modern MLRS systems to counter Russia's Donbas offensive.
While Ukrainian forces are already using the western artillery systems, like the American M777 howitzers, they want MLRS systems mounted on vehicles that offer more mobility than howitzers, allowing troops to escape Russian counter-battery fire.
However, the Biden administration was reportedly hesitant to provide Ukraine with highly advanced, destructive, and long-range American MLRS to avoid escalating tensions with Moscow.
Following Biden's announcement, the Russian TV host Olga Skabeeva said that the US would "cross a red line" if it provided Ukraine with the advanced long-range rocket systems it had been asking for, according to CNN. She said the act would be considered an attempt to "provoke a very harsh response from Russia," the outlet reported.
The US is going to provide Ukraine with the M142 high-mobility artillery rocket systems (HIMARS) that can fire standard rockets about 300 km away and the specialized precision munitions about 500 km away, thereby enabling Ukrainian forces to strike inside Russian territory.
However, Washington only agreed to give these systems after Kyiv gave "assurances" that it would not use the missiles to strike inside Russia, a senior administration official reportedly said.
Ukrainian forces could use the rocket systems to intercept Russian artillery and take out Russian positions in towns where fighting is intense, such as Syevyerodonetsk.