Canadian company Tallysman Wireless confirmed that its products were found in the Iranian-made Shahed-136 drones that Russia has been using in its special military operation in Ukraine. 
Iranian-made drones have built a lethal reputation in the ongoing Russia-Ukraine war. While these drones are not as technologically sophisticated as US, Israeli, Chinese, or even some Russian-made drones, Moscow has enjoyed considerable success with them in destroying Ukrainian infrastructure.
As reported by EurAsian Times earlier, the Shahed-136 kamikaze drones have become a significant challenge for the Ukrainian Armed Forces. The Russian military has successfully conducted swarm attacks using these UAVs against Ukrainian positions located as far as Kyiv, deep behind Ukrainian frontlines in the eastern part of the country.
Notably, the Russian military achieved an element of surprise in these swarm attacks, thereby minimizing the chances of retaliation by Ukrainian air defense.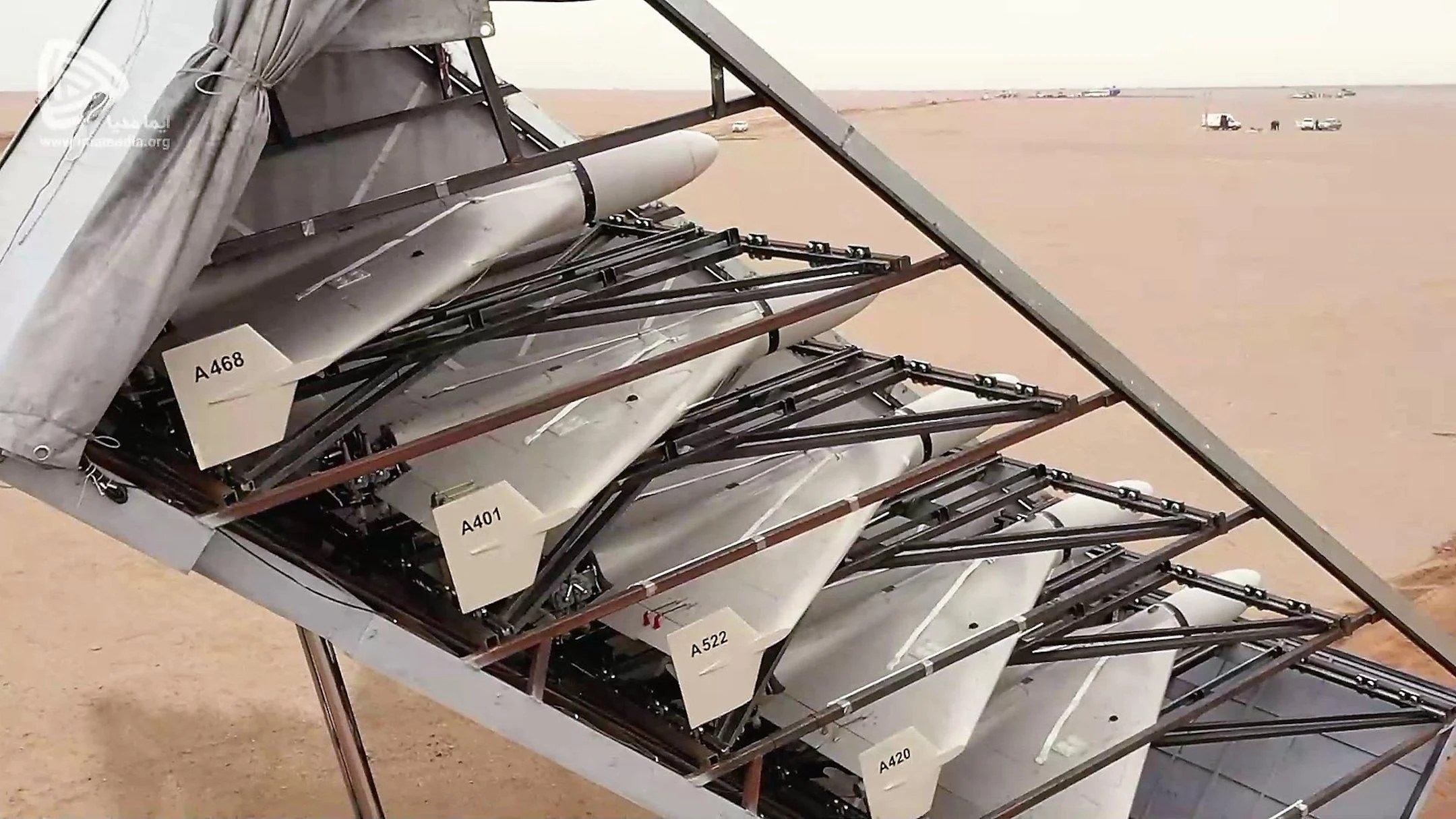 These swarm attacks involve several drones (batches of five and above) launched at once from the same rack to overwhelm enemy air defenses. Russian forces reportedly used 12 drones for a single swarm attack.
The kamikaze drones provide Russia with an expendable and cost-effective alternative to its precious and expensive aircraft and cruise and ballistic missiles.
The Shahed-136s were also used in large numbers during Russia's bombardment of several cities in Ukraine, including the capital city, Kyiv, on October 10, as a retribution for the bombing of the critical Kerch Bridge that connects the Russian-occupied Crimean Peninsula to mainland Russia.
Shahed-136 drone flying towards the Ukrainian Ladyzhinska thermal power plant.

The flying moped successfully made its delivery pic.twitter.com/4qx2DC2Fx8

— LogKa (@LogKa11) October 11, 2022
Ukraine's military specifically observed the use of Shahed-136s during this bombardment involving over 83 Russian missiles. Reports from Ukraine suggest the drones seriously damaged Ukrainian armed forces and infrastructure.
While the Shahed-136 may not be as technologically sophisticated as Western-made, or even some Chinese or Russian-made drones, it reportedly comprises foreign-made parts except the engine.
On November 16, Ukraine-based NGO StateWatch and the Ukrainian civil society group Independent Anti-Corruption Commission (NAKO) published an investigation detailing the presence of foreign-made components in the Iranian-made Shahed drones.
Shahed-136 Contains Ceramic Antenna Made By The Canadian Company Tallysman Wireless
The investigation, led by Inna Popovych, a Ukraine investigative journalist, was conducted by a Statewatch project called Trap Aggressor. It identified over 30 EU- and US-based companies whose parts have been used in manufacturing Iranian kamikaze drones.
As per the investigation, the foreign-made components inside Shahed-136 included a "servo drive from the American Hitec USA Group, power elements from the Japanese Panasonic, and ceramic antenna from the Canadian Tallysman."
The President of Canadian company Tallysman Wireless, Gyles Panther, when asked by The Globe and Mail about the investigation, said that the company has "become painfully aware" that some of its components are being "misused in sophisticated military guidance systems" in Russia's war on Ukraine.
Panther said that it is sometimes assumed the company is complicit in this usage while clarifying that Tallysman Wireless is 100% committed to supporting Ukraine in the face of Russian aggression.
He further stated that the company does not sell its products to Iran or Russia. Its distribution network does not permit it to sell to countries, individuals, or sanctioned entities.
Furthermore, the company does not sell goods to third parties that, as per Tallysman's knowledge, supply products to Russia and Iran, Panther said.
Panther believes that the antenna parts in question were probably rerouted to Iran via distributors using "fake company fronts" to hide their intention.
He said that Tallysman is now working with the Canada Border Services Agency and other government agencies to determine how the parts made their way to Iran.
The Globe and Mail reported that Tallysman's antenna components are not subjected to export control because they are not regarded as sensitive equipment.
Panther explained that the same antenna components are also found in consumer satellite navigation devices ranging from vehicle fleet management to survey equipment.
Kelsey Gallagher, a researcher specializing in arms control and disarmament, said it is much easier to track the international movement of goods requiring an export permit. However, it will be very cumbersome to require the companies to obtain government permits for all their electronic exports.
Ukrainian-made Components Are Also Found In Iranian Kamikaze Drones
Other foreign-made components used in the Shahed-136 were found in the drone's control board assembled from Japanese and American parts, a power supply board comprising German and Chinese parts, and a control unit supplied by the Russian company, 'Zapadpribor.'
The Iranian kamikaze drone contained boards, digital signal processors, transceivers, drivers, and receivers manufactured by Texas Instruments, whose parts have also been found in several other Russian-made weapon systems, as previously reported by EurAsian Times.
Semiconductor chips made by Texas Instruments have been found inside Russia's Kh-101 air-launched cruise missiles (ALCM), Pantsir air defense system, and Ka-52 Alligator attack helicopter.
There were also some Ukrainian-made components, like an electrical relay manufactured by the state-owned enterprise 'Radiorele,' which was put up for privatization in 2020. However, no investor has been found so far.
Anatoliy Donets, who has been the director of the company since 2007, said in an old interview that the company lost its largest sales market – Russia, thereby confirming that until 2016, the Ukrainian state-owned enterprise was selling parts to Russia, which probably ended up in Iranian weapons that Russia is now using against Ukraine.