A video has appeared online that claims to show Ukraine's HIMARS strike on a Russian military train. The footage captures the moment Ukrainian forces reportedly destroyed a 40-carriage train carrying Russian troops and essential ammunition. 
US Air Force To Retire 'Terrorist Killer' Drones As Russia, China Get Advanced Tech; Senators Suggest Upgrade
On July 29, it was reported that the Ukrainian army attacked a train at the Brylivka train station. A video of the incident is now making rounds on social media, prompting many to assert that it was another major setback for the Russian military. 
Explosions can be seen in the video as the critical ammunition on board is destroyed. A large number of rockets or missiles unleash from the train before exploding.
Eventually, multiple explosions cause enormous, blazing orange flames and thick smoke plumes to fill the pitch-black night sky. 
Footage reportedly showing the HIMARS strike on a Russian logistics train at Brylivka railway station, 29th July.

According to the Ukrainian government, 40 train cars of materiel were destroyed.???pic.twitter.com/23x9hXwzbU

— Jimmy (@JimmySecUK) August 3, 2022
A video of the incident was shared by a Twitter user who is a "Kyiv-based independent foreign policy/security analyst." The footage allegedly depicts the HIMARS strike on a Russian logistics train at Brylivka Railway Station on July 29, he mentions. 
Several Ukrainian media outlets also claim that a high-precision HIMARS strike destroyed a 40-wagon train traveling from Crimea to the Brylivka railway station in the Kherson region carrying personnel, equipment, and ammunition. 
According to Ukrainian journalist Denis Kazansky, the explosions were so strong "that windows were shattered in nearby buildings. He continued: "Eyewitnesses report that scattered shell bits were lying on the streets. The fire continues. The route from the city is closed." 
Anton Gerashchenko, the advisor to the minister of internal affairs, also confirmed the incident. He wrote on Facebook that the strike had "turned the occupiers' manpower into coals and their equipment into piles of scrap metal." 
Advisor to the Minister of Internal Affairs Anton Gerashchenko announced a @HIMARStime GMLRS attack on a 40 car Russian Ammo train at Kherson railway station the night of 29/30 July 2022.

1/3 pic.twitter.com/01Vrylq612

— Trent Telenko (@TrentTelenko) July 31, 2022
According to an assessment from the UK's MoD, the damage will "remain a vulnerability for Russian forces and their logistical resupply route from Crimea into Kherson."  
"As a result of a Ukrainian strike against a Russian ammunition train in Kherson oblast, southern Ukraine, it is implausible the rail link connecting Kherson with Crimea remains operational," the assessment noted.  
The UK's MOD added that Russian forces would probably fix the railway line in a few days, but it would still threaten Putin's forces and their logistical supply route from Crimea to Kherson. 
Move Over Helipads, Japan Is Developing 'Landing Pads' On Its Skyscrapers That Can Host Flying Cars
HIMARS Effective Against The Russian Military? 
Ukraine has achieved some impressive battlefield victories over the Russian army in the last few weeks owing to HIMARS, an acronym for M142 High Mobility Artillery Rocket System.
The Antonivsky bridge over the Dnipro river in the east of Kherson was also recently targeted by Kyiv forces using HIMARS.
The HIMARS system, which has a range of about 80 kilometers, has inflicted significant damage to the Russian army across the battlefield. This week saw the arrival of four more units of the weapon systems, bringing the number of HIMARS under Ukrainian control to 20.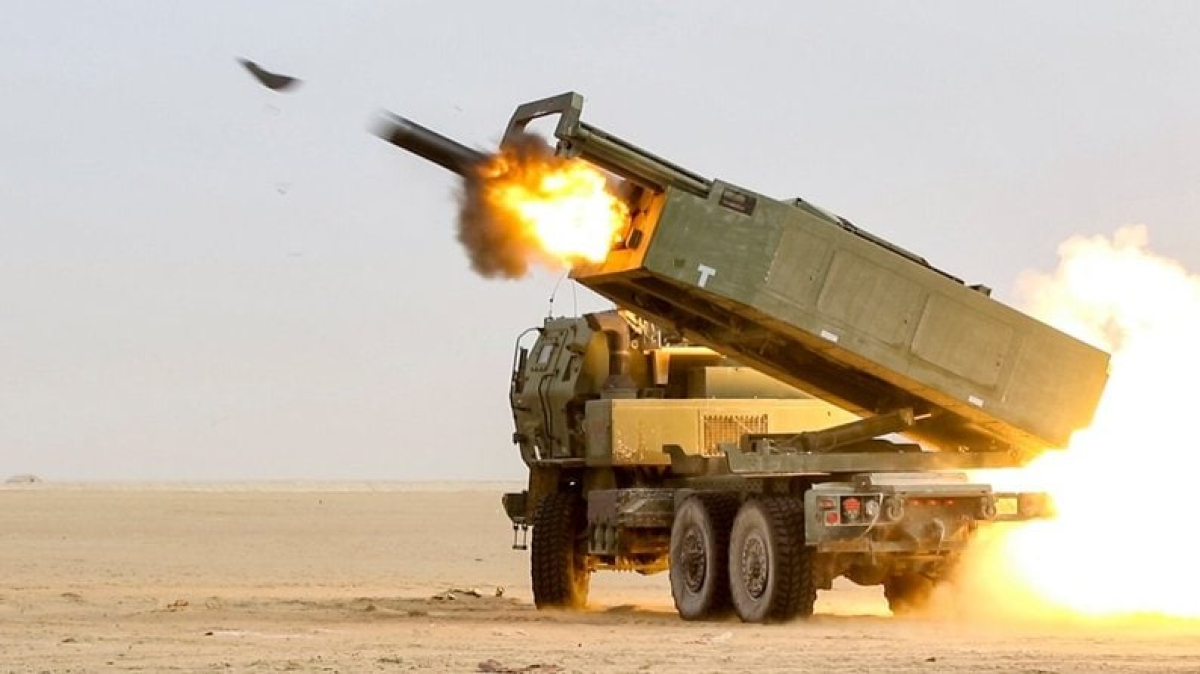 On July 1, the US approved the shipment of additional HIMARS ammunition, and Germany sent three similar rocket systems with a 70 kilometers range.
Using HIMARS, the Ukrainians have prevented Russian forces from replenishing in Kherson and have destroyed weapons depots, denying them the advantage in firepower. 
The United States officials and Ukraine have lauded the efficiency of rocket launchers in the conflict that started on February 24. However, the US and Russia have provided conflicting information regarding whether any rocket launchers have been destroyed.
The Joint Chiefs of Staff chairman, US General Mark Milley, stated at a news conference on July 20 that Russia had eliminated no HIMARS at that point. 
"To date, those systems have not been eliminated by the Russians, and I knock on wood every time I say something like that," Milley said. "And they're [Ukrainians are] very effective at using them, employing precision weapons against targets."
The following day (July 21), Lieutenant-General Igor Konashenkov, a spokesperson for the Russian Defense Ministry, claimed that over two weeks, Russia's army had damaged four HIMARS supplied by the United States in Ukraine.
On July 1, Lieutenant-General Igor Konashenkov declared that a total of six HIMARS had been destroyed in Ukraine. The Pentagon later refuted these allegations, stating that none of the American-supplied HIMARS in Ukraine had been destroyed by Russia. 
Russia claimed last week that a strike on a Ukrainian ammunition depot destroyed over 100 HIMARS missiles.