Chilling videos have emerged showing detonations of what seem to be the rounds from the Russian TOS-1A multiple launch rocket systems (MLRS) in the Donetsk region.
The Russian MLRS platforms launching thermobaric weapons have been wreaking havoc in Ukraine, prompting Kyiv to urge the US to supply MLRS. However, the Biden administration has been resisting this request.
The explosions seen in the video are said to have taken place near Novomykhailivka and Lyman, both in the Donetsk region in Donbas. Massive shockwaves caused by thermobaric rounds can be seen, with several explosions occurring simultaneously during the attack.
In the clip several bubble-like clouds can be seen caused by these detonations which is a phenomenon observed with thermobaric weapons, called a condensation cloud or Wilson cloud, that is formed when a large explosion in highly humid surroundings like those that appear in the video result into a drop in density of the air around it.
Video of Russian TOS-1A thermobaric MLRS and artillery strikes on Ukrainian positions in the Novomykhailivka area.https://t.co/V87guya4X7 pic.twitter.com/GM5fS5Sszv

— Rob Lee (@RALee85) May 25, 2022
Reduced density cools the air temporarily and causes some of its water vapor component to condense which creates these bubble-like clouds.
The Deadly Impact Of Thermobaric Weapons 
Thermobaric weapons, also known as fuel-air explosives (FAEs), spread gaseous chemical clouds in the air that seep into buildings and caves and effortlessly into trenches. This cloud is then ignited by a secondary explosion causing a massive and long-lasting explosion.
The heat generated by FAEs sucks up oxygen from the surrounding area and creates massive blast waves that can rip through bunkers and rupture internal organs.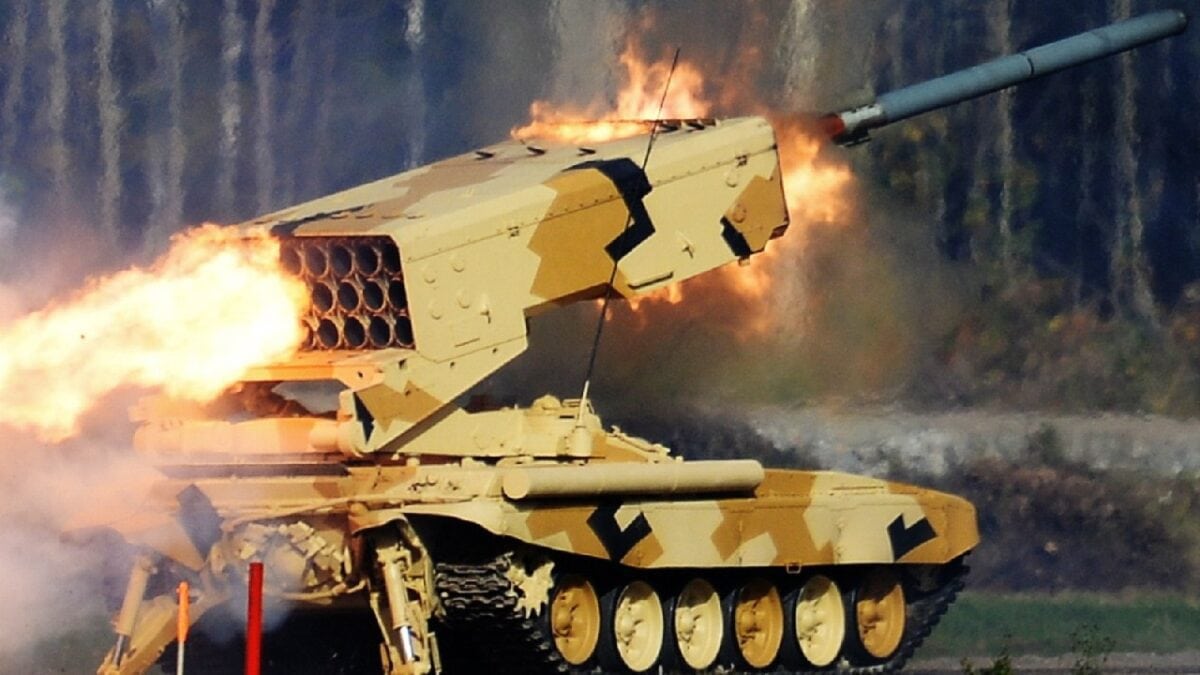 The FAEs were first used by the US during the Vietnam war, dropping them by air to clear helicopter landing zones and minefields and eventually even as offensive weapons.
Also, in 2002 while trying to hunt down Osama Bin Laden in the mountains of Tora Bora, US aircraft fired precision-guided missiles tipped with thermobaric warheads. These warheads would suck the oxygen out of the caves where Taliban fighters were hiding.
Russian TOS-1A MLRS 
Following the lead of the US, the Soviet Union too adopted thermobaric weapons, using them during a border skirmish with China in 1969 and employing both air-dropped and ground-launched FAEs on a large scale during the war in Chechnya.
In the 1980s, the Soviet Union developed TOS-1A MLRS capable of firing thermobaric warheads to attack fortified positions and destroy armored vehicles.
The system is made of three components. The first is the BM-1 combat vehicle, a modified T-71A tank chassis that is fitted with a rotating rocket launcher on the top of the tank. It can store 24 unguided thermobaric rockets, which can be fired in up to 12 seconds.
The TOS1-A is supported by TZM-5 re-supply vehicles. Each of the re-supply vehicles can carry up to 24 rockets and 400 liters of fuel.
The TOS-1A can fire two kinds of rockets – the MO.1.01.04 and the MO.1.01.04M. The first rocket measures 3300 mm in length and 173 kg in weight, while the second one is 3700mm long and weighs 217kg. Missiles can be fired at a distance of up to 12km.
A TOS-1 blast is said to generate a pressure of 30.02 kg per square centimeter, which is double the amount of pressure generated by conventional bomb blasts, and regular air pressure is 0.98 kg per square centimeter.
People near the center of a TOS-1 blast radius are crushed to death. It also sucks the air out of victims' lungs, possibly causing them to collapse, leading to death by suffocation.
Ukrainian Forces Want MLRS Systems
The Ukrainian forces have dug hundreds of miles of trenches in east Ukraine for protection from the Russian artillery making the use of thermobaric weapons a suitable option.
Therefore, in recent weeks, Ukraine has been asking the US and NATO for modern MLRS systems to counter Russia's Donbas offensive.
While Ukrainian forces are already using the western artillery systems, such as American M777 howitzers, they want MLRS systems mounted on vehicles that offer more mobility than howitzers, allowing the troops to escape Russian counter-battery fire.
However, the Biden administration is reportedly concerned that providing highly advanced, destructive, and long-range American MLRS to Ukraine will be interpreted as an escalation by Moscow. Both, the US and NATO have constantly stressed that the transatlantic alliance cannot be drawn into a confrontation with Moscow.
The US has two MLRS variants, the M270, first produced in 1983, and the M142 HIMARS, developed in the late 1990s. The M270 can fire rockets up to a range of around 30-60 km and more advanced rockets can also travel more than 160 km.
While the M142 HIMARS can fire standard rockets about 300 km away and the specialized precision munitions about 500 km away. Whereas the maximum range of M777 howitzers is only about 40 km.
"The very fact that our diplomats raise this issue indicates that there are strong chances to get MLRS," Oleksandr Merezhko, chair of the Ukrainian parliament's foreign affairs committee, told Newsweek.
"I suppose it might happen…The US often takes the lead in providing us with military aid, and to other states, it serves as a good example to follow."