After violent anti-India protests were staged outside the Indian Embassy in London, Prime Minister Narendra Modi spoke to his British Counterpart to express concerns. The protests had Kashmir at the centre stage and were aimed at opposing India on its move to abrogate Article 370 and Article 35 A.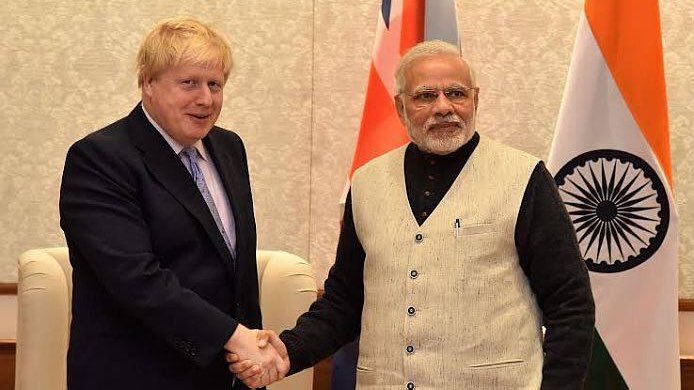 Thousands of protestors most of them holding Pakistan flags, stormed outside the Indian embassy on Independence Day and things later turned out to be unprecedentedly violent. While there were reports of Indian women and children being hit by bottles and eggs, the British authorities apparently failed to protect them and suppress the violent outrage.
Vested interests using violent means: Modi
The Indian Prime Minister in a phone call to new appointed PM – Boris Johnson, expressed his displeasure of such protests and conveyed the message that vested interests are pursuing their agenda resorting to violent means.
India has strongly reiterated on all international platforms that Kashmir is a matter of internal sovereignty of India. Even at the arena closed-door UNSC meet held last week to discuss Kashmir, India opposed all claims by China and Pakistan maintaining that Kashmir is an internal matter and the government has done nothing in violation of the international community while abrogating Article 370 and Article 35 A.
Boris Johnson, the UK President, expressed his regret towards the condemnable incident and assured that all measures will be undertaken to secure the Indian High Commission, officials and visitors. As per the UK police's claims, 4 people (most likely to be people of Pakistani origin) have been arrested in context to the incident.
UK Did Not Support Pakistan Over Kashmir at UNSC
The United Kingdom earlier has 'clarified' that it did not back China or Pakistan during the 'closed-door' United Nations Security Council (UNSC) meeting over recent developments in Kashmir after India revoked Article 370 of its Constitution, thereby scrapping 'special status' of the now-former state.
According to reports, several senior British diplomatic officials said that London neither took sides in the meeting nor did it support China against India as their long-standing position is that Kashmir should be bilaterally resolved between India and Pakistan.
The officials further said that it was China, which, as a permanent member, called for the meeting and London did not have any involvement in the same. They added that China wanted to say that the unilateral action taken by India to revoke article 370 was 'destabilising'.
The development comes after rumours on social media that the UK not only expressed concerns over the human rights situation in the Valley, it also supported China's demand that the UNSC issue a public statement over New Delhi's move to revoke Article 370 and further bifurcate it into two separate union territories (UTs).