Rolls-Royce, the 115-year-old iconic British Engineering firm, has now achieved a new feat. After manufacturing world-class jet engines, it has left its mark in the electric aviation world.
Spirit of Innovation, a single-seat, electric-powered propeller plane built by Rolls-Royce, obliterated the zero-emission speed record, reaching over 556 kilometers per hour (345 mph) over a three-kilometer distance—and even maxing out at 623 kilometers per hour. This flight successfully smashed all previous records of electric planes which are environment friendly
With a clarion call given by the COP26 on the need to cut emissions, Rolls-Royce has presented itself as a company that could earnestly provide that solution. With the aviation industry registering a record number of flights after a year of lockdowns, the emissions are set to grow further.
According to industry group ATAG, aviation is responsible for around 915 million tonnes of CO2 globally, or about 12% of all transportation-related emissions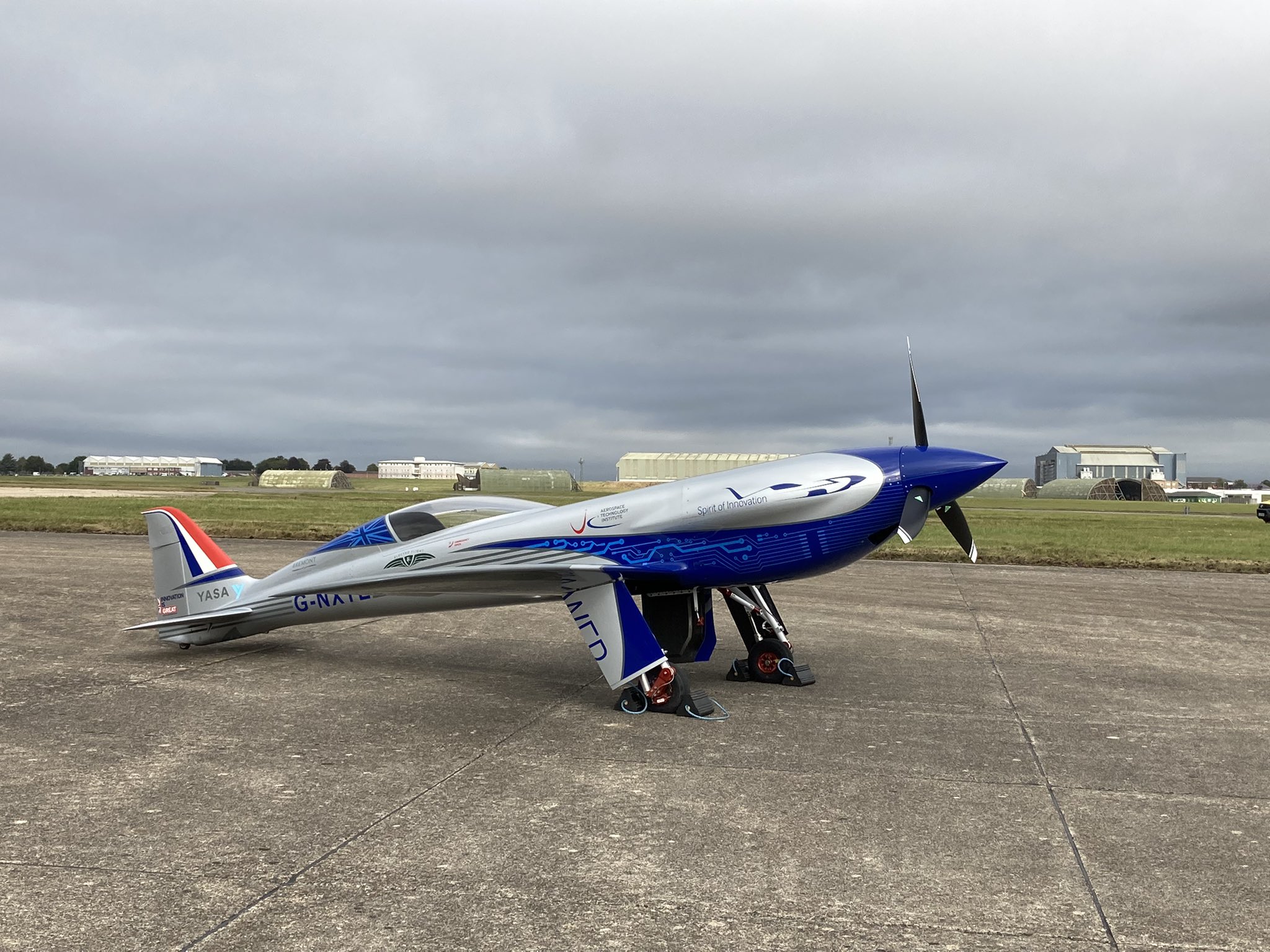 "Following the global attention on the need for action at COP26, this is another milestone that will help make 'jet zero' a reality and supports our goals to produce technological breakthroughs," said Warren East, CEO of Rolls-Royce.
Furthermore, even though this aircraft is non-military, this could be made a dual-purpose vehicle with significant military application in the future. But such a prospect is nothing more than mere speculation at this stage.
"At the moment, our concentration is on urban air mobility: the eVTOL market with four to six passengers, where we see a feasible product around 2025 and 2026," said Matheu Parr, CEO of Spirit of Innovation.
"There's a market right below that we call regional air mobility, which is fixed-wing aircraft with nine to 19 passengers, and we believe you can look at all-electric and hybrid-electric aircraft in 2028 to 2030 inside that range."
The Real 'Spirit of Innovation'
This e-plane was created in collaboration with YASA, an electric motor manufacturer, and Electro flight, an aviation startup, with the goal of breaking world records and bringing zero-emissions air travel one step closer to general adoption.
The Spirit of Innovation's 400 kWh (500+ HP) electric power train is supported by "the most power-dense battery pack ever manufactured for an aircraft," according to Rolls-Royce. It has 6,480 battery cells, enough power to charge 7,500 cell phones, according to the Spirit of Innovation data-sheet.
Rolls-Royce has applied for three new world records after reportedly 'smashing' top speed records for all-electric flight!

The Spirit of Innovation aeroplane hit a top speed of 623km/h (387.4mph) during flights ✈️

(Credit: @RollsRoyce) pic.twitter.com/DmYnVoi5L3

— The IMechE Team (@IMechE) December 3, 2021
The company earlier stated that the e-plane would have a top speed of 300 mph, aiming to shatter the previous world record of 210 mph achieved by a Siemens electric plane in 2017.
The FAI has yet to formally recognize Rolls-Royce's "world record" speeds. Nonetheless, the company intends to continue working with the Accelerating the Electrification of Flight (ACCEL) initiative and Electro flight in the future to provide more widespread decarbonized passenger flights.
The company, which also makes jet engines for the Boeing 787 Dream liner and the Airbus 350, had been tasked with delivering two electric aviation propulsion systems in the near future: one for an electric vertical take-off and landing (eVTOL) vehicle that will carry up to four passengers in 2024, and another for a small commuter plane with Nordic regional airline Widerøe.
Future Is Electric
Even though the test flights of this electric plane made records and headlines, it is not devoid of significant challenges for Rolls-Royce. The primary being that this is new territory for the British company. It has spent decades creating and manufacturing enormous kerosene-burning jet engines.
Electric aviation, on the other hand, will necessitate a new set of engineering skills for both the corporation and the industry. In this way, getting the Spirit of Innovation off the ground, despite its small size, is believed to be a major accomplishment for the organization which it was able to achieve with the support of partners and 50% funding from the UK government.
@RollsRoyce Holdings has a keen focus on aircraft and a road map to create net-zero emissions in operations by 2030, followed by all products by 2050.

Watch to gain more insight: Spirit of Innovation breaks records, potentially fastest electric vehicle https://t.co/PJcQwzfHzp pic.twitter.com/tADk3SIV5b

— Smarter Mobility Africa (@smaforall) December 7, 2021
The lack of an established electric aviation supply chain or a lack of parts is the most significant hurdle. Even though the electric aviation program is ambitious and rewarding, it poses a spectrum of challenges owing to its novelty and high costs.
Nonetheless, Rolls-Royce aspires to provide a whole range of zero-emission power systems for use in urban air taxis and small planes. This would include not only electric motors, but also power electronics that regulate and direct electricity, onboard wiring, and energy storage batteries.
Rolls-Royce plans to invest £80 million ($105 million) in its electric flying business over the next 10 years. This comes after Siemens e-Aircraft, which held the previous speed record, was purchased in 2019.
Rolls Royce has made it evident that it's decided to lead the electric aviation market and despite the many challenges it faces in terms of tech and supply, it is here to stay. Only time shall tell whether this British giant will roll out an electric military plane in the future and set newer records with it.