In January 2022, the Chinese state media Global Times quoted a military expert as saying that the Chinese J-20 stealth fighters could conduct coordinated operations with drones by leading them or commanding a drone swarm in combat in the future.
The comment hinted at a 'loyal wingman' concept which many believe China is already pursuing.
India's premier news agency ANI speculated in a detailed article that the Chinese PLA is among the many modern militaries pursuing this new category of unmanned aircraft, called Loyal Wingman or an adjunct aircraft that takes the capabilities of crewless aircraft even further and beyond the existing ones.
Loyal Wingman is a low-cost, pilotless aircraft with adequate flight capabilities and intelligence to assist crewed and highly developed fighter jets in combat.
The idea, which has only been used by a few nations so far, operates on the following tenet: a crewed fighter jet is partnered with a squadron of capable but uncrewed low-cost, attritable aircraft.
Each unmanned aircraft can fly ahead of its crewed counterpart and carries a payload tailored for that task, such as sensors, weapons, or electronic warfare equipment.
These Unmanned Combat Aerial Vehicles (UCAVs) can also be employed as inexpensive decoys to confuse enemy fighter aircraft and help identify and overcome their air defenses.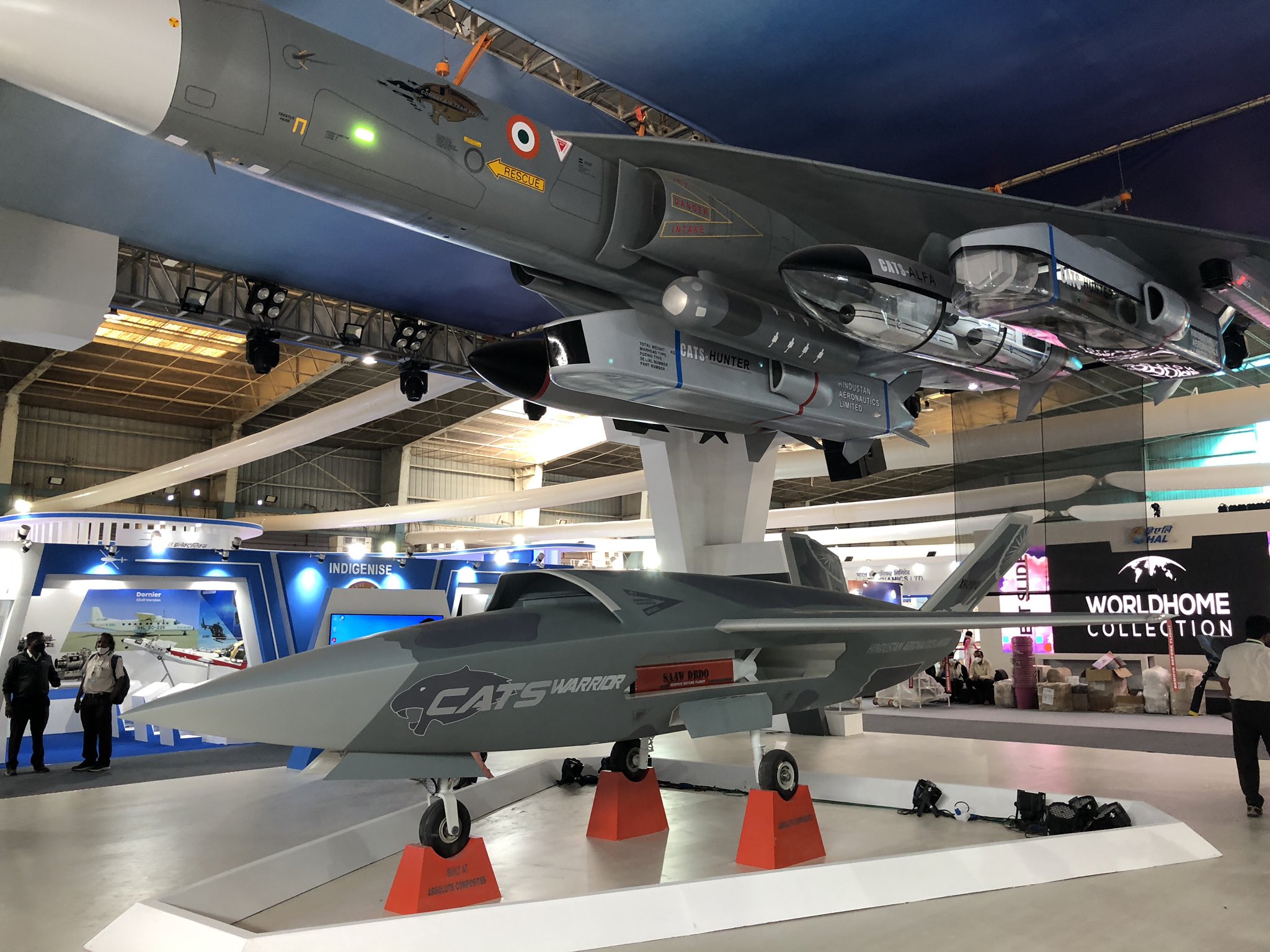 The speculations about a Chinese loyal wingman concept by Indian media come after India's own Hindustan Aeronautics Limited (HAL) revealed in March 2022 that it was developing a loyal wingman drone for India's fifth-generation AMCA fighter jet.
The project is known as the Combat Air Teaming System (CATS) 'Warrior.'
No country in the world has yet fielded a loyal wingman aircraft. One of the most notable Loyal Wingman projects is Australia's production in collaboration with Boeing.
The under-development combat drone, known as 'Ghost Bat,' is expected to protect Australian F-35s, Super Hornets, and Growlers, as reported by EurAsian Times.
The United States, on the other hand, is working on the XQ-58A Valkyrie drone, a loyal wingman drone designed to work with manned fighters.
The prototype of the drone took its maiden flight in 2019. Later, in 2021, the US Air Force (USAF) tested two Skyborg autonomy core system-equipped drones flying in tandem.
Russia is not far behind. Moscow announced in September 2019 that a Su-57 fifth-generation combat aircraft and an S-70 Okhotnik unmanned aerial vehicle had completed a test flight.
Later in 2020, the Russian military contractor Kronstadt Group unveiled the Grom uncrewed combat aerial vehicle to work alongside the Su-35 and Su-57 planes.
Grom high-speed strike UAV by Kronstadt group. pic.twitter.com/iBdzvtETtn

— Dmitry Stefanovich (@KomissarWhipla) August 28, 2020
However, China is tight-lipped on developing a similar loyal wingman uncrewed aircraft, leading to the suspicions among military experts worldwide that it would potentially spring a surprise.
Is China Fielding A Loyal Wingman?
ANI reached out to Douglas Barrie, senior fellow for military aerospace at the International Institute of Strategic Studies (IISS) in the United Kindom, for perspective on the loyal Wingman in China.
According to Barrie, "China is very secretive, but considering the breadth of general defense aerospace research and development, I would be surprised if they were not doing this because they seem to be doing absolutely everything else!" He also estimated that the latter would be the first to field a loyal wingman drone if there were a competition between Russia and China.
In September 2021, China revealed a drone concept that appeared similar in mission and appearance to the US-made Kratos (KTOS.O) XQ-58A Valkyrie loyal wingman drone. Even though the UAV wasn't labeled as such, it bore all the features of a loyal wingman unmanned aircraft.
A full-scale mockup of the FH-97 drone was displayed by the China Aerospace Science and Technology Corporation at the Zhuhai Air Show held in September last year.
A representative of the Feihong product line from China Aerospace Science Technology Corp (CASTC) stated that the long-range FH-97 drone concept had swarm and electronic warfare capabilities and could carry various weapons and multiple sorts of payloads.
Even though the CASTC refused to divulge any technical details, the display triggered speculations that it was based on the American XQ-58A Valkyrie, reminiscent of the eerie similarities between the American F-35 and the Chinese J-20 fighter jets.
According to Barrie, the appearance of the FH-97 at the exhibition indicates that Chinese researchers are considering and pursuing such assets. He further pointed toward the MAKS Air Show near Moscow, where a Chinese company unveiled another loyal wingman-type concept. It was called the LJ-1, and nothing of it has been heard ever since.
Further, a Global Times report in January 2022 had hinted at a Chinese loyal wingman program for the rumored twin-seat variant of the fifth-generation stealth fighter jet J-20, the J-20A. Even though the exact role of the twin-seat J-20 is unknown, the Chinese military experts quickly relate the loyal Wingman with the aircraft.
It is indeed real ? … so, say HELLO to the world's first twin-seater stealth fighter. ?

These are the first clear images of the J-20 twin-seater, so far called J-20S, J-20AS or even J-20B Even if its true designation is not yet known.

(Image via wb/飞扬军事铁背心) pic.twitter.com/y7viH7N0ur

— @Rupprecht_A (@RupprechtDeino) October 27, 2021
According to Wang Ya'nan, chief editor of Beijing-based Aerospace Knowledge magazine, quoted by the newspaper, a second pilot on the twin-seat fighter jet could be used in more complex combat situations, such as to command loyal wingman-style drones that will fly alongside the manned fighter and carry various payloads for a variety of missions, including ground and surface attacks, air-to-air combat, and electronic disruption.
Barrie further told ANI that China could also be looking to relate its loyal Wingman with its yet-to-be-inducted H-20 bombers, along the lines of a similar project undertaken by the USAF for its B-21 bomber to be called "bomber buddy."